Key events
Full-time: New Zealand 55-3 Wales

TRY! New Zealand 55-3 Wales (Demant, 68′)

YELLOW CARD! New Zealand 50-3 Wales (George 67′)

TRY! New Zealand 50 -3 Wales (Connor, 65′)

YELLOW CARD! New Zealand 45-3 Wales (Williams-Morris,59′)

TRY! New Zealand 45-3 Wales (Bremner, 56′)

TRY! New Zealand 40-3 Wales (Connor, 49′)

TRY! New Zealand 33-3 Wales (Woodman, 43′)

Back underway! New Zealand 26-3 Wales

Half-time: New Zealand 26-3 Wales

TRY! New Zealand 26-3 Wales (Rule, 39′)

TRY! New Zealand 19-3 Wales (Hirini, 27′)

TRY! New Zealand 12-3 Wales (Tui, 20′)

PENALTY! New Zealand 7-3 Wales (Bevan, 16′)

TRY! New Zealand 7-0 Wales (Woodman, 13′)

Kick-off! New Zealand 0-0 Wales

Preamble
Thank you so much for joining me for this quarter-final! Wales put up a great fight but the might of New Zealand is too much and the hosts and defending champions march on. Portia Woodman shone but the entire Black Ferns squad displayed they are more than up for the challenge of retaining their title. New Zealand will face France in the semi-final next weekend but to catch up with all the action from this one, read the report below! I will catch you early morning tomorrow, the coverage here starting at 12.30am BST, for England's quarter-final against Australia! Until then, have a great Saturday.
New Zealand's Ruby Tui told ITV: "It is more fun than it looks. The team has been through so much and we want to show New Zealand and the world that women's rugby is [a great product].
"There was hype but we had too many TikToks I swear. We had breakfast this morning and I said if I could pick any wingers to play with I would pick them. It was pretty bloody special tonight.
On the semi: "Not hard? Did you not see those tackle I was taking? What we are learning from the coaches, I have never looked at the game like this before. England and France have been leading the way and I wouldn't want to be facing anyone else. An absolute honour."
New Zealand are competing at their seventh World Cup and have just secured their sixth semi-final, it's their stage.
The scheduling clash has stolen the headlines in the build-up to this quarter-final and it was the Black Ferns who had the more thrilling match. They crushed Wales and the All Blacks only just beat Japan.
Wales head coach Ioan Cunningham told ITV: "It is still fairly big, the scoreboard doesn't lie. The intensity they can play at for 80 minutes is [impressive].
"I am really proud of the effort though. We came here to try and get out of the pool and we achieved that. We probably let the Australia game go but so chuffed to get the quarter-final.
"It's extremely special… we are changing the lives of some of these people."
Portia Woodman made 122 metres in the quarter-final as well as two tries which took her to the most tries scored in Rugby World Cup history, what a player New Zealand have in their locker!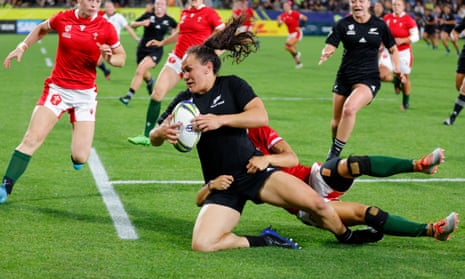 New Zealand player Kennedy Simon said: "It's an extreme privilege [to reach the semi-finals]. We have a legacy to uphold and advance.
And on the motivation for the performances she added: "First and foremost it's the black jersey. To come out here to see our supporters and families in the crowd it is [what matters]."
Wales captain Hannah Jones told ITV: "The side they brought out tonight is outstanding. I couldn't have asked more from the girls, we showed our best.
"We haven't been professional for long, we are building for the future."
The score would and could have been a lot higher for New Zealand but Wales did do well in defence despite the scoreboard. They can hold their heads high, their performance has improved so much since becoming professional earlier this year.
Full-time: New Zealand 55-3 Wales
The favourites have crushed Wales with not only fantastic and versatile attack but clinical defence. Wales unable to throw an attacking punch and they are out of the World Cup. It will be a New Zealand v France semi-final, what a match that will be!
80 min: New Zealand do well to win it back and they want more here as they attack. Wales turn it over though! What can they do here, they aren't wanting this one to end as they attempt to attack. Woodman picks it up though and they steam to the line.
78 min: The referee has a word with both captains as both teams are having afters off the ball and this time it is H Jones and Connor who push and shove. Wales have a scrum and despite a huge New Zealand shove the visitors come away with it.
77 min: Wales go short at the line-out and Joyce hesitates as New Zealand's defence fronts up. Tui gives away a penalty and Wales kicks to the stands once again. They win the line-out and go forwards. Woodman knocks on after Wales kick away.
75 min: Wales have the scrum and they come away with it. ITV had said Wales were targeting four tries in this match, cannot confirm if that is true, but they are yet to score. Wales do win the breakdown pen and they kick into the stands.
74 min: Wales' defence is still fighting tooth and nail and it comes off for them as Tubic's pass is forward. There's a break in play as Jones receives treatment.
73 min: There's a rare mistake from this New Zealand back three with a forward pass and Wales have the scrum. A huge shove from New Zealand sees them win the scrum penalty and the Black Ferns are off once more.
71 min: Williams-Morris is back on for Wales after her sinbinning. Neumann collects a cross field kick and wins the penalty at the breakdown. Lewis punts the ball into the stands, they will want a try from this one. But they aren't straight at the line-out and they knock on.
TRY! New Zealand 55-3 Wales (Demant, 68′)
That is clinical but with Wales down by so many it isn't surprising. Demant makes a great line to slice through. Holmes misses the conversion.
68 min: Tuipulotu is on for Rose as Wales make another change. Here come New Zealand again.
YELLOW CARD! New Zealand 50-3 Wales (George 67′)
George' deliberately knocks on and Wales are down another player
TRY! New Zealand 50 -3 Wales (Connor, 65′)
Connor pounces again after the back three propels the Black Ferns once more. Holmes is now the kicker but she misses.
64 min: Webb is coming off for Wales and with no more players on the bench Wales are a player down. Fluhler is off for Tubic – a tactical change – and Mikaele-Tu'u remains on. Tui has a great break and they are just metres away.
63 min: George kicks away and New Zealand decide to run it rather than clear their lines with a kick. The Black Ferns knock on through Roos and it is her last action as she is replaced with Rule also coming off. New Zealand turn it over after the scrum and they aren't done scoring in this one. A break in play as Webb is down again and Mikaele-Tu'u also receives treatment. The attendance has also been confirmed as 16,834.
61 min: Demant kicks to clear their lines after that yellow card. Webb has stayed on after receiving treatment by the way. Wales win the ball though and they have a shot to attack. They are running through the phases here, this is the best attacking spell they have had.
YELLOW CARD! New Zealand 45-3 Wales (Williams-Morris,59′)
Williams-Morris has tackled Tui off the ball but the referee is happy with the timing. But it's the lift and where Tui lands, the full-back seems to land on her shoulder/head. It is the landing which sees her in the bin for 10.
59 min: Cocksedge is off with Bayler on. And Wales have made changes with Snowsill and Norkett off. There's a break in play as a Wales player is down injured, it's Megan Webb who just came on. We are also heading to the TMO for a tackle on Tui.
TRY! New Zealand 45-3 Wales (Bremner, 56′)
New Zealand employ the whole team to run the ball through the hands with Bremner catching a long range pass. Demant misses the conversion.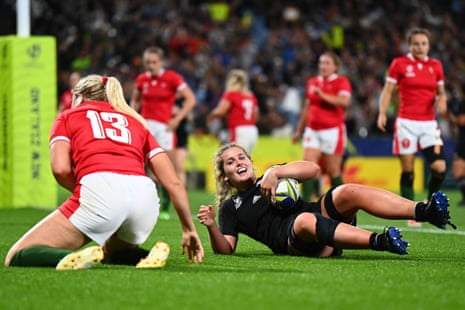 55 min: Wales are in attack and they will be desperate to get a try on the board, they do deserve more on the scoreboard for their performance. A loose Wales pass though is stolen by Fluhler on the floor. Here we go again …
53 min: Stacey Fluhler makes a great break and puts in a cracking long range pass but Woodman can't pick it up, so close to another score there. New Zealand make another change as Leti-I'iga is off, I didn't catch who replaced her but as soon as I know I shall let you know.
52 min: The scoreline may not tell the story but Wales have had a good performance in this match and as I type that they turn over the ball! New Zealand manage to wrestle it back and kick with Leti-I'iga chasing but Joyce comes away with it. Wales kick away, Tui collects and her pass is out of play. New Zealand make another change as Hirini is off for Kennedy Simon.
TRY! New Zealand 40-3 Wales (Connor, 49′)
New Zealand take it quickly and the replacement has the try! Demant kicks the extras, the fly-half has only missed one kick this match.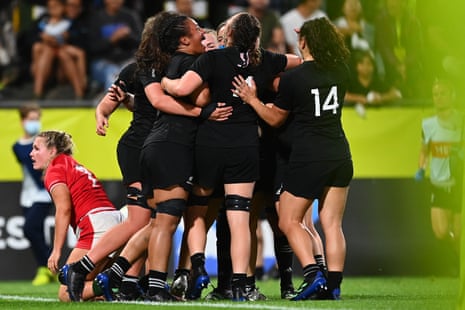 48 min: New Zealand make their first changes as Georgia Ponsonby is off for Luka Connor. The hosts come away with the ball at the line-out but Wales do really well to turn it over to prevent another score. Wales scrum but it is torn to shreds by New Zealand, what a shove from the hosts!
46 min: Here they come again, it is relentless for Wales defence right now. New Zealand win the penalty and they kick to the corner.
TRY! New Zealand 33-3 Wales (Woodman, 43′)
New Zealand manage to turn it over at the break down and the hosts come forward once more. And who else converts but Woodman? She is now the all-time leading try scorer in women's Rugby World Cup history.
42 min: Joyce does well to pick up a tricky pass as they start this second 40 in attack. Wales spill the ball but Tui's kick sees the visitors pick it up again. It would be great to see Wales score a try in this one.
Back underway! New Zealand 26-3 Wales
The second half has begun! Will New Zealand running away with this? Or can Wales get back into this.
Let's revisit the haka which was emotional ahead of kick-off:
Just look at this skill from Woodman. She has been everywhere for New Zealand so far, including scoring a try. The score saw her equal this tournament's top scorer table but also hit the same amount of tries in women's Rugby World Cup history! Woodman has only played eight RWC matches yet has 19 tries, a crazy stat.
Half-time: New Zealand 26-3 Wales
Well it was impressive early defence from Wales but New Zealand have four tries. Portia Woodman, Ruby Tui, Sarah Hirini and Amy Rule crashing over to put the hosts in firm control.
40 min: I think it is fair to call New Zealand ruthless, particularly through Woodman and Tui right now. It is hard to see Wales coming back from this scoreline.
TRY! New Zealand 26-3 Wales (Rule, 39′)
New Zealand win the line-out but only just and Woodman makes a phenomenal break. That is sensational from the winger, they run through the phases and Amy Rule is over. Demant has the extras.