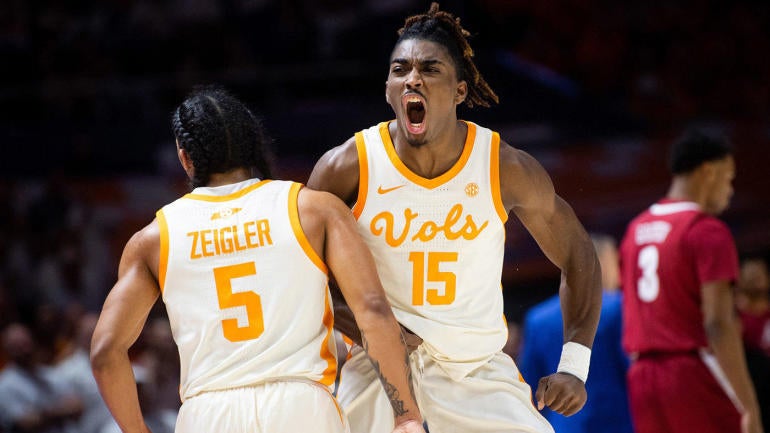 USATSI
No. 1 Alabama spent just two days atop the AP Top 25 college basketball rankings before taking a loss in the very next game, falling 68-59 at No. 10 Tennessee on Wednesday night in Knoxville. The loss drops Alabama to 22-4 overall, but more importantly marks the team's first SEC loss of the 2022-23 season.  
While the win sours what has been a celebration of the Crimson Tide's highest ranking in 20 years, the game also marks an impressive response from Tennessee after losing two straight games in buzzer-beating fashion. Even more notable is how the Vols dug deep despite being shorthanded. With senior Josiah Jordan-James and freshman forward Julian Phillips unavailable due to injury, Tennessee had just an eight-player rotation to battle a deep. talented and athletic Alabama side. But Tennessee relied on its elite defense to carry it, holding Alabama to just 35.4% shooting from the field. 
The Vols established an edge early with their defense, forcing Alabama into turnovers and then turning those errors into points. Of Tennessee's 29 points at the half of a tied game, 22 came off turnovers. The Crimson Tide tightened up after halftime and finished with 19 turnovers, but they proved insurmountable when coupled with the poor shooting effort. 
For a rivalry between fanbases that extends through generations and recently included an iconic Tennessee win on the football field, there was already going to be plenty of jubilation for a home win against the hated Tide. When you factor in the buzzer-beater losses to Vanderbilt and Missouri, along with the visible intensity from a team missing two starters, it was a special night in Thompson Boling Arena.    
Zekei Zeigler led Tennessee with 15 points and eight assists, including three of the team's six 3-pointers. Santiago Vescovi had 15 points to go with eight rebounds and three steals. Sophomore center Jonas Aidoo, taking on an increased role due to the injuries, logged 27 minutes, his second-highest total of the season. He was a force down low with 11 rebounds and three blocks to go with 12 points — also his second-highest point total of the season. Tennessee did not unlock anything new offensively to get this win, but it made just enough shots to pair with the gritty defensive effort. 
Tennessee was favored to win the top-10 matchup, so the result does not come as a major upset or surprise. It is notable, however, as the first conference loss of the season for Alabama. Now 12-1 in league play, the Crimson Tide still hold a lead in the loss column over Texas A&M and top Tennessee by three games in the loss column of the SEC standings. Up next for the Vols is a trip to Rupp Arena to play Kentucky on Saturday while Alabama will return to Tuscaloosa to host Georgia.