Key events
Half time: Nottm Forest 1-1 Newcastle
Two outstanding goals, a fair scoreline: what's not to love?
This is a brilliant finish from Isak, who is so damn hot right now. Schar and Saint-Maximin combined well on the right to release Willock, who lifted a cross towards the unmarked Isak at the far post. The ball was slightly behind Isak, who improvised beautifully to whirl his right foot around the ball and force a volley into the net via the far post.
GOAL! Nottm Forest 1-1 Newcastle (Isak 45+2)
Alexander Isak equalises on the stroke of half time!
45 min There will be three minutes of added time.
43 min A clash of heads between Ayew and Guimaraes leads to a break in play while they receive treatment. I think they're fine.
41 min Felipe sprays a pass over the top to Ayew, who looks miles offside but is allowed to continue. Trippier gets back to make a robust challenge, just in case, and then the flag goes up. Replays show Ayew was offside, though not by much.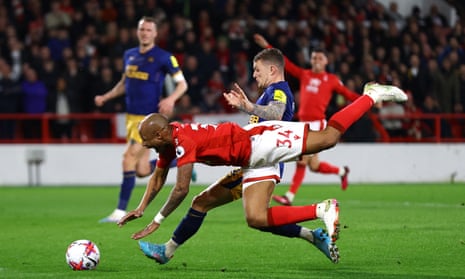 39 min "Have to say," says Peter Turnbull, "Forest need a calming yellow card."
I think Dennis was booked for his goal celebration, though I appreciate that's not the point you're making. Ayew and Shelvey should have been booked.
38 min Longstaff lifts a really clever pass into the area for Murphy, whose shot is blocked. Moments later, Longstaff belts over from distance.
35 min: Longstaff hits the bar! Murphy muscles Renan Lodi off the ball, just outside the area on the Newcastle right, and slides the ball back to the edge of the area. Longstaff collects and sidefoots a shot that hits Felipe, loops over Navas and hits the crossbar!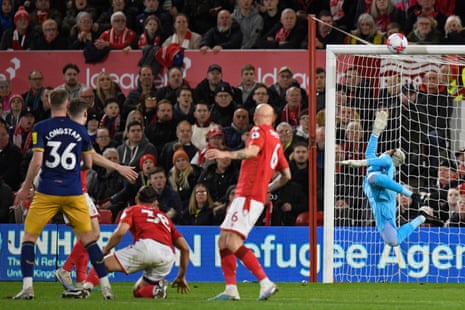 34 min Shelvey flips a terrific pass into Yates, who can't control it on the edge of the area. Had he done so, Forest might have been in again.
33 min Dan Burn is booked for dissent. Misplaced dissent at that, because replays show the decision he complained about was correct.
32 min "I cannot let your comment about Roy Hodgson pass unchallenged," says Richard Hirst. "He will always have an honoured place in the Fulham pantheon (no sniggering from the cheap seats) – a legend, and a gentleman."
He was great at Fulham, no doubt, but the thought of him replacing Vieira is just weird.
30 min Shelvey gets a final warning for a scissor tackle on Guimaraes. He did get the ball but that's not particularly relevant with a challenge like that, and like Ayew earlier he should have been booked. Forest have been very physical in the first half hour.
28 min That was such a good goal.
It was a delightful, insouciant finish from Dennis. Shelvey's long ball forward was collected by Botman, who then played a blind backpass. Dennis read it and collected the ball just ahead of Pope in the area. He moved the ball to the side and then, without looking up, floated the most delicate angled chip that drifted over Pope, Botman and finally Trippier on the line. You don't need the Inspiral Carpets to tell you how cool that was.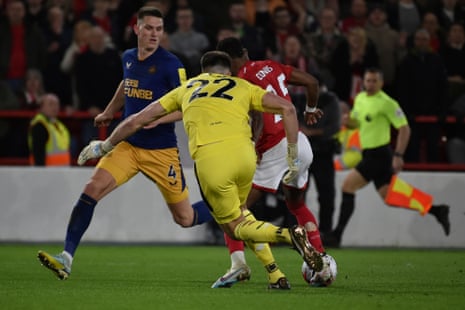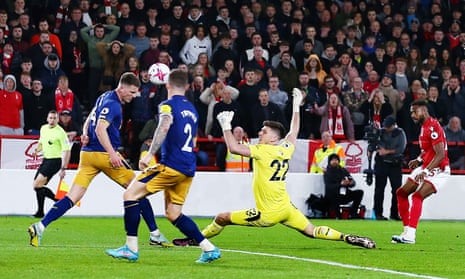 GOAL! Nottm Forest 1-0 Newcastle (Dennis 26)
Emmanuel Dennis scores after a howler from Sven Botman!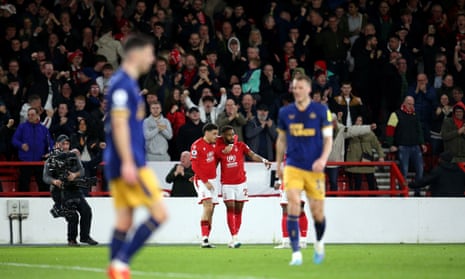 24 min "Don't worry, Chris Paraskevas, Shelvey is already a legend," says Matt Dony. "There was the time he offered Sir Alex outside for a square go, that was impressive enough. Or the time when, playing for Swansea against Liverpool, he scored one and set up three in a 2-2 draw. For a decent but limited footballer, his entertainment potential is off the charts. If he can bring any of that fun to the City Ground, you'll definitely be talking about him for years to come."
That set-to with Ferguson, a man 51 years older his senior, was quite magnificent.
22 min "BBC are reporting that Roy Hodgson is in the running to replace Vieira at Palace," says Simon McMahon. "At least football, much like the American electorate, can't be accused of ageism."
Rank stupidity, maybe, but not ageism.
22 min Dennis is booked for a foul on Trippier. Forest are fuming because they would have had a really promising counter-attack.
20 min Right, sorry about that; I think everything's okay now. You haven't missed much.
18 min Apologies, we're having technical problems here. It's still 0-0.
12 min: Lodi hits his own bar! Newcastle worked a brilliant free-kick, not unlike Wout Weghorst's goal against Argentina at the World Cup. Trippier shaped to cross and instead slid the ball into the unmarked Isak in the area. He took a touch and slid a shot across goal that took two deflections and was sliced against his own bar by Lodi!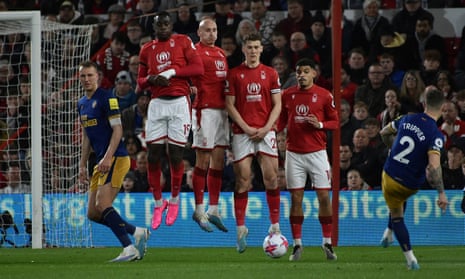 11 min Newcastle are starting to take control of the game, and Shelvey commits a silly foul on Guimaraes 22 yards from goal. It's probably too wide for a shot, so Trippier will flip it into the middle.
10 min Now Botman is feeling his right ankle after a heavy challenge, I think from Ayew. On the plus side for Newcastle, Schar seems fine.
9 min Yates and Willock have a row about nothing. That could develop, because Yates also booted Willock a couple of minutes ago.
6 min: Great chance for Willock! Newcastle should be ahead. Trippier played a penetrative straight pass to release Murphy on the right side of the area. He slid a fast low cross towards the far post, where Willock, arriving late, sliced the ball wide with his left foot from six yards. That was a really good chance.
5 min Schar wants to continue, but he's moving pretty gingerly.
3 min Ayew takes Schar out with a well-intentioned but thoroughly inept hack. Schar twisted his left ankle and might be in trouble here. Ayew is very lucky to avoid a yellow card for that.
3 min A slow start, nothing to report.
2 min Johnson has started on the right for Forest, with Andre Ayew as the No9.
1 min Peep peep! Forest's main man, Brennan Johnson, gets the game under way.
"G'day again Rob (at the very reasonable K.O. time of 7am)," writes Chris Paraskevas. "My old man's generation speak of Clough/Taylor's Forest team with reverence and awe. In 20 years' time, will I speak with the same reverence about Jonjo Shelvey's re-interpretation of the holding midfield role? Probably not… but knowing our luck he'll score a hat-trick against us! At least Henri Lansbury isn't playing…"
A reminder of the teams, who are about to walk onto the field
Nottingham Forest (possible 4-2-3-1) Navas; Aurier, Felipe, Niakhate, Lodi; Yates, Shelvey; Johnson, Gibbs-White, Dennis; Ayew.
Substitutes: Hennessey, Worrall, Williams, Colback, Toffolo, Surridge, Freuler, Danilo, Scarpa.
Newcastle United (4-3-3) Pope; Trippier, Schar, Botman, Burn; Longstaff, Guimaraes, Willock; Murphy, Isak, Saint-Maximin.
Substitutes: Dubravka, Dummett, Lascelles, Wilson, Ritchie, Lewis, Targett, Manquillo, Anderson.
Referee Paul Tierney.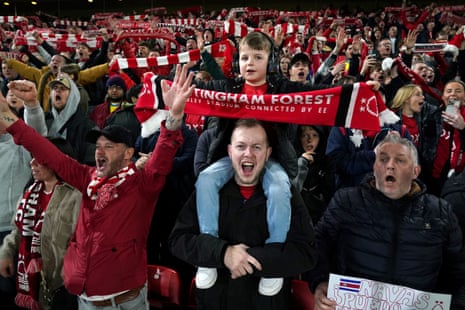 "Hi Rob!" says Joe Pearson. "Writing from the Midwest, where we are beset by overlapping basketball games all day and most of the night, thanks to the behemoth that is the NCAA Tournament.
"Don't get me wrong, I love the First Round. But it's just that after a day and a half of wall to wall basketball, I need a break. So a calming display of association football is just what the doctor ordered. Of course, a chaotic pitch invasion would be a change of pace as well. Just saying."
Pre-match music
This is well worth watching, and not only to see a barnstorming cover-drive from Jamie Carragher.
A win tonight would move Forest up to 12th. Newcastle will stay fifth whatever happens, though they can close the gap on both Spurs and Manchester United.
Remember when
Everyone remember Kevin Keegan's loss of noggin at Leeds in May 1996, but Newcastle's game at Forest three days later was even more significant in the title race.
From the archive
Newcastle 4-3 Nottm Forest (match void), FA Cup quarter-final, 9 March 1974
Another famous atmosphere in the north-east, for slightly different reasons. If you thought the sight of generously proportioned Newcastle fans with their belly buttons on show was exclusive to the sophisticatedly affluent Premier League, you were wrong. When Newcastle went 3-1 down, and were reduced to 10 men, against second division Nottingham Forest, a riot started because of what the Observer described as the "chubby strivings" of one particularly magisterial specimen of masculinity. The picture is painted beautifully in Paul Fitzpatrick's Guardian report:
Only a spark was needed to set alight combustible feelings, and a balding middle-aged looking pugilist provided it. His paunch exposed, his shirt flying, this heavyweight bare-knuckle fighter set his arms flailing like a windmill and at least five policemen were needed to cool his ardour and pin him to the muddy turf. But the damage had been done and the crowd went haring down the pitch to the Gallowgate end.
If this bedraggled champion – with his mad-professor hair and top barely reaching halfway down his protruding stomach as he was led off by the police towards the mother of all hangovers – was comedy gold, what followed certainly wasn't. There were 39 arrests and 25 people were taken to hospital, two with fractured skulls. Forest's Dave Serella was punched in the face. The police let the dogs out and the referee took the players off for eight minutes; when they returned, Forest, playing with all the freedom of men with a Messerschmitt up their arse, surrendered feebly. Despite being two goals and one man down, Newcastle recovered to win 4-3.
Even allowing for Forest's understandable subservience, however, it was astonishing stuff from Newcastle. The Observer said they played with "inextinguishable fervour" amid a "shattering pandemonium". Bobby Moncur scored a palpably offside winner in the last minute; the linesman, it was said, feared being "lynched" if he raised his flag.
After dithering over a few 15-course buffets, the FA eventually ordered the game to be replayed at Goodison Park. That was drawn 0-0, but Newcastle went through with a 1-0 win in the replay of the replay, also at Goodison. They went all the way to the final, where, in the words of David Coleman's commentary, they were "absolutely stripped naked" by Liverpool. But they would almost certainly not have got that far were it not for those chubby strivings two months earlier.
Up to eleven
Team news: Brennan Johnson starts
A big boost for Forest, whose talisman Brennan Johnson has recovered from a groin injury and will start the game.
There are four changes from the defeat at Spurs last week, and a possible switch to 4-2-3-1. Moussa Niakhate, Ryan Yates, Emmanuel Dennis and Andre Ayew replace Joe Worrall, Remo Freuler, Orel Mangala and Jesse Lingard.
Newcastle are unchanged, but Miguel Almiron – who came off the bench to score the winner against Wolves – is out with a thigh injury. Anthony Gordon is also injured.
Nottingham Forest (possible 4-2-3-1) Navas; Aurier, Felipe, Niakhate, Lodi; Yates, Shelvey; Johnson, Gibbs-White, Dennis; Ayew.
Substitutes: Hennessey, Worrall, Williams, Colback, Toffolo, Surridge, Freuler, Danilo, Scarpa.
Newcastle United (4-3-3) Pope; Trippier, Schar, Botman, Burn; Longstaff, Guimaraes, Willock; Murphy, Isak, Saint-Maximin.
Substitutes: Dubravka, Dummett, Lascelles, Wilson, Ritchie, Lewis, Targett, Manquillo, Anderson.
Referee Paul Tierney.
Hello and welcome to live coverage of Nottingham Forest v Newcastle United at the City Ground. When these two met on the opening weekend of the season, they'd have munched your paw off had you offered them 14th and fifth place respectively ahead of the return fixture. But there's always a but, and here it is.
Forest, four places but only two points above the please-don't-call-it-the-drop-zone, are still embroiled in a fight for survival. And Newcastle, though ahead of their world-domination schedule, would be in an even better position to qualify for the Champions League were it not for the two-month hibernation that ended with victory over Wolves last Sunday.
Still, both are in reasonable shape as they prepare for the final push after the international break. If Forest maintain their outstanding home form – 17 points from the last nine games – they will stay up, while Newcastle have games in hand on fourth-placed Spurs and are in control of their own destiny.
Yes, that is the MBM cliche klaxon you can hear. 'In control of their own destiny' FFS. What happened to this thing?
Kick off 8pm