Spoilers below.
In Only Murders in the Building, anyone can be a suspect. The two-episode opener certainly eyed a few in the murder of actor Ben Glenroy—Meryl Streep's Loretta became enemy number 1 when her openly hostile relationship with Paul Rudd's deceased movie star was exposed, while a rabid fan posing as Ben's security guard was taken into custody after kidnapping Charles and Mabel—but there's many more people to parse through before we find our murderer. "Grab Your Hankies" begins that job by zeroing in on Tobert (Jesse Williams) and Kimber (Ashley Park).
While Charles and Oliver rehearse upstairs, Mabel's investigative instincts are banished and she immediately goes to Ben's penthouse to sneak around for more clues. In the elevator, she finds she has company: Ben's documentarian Tobert is also headed to his apartment ostensibly to pick up his boom mic, and Mabel lies and says she is picking up a signed Girl Cop headshot. Mabel and Tobert tiptoe around each other's true motives and eventually find themselves trapped in Ben's armoire when his brother Dickie arrives.
More From ELLE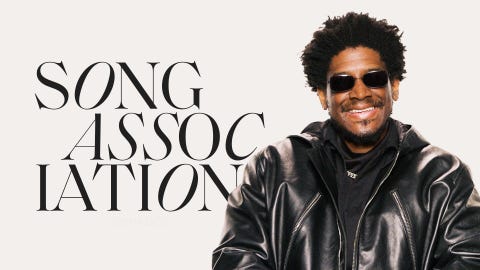 Dickie's nervous sensibilities are even more heightened after his brother's death. He smashes a lamp and then immediately apologizes to his deceased sibling, and he finds it hard to shed his identity as his brother's manager as he still answers phone calls on his behalf. But Mabel and Tobert don't seem entirely concerned about the havoc he's wreaking outside; they're more engrossed in each other—the sexual chemistry inside the armoire is high. Tobert admits that he's a fan of the podcast and, when he deduces correctly that Mabel is up here to snoop around, he admits that he's really here to find a camera that has footage of Ben on the night he died. It turns out Tobert was filming Ben the night of his death, but Ben sent him away and kept the camera, which was still recording.
After they're able to escape the armoire, Tobert tells Mabel a story about his documentary trip to Africa, during which he witnessed a baby elephant get trapped and immediately leapt to action to help save it. Mabel feigns interest in the story, inching closer to him to snipe the film drive from his pocket.
Of course, the drive is password protected and she has to find him at a coffee shop later to get access to the footage. Tobert is reluctant at first but then fesses up: He fabricated the elephant story—he never got out of the tree to help—but this time, he doesn't want to "stay in the tree again." He agrees to help Mabel find the real killer. But his lie felt conniving, like a taste of his true nature. With so much access to Ben, it's possible that Tobert played a larger role in his death.
They play the footage, which shows Ben in his dressing room talking to someone offscreen who's "acting all sweet" but is actually bad. "I want you so fuckin' bad, but you're going to ruin my career," Ben says almost as if reciting lines. It sounds like a lovers' spat, which could point towards Kimber, as Ben insinuated a romantic relationship between them when he reemerged in episode 1.
In rehearsal, Kimber isn't seeming much more innocent. Oliver reworks Death Rattle to become Death Rattle Dazzle—a musical that the cast wants no part of—and after crafting the show stopping number "Creatures of the Night," Loretta convinces him that a less showy but more emotional lullaby number might be the key to the show. When Loretta performs it for the producers later, Kimber is moved to join in as the supporting harmony and her voiceover conveys her jealousy. "When one light shines brighter than the rest…you may need to snuff them out," she says ominously. Even more suspicious? She can't conjure up the hankie for Charles, saying she must have thrown it away or donated it. That could mean her hankie is the one Ben was holding when he died, according to Mabel's theory.
The only person who seems interested in moving on and away from Death Rattle is Loretta, which may cast some doubt in her direction as well. Loretta openly auditions for a series regular TV role that would take her to Los Angeles (she gets the part and is most excited about playing a character with a limp). When her new manager Dickie bursts in with the news, Oliver can feel not only his chance at staging this musical but also his burgeoning relationship with Loretta slipping away, and he forbids her from taking the role due to a breach of contract. She's upset, but they both eventually come around with Loretta deciding to stay at the show. "I've decided I like being found," she says, inviting a long-awaited kiss from Oliver.
Death Rattle Dazzle's future was also hinging upon its financing, and after watching Loretta's lullaby, Cliff passionately defends the show to his mom and co-producer Donna, who was skeptical about the financial viability of a musical. In the end, they officially greenlight the project. It saves Oliver from taking up his assistant Howard's offer to use money from his friend at State Farm, and reinstates Oliver's confidence in his own creative abilities. The show will go on!

Radhika Menon is a freelance entertainment writer, with a focus on TV and film. Her writing can be found on Vulture, Teen Vogue, Bustle, and more.