Key events
WICKET! Malan c&b Qadir 20 (England 53-2)
Malan slams a full toss from Qadir for SIX but has to go next ball, chipping a length ball back to the bowler who clings on to the return catch. Ben Duckett joins Hales and is beaten by a googly from Qadir. Welcome.
7th over: England 56-2 (Hales 18, Duckett 2)
6th over: England 47-1 (Hales 17, Malan 14) Haris Rauf to bowl the final over of the powerplay. Malan and Hales can't get break the field, Rauf's fast arm hurrying the batters up and restricting them to just four singles from the over including a scurried leg bye.
5th over: England 43-1 (Hales 16, Malan 12) Good over for England, Malan uses the pace Dahani to dab a back of a length ball away past Rizwan for four. Another boundary from the blade of Malan, rolling the wrists on a pull that screches away to the fence. Ten from the over.
4th over: England 33-1 (Hales 15, Malan 3) Alex Hales plays another leaden footed slam for four through the covers. Who needs foot movement? Trescothick esque. A glide through point brings Hales three more. Dahani is coming back for some more PACE.
WICKET! Salt c Haider Ali b Shahnawaz Dahani 10 (England 19-1)
Salt plops a 141kph ball from Dahani over mid off for four and clearly fancies a piece of the pace bowler. Very next ball he pulls powerfully, fast and flat, the ball skimming at head height seemingly for six until it is PLUCKED out of the sky by Haider Ali. Great catch. Salt smiles ruefully as he walks off.
Dawid Malan in early, he clips another rapid delivery off his pads for a single to get Hales on strike. The 'recalled opener' stands and delivers, smiting a drive for four.
3rd over: England 24-1 (Hales 8, Malan 1)
2nd over: England 15-0 (Salt 6, Hales 4) Mohammad Nawaz to twirl away… dot, dot, dot, dot… it is a painful over for Phil Salt as he struggles to get the spinner away, facing four dots before managing to get off strike with a single. Boa Constrictor squeeze from Nawaz.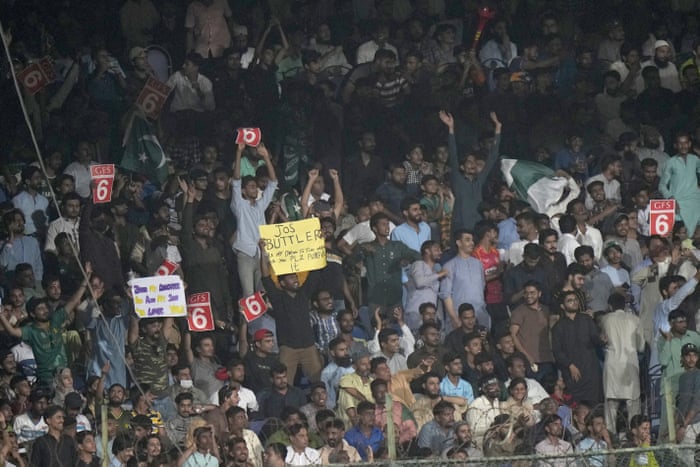 1st over: England 14-0 (Salt 5, Hales 4) High octane first over, Phil Salt gets on the drive and slams Shah's first ball for four through the covers. That riles the young quick up and he razzes down a rapid delivery that evades everyone and races away for five wides! England will take 'em. Alex Hales then re-starts his England career with a powerful cut for four!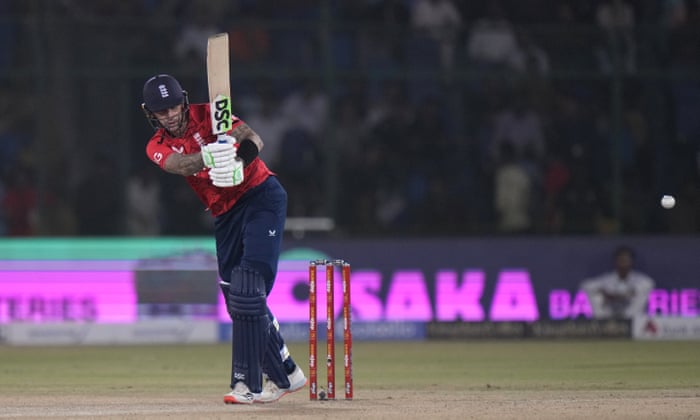 Yes James Walsh. I am very much enjoying the 90s gameshow/Eurotrash feel to these:
Speaking of which…
No messing about, the players are straight back out there. Hales and Salt to open up for England. Naseem Shah to send down his thunderbolts. Play!
Pakistan set England 159 runs to win!
A highly eventful final over from Luke Wood, his first ball is crunched for six over mid-off by Iftikhar. The batter tries again with the very next ball but doesn't quite get enough of it – Ben Duckett displaying some nifty footwork on the boundary edge to cling onto the catch. Naseem Shah comes to the crease and gets a top edge to Sam Curran at fine leg to give Luke Wood two wickets in the final over, he finishes with 3-24 from his four overs, a fine performance on daybooo.
19th over: Pakistan 150-5 (Iftikhar 22, Khushdil 3) Sam Curran to bowl out. His first ball is a disaster, the ball slipping from his hand like greased up Imperial Leather (other soaps are available, I think) and marmalised for SIX over fine leg. Curran manages to respond well and gets out of the over for the cost of just three more. Final over coming up – debutant Luke Wood entrusted.
18th over: Pakistan 141-5 (Iftikhar 14, Khushdil 2) Wood gets the wicket and bowls a miserly over for his captain too. Just four runs from it. Pakistan have slowed right down after coming out in a blaze of strokes at the top.
WICKET! Nawaz b Wood 4 (Pakistan 137-5)
A first T20I wicket for Luke Wood and an emphatic one! A quicker ball scuds past Nawaz's lofty drive and into the stumps – sending the timbers cartwheeling! The debutant leaps in the air and is mobbed by his teammates. A nice moment.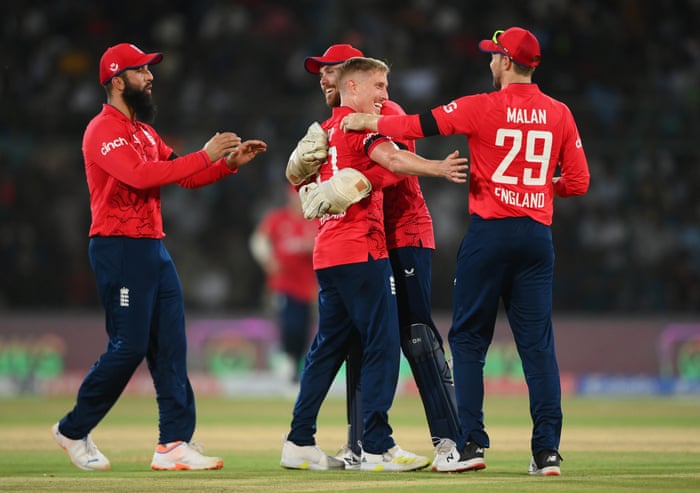 17th over: Pakistan 137-4 (Iftikhar 12, Nawaz 4) Iftikhar slots David Willey over long on for SIX! That helps the run rate. A protracted over as Willey sprays down a couple of wides and Pakistan rotate strike. 12 runs from it in the end. Three to go.
16th over: Pakistan 125-4 (Iftikhar 4, Nawaz 2) Mohammad Nawaz is the new batter for Pakistan. Rashid limits the home side to five runs from the over and finishes his set of four overs with 2-27. Tidy.
WICKET! Masood c Gleeson b Rashid
A tame reverse-sweep from Masood loops straight to Gleeson on the '45. The Pakistani wickets keep tumbling.
WICKET! Rizwan st Salt b Ali 68 (Pakistan 117-3)
Rizwan gone! Moeen saw him advancing down the track and speared the ball in shorter. The opener played his cards too soon and is left floundering. Salt whipping off the bails quick smart. Pakistan stuttering here and they've lost their 'in' batter.
Iftikhar Ahmed is the new batter and he's very nearly stumped off a wide from his first ball! Slightly dopey cricket all round. Spin making things happen more than seam on this surface, Pakistan will have clocked that.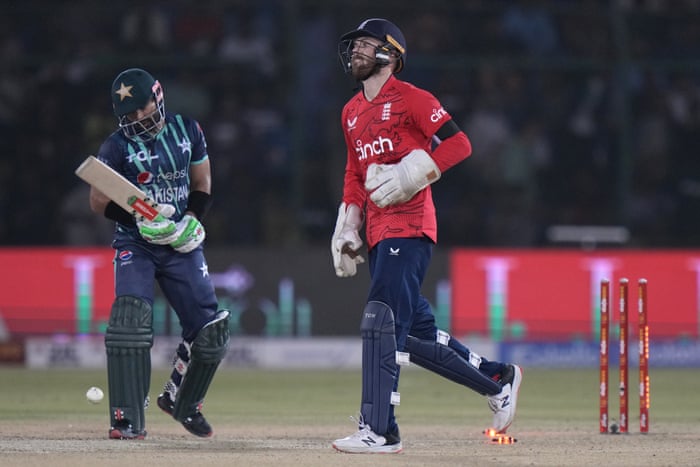 15th over: Pakistan 120-3 (Masood 1, Iftikhar 1)
14th over: Pakistan 110-2 (Rizwan 66, Masood 1) Shan Masood comes to the crease on debut. He blocks out his first two balls before getting off the mark with a single into the covers. He's an opener by trade, it'll be interesting to see how he goes with Pakistan expecting pedal to the metal from the get go. Six overs to go.
WICKET! Haider Ali c Willey b S Curran 11 (Pakistan 109-2)
As you may have guessed from the heavily loaded ellipsis… England have another wicket. Haider Ali smiting curran high into the Karachi night but not quite getting it far enough, Willey taking a safe catch on the boundary edge. England creeping back into this in the last couple of overs.
13th over: Pakistan 107-1 (Rizwan 65, Ali 10) Willey returns and tightens things up a smidge, just three runs off the over – a cunning mix of slower balls and yorkers doing the business. Will the pressure lead to a mistake…
12th over: Pakistan 104-1 (Rizwan 64, Ali 8) Rizwan drops to his haunches and smears Rashid over mid-wicket for SIX! He's eyeing up a big score here. 11 runs from the over. Pakistan ticking over at just under nine an over and they've got a big engine room sitting idle in the dugout. They'll want close to 200 on this surface and with this platform.
11th over: Pakistan 93-1 (Rizwan 56, Ali 5) More singles than an 18-30 holiday to Kavos. Well, six. Richard Gleeson returns and keeps a lid on things with a barcode over.
10th over: Pakistan 87-1 (Rizwan 53, Ali 2) Haider Ali the new batter and Rashid has his dander up after that golden dismissal. Ali clips for two but it's England's over – just four runs and a wicket off it. We're halfway through the innings, time for a drink.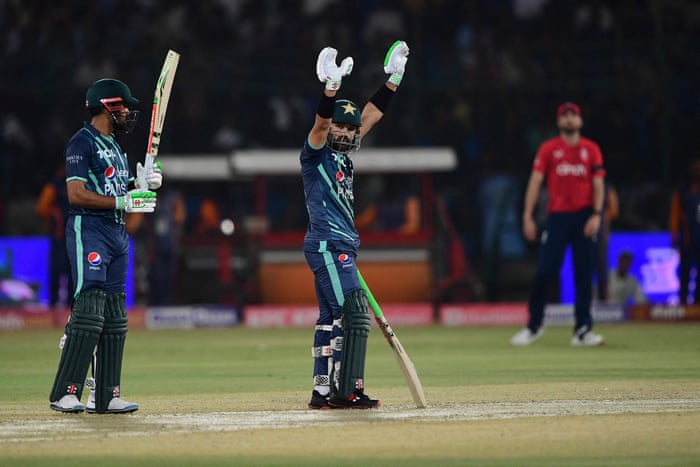 WICKET! Babar b Rashid 31 (Pakistan 85-1)
Bowled him with a googly! Rashid foxes Babar with a well-disguised wrong'un, the ball turning through bat and pad and scudding into the stumps. England needed that, Pakistan lose their first.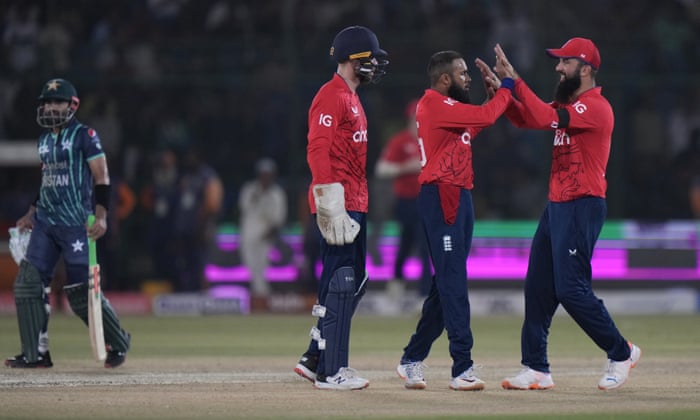 9th over: Pakistan 83-0 (Rizwan 42, Babar 27) Spin from both ends as Ali brings himself on. Five runs from the first four deliveries as the batters nudge and nurdle into the gaps… that's a huge SIX though! Rizwan hops and skips down the wicket and dispatches a length ball over long on for the first maximum of the series. Two more off the last ball make it 13 from the over.
8th over: Pakistan 70-0 (Rizwan 42, Babar 27) Moeen turns to spin and his best mucka – Adil Rashid. A mixture of flat skiddy deliveries and slower looping tempters from Rashid as he tries to find the best pace to bowl on this glassy-surface. No boundaries but Rizwan and Babar are expert at finding the gaps, seven runs easily collected from the over.
7th over: Pakistan 63-0 (Rizwan 38, Babar 25) Sam Curran trundles in and it seems to be easy pickings for Pakistan. A short ball is swatted away dismissively by Rizwan to the fine leg fence and a full ball delivered from around the stumps is driven powerfully back past the bowler for four more. 12 runs conceded from the over and not a single sniff for England.
6th over: Pakistan 51-0 (Rizwan 28, Babar 23) Fetch that! Rizwan takes a few steps down the track and clonks Luke Wood straight for four! That was a dismissive shot, Rizwan and Babar are lining up the England bowlers and looking very comfortable*. A quickly run barace brings up the fifty partnership up top for Pakistan. England need a breakthrough or it could be a looooong twenty overs.
(*mockers attempt?)
5th over: Pakistan 43-0 (Rizwan 21, Babar 22) Ali continues to rotate his bowlers. Richard Gleeson is summoned for some right arm over and gets away with three singles but then overpitches and is nonchalantly clipped to the boundary by Rizwan. Pakistan very much on the offensive, England's attack has looked a bit samey and one paced in these early stages.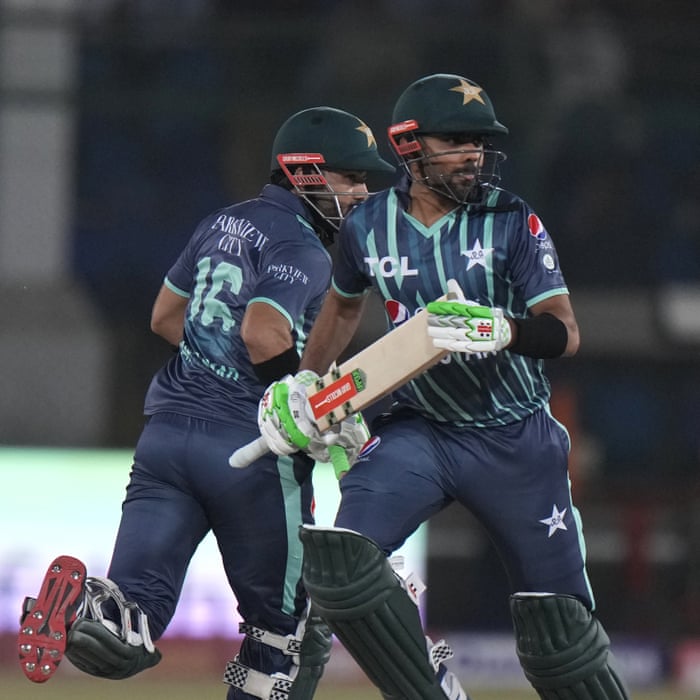 4th over: Pakistan 36-0 (Rizwan 13, Babar 19) Debutant Luke Wood is called upon early by Moeen Ali. Wood is the third of England's trio of southpaw seamers in this game and sends down a neat over, just four singles from it.
3rd over: Pakistan 32-0 (Rizwan 13, Babar 19) Beautiful batting from Rizwan who plunders back to back fours off Willey. A whip-crack cut shot followed by a neat flick to leg. 'Anything you can do…' Babar then plays the best of the lot, a back foot drive that whistles away in the gap. Sublime.
2nd over: Pakistan 15-0 (Rizwan 4, Babar 11) Sam Curran, complete with peroxide frosted tips, takes the new ball from the other end. He starts with three dots but then drops short and Babar pounces on it and flicks to the fine leg fence for four. The outfield looks rapid too. This could be a run-fest. Gulp.
1st over: Pakistan 9-0 (Rizwan 3, Babar 6) David Willey delivers the first ball of the game and a small piece of cricketing history. Rizwan is off the mark straightaway with a push through the covers. The crowd are enthusiastically cheering all the time, it is wonderful to hear. What an atmosphere! The crowd go into raptures as Babar whips Willey away for the first boundary of the game, a neat clip off his toes traces to the fence. Sharp running from this opening pair and it is nine runs off the first over.
The pitch has a sheen to it like that famous picture of Sabina Park by Patrick Eagar. I'm a long way away in sunny South London but from here it looks a belter.
The teams are out and lined up for the anthems. David Gower's lugubrious tones can be heard on the tv commentary. Moeen commands his men, sets his field. Rizwan and Babar stroll to the crease – the wicket is malted milk hued and looks rock hard. David Willey has the new ball in his left mitt. The crowd are up for this, so am I!
Let's play!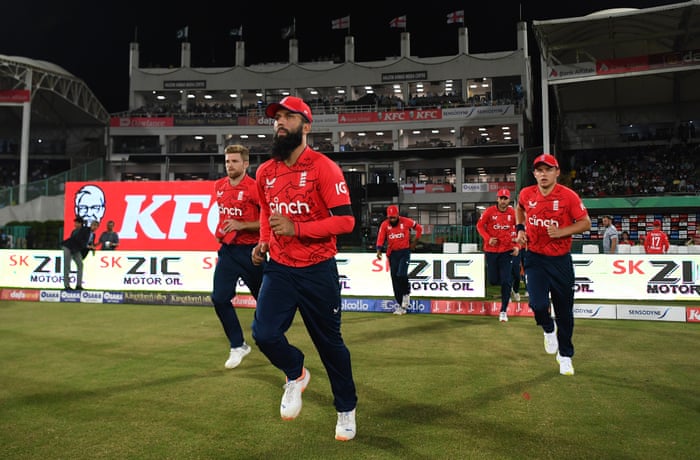 Alex Hales has been speaking to Sky Sports:
The esteemed Andy Bull is our man on the ground in Karachi, his evocative piece from the polo ground is well worth your time.
Teams:
Pakistan: Babar Azam (c), Mohammad Rizwan (wk), Haider Ali, Shan Masood, Iftikhar Ahmed, Khushdil Shah, Mohammad Nawaz, Usman Qadir, Haris Rauf, Naseem Shah, Shahnawaz Dahani
(Derbyshire's) Shan Masood makes his debut and Rizwan is rested… from his rest – he plays.
England: Phil Salt (wk), Alex Hales, Dawid Malan, Ben Duckett, Harry Brook, Moeen Ali (c), Sam Curran, David Willey, Adil Rashid, Luke Wood, Richard Gleeson
Luke Wood is presented with his debut cap by Jos Buttler. It's a new-ish look England – Hales, Duckett, Wood.
England win the toss and will bowl first
Moeen Ali calls correctly under the Karachi lights. He speaks just afterwards about the importance of the occasion: "It's massive for us and massive for Pakistan as well. I've not been to Pakistan much in my life so to represent England as captain here is amazing."
Moeen also confirms that Alex Hales will play. "Alex Hales comes in after three years which is amazing for him." Confirmed teams and comment from along Babar in a sec.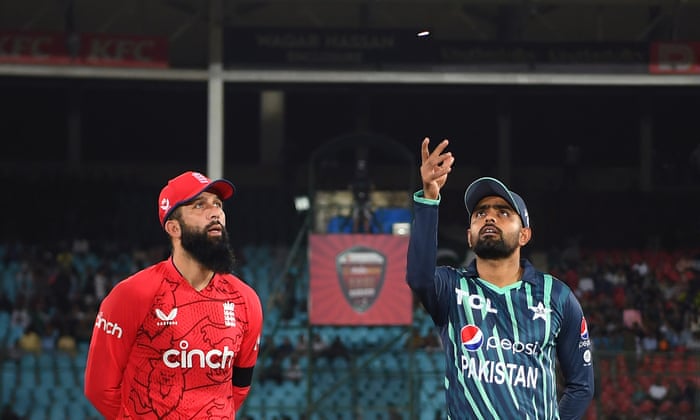 December 21, 2005. England's weary cricketers trudge off the field under the misty haze of the Rawalpindi floodlights. A consolation ODI victory chalked up thanks to a match winning 4-48 by a 23 year old slippery seam bowler called James Anderson. As the players head off the dew sopped outfield and thoughts turn to flying home for Christmas, none of them were to know that they would be the last England men's cricket side to play in Pakistan for nearly two decades.
Today, England return, belatedly, after seventeen long years. James Anderson is, inevitably, the only player from that series still plying his trade and he hasn't sent down an international white ball in anger since 2015. Back in 2005, Duncan Fletcher's England squad lost their Ashes glow under the South-Asian sun – succumbing in both the three Test series (2-0) and the following five match ODI series (3-2 ).
Since that tour the two sides have duked it out in England and the UAE, the storied rivalry between the two sides has bubbled along, memorable for reasons both on and off the pitch. One thing is certain – English cricket owes Pakistan a debt for helping them keep the lights on, arriving to help as they did in the guts of the pandemic in the UK, an act of cricketing solidarity made all the more pertinent when England failed to return the favour, pulling out of a return to Pakistan last summer in chaotic and confusing circumstances.
They are there now though, in Karachi to be exact and will be led by Moeen Ali. Ali, whose family roots are in Pakistan, has spoken about how meaningful it is to return and lead England there.
"I wanted to be part of this. It's a big thing when England come to Pakistan, more than any other country, England's the one that the Pakistan fans really love to see coming here."
The games come thick and fast from here, seven T20Is crammed in to ten or so days, both teams on fact-finding missions ahead of the World Cup in Australia next month. England will be back again for three Test matches before Christmas but lets enjoy the white ball whacking first, it feels like a quietly momentous series and beginning of a new cricketing chapter between these two sides.
Play will be underway in 30 minutes, I'll be back very shortly with news of the teams and the toss. As ever, drop me a line with any comments, thoughts or theories.