Key events
It's Friday – it's 4pm-ish – yes! It's time for The Fiver, courtesy of John Brewin:
Some more Antonio Conte quotes have dropped on the PA wire, starting with more on the schedule:
"We knew it was crazy to put a World Cup during the league and the Champions League. This type of schedule is crazy. Honestly, it is really strange in England that we start to play three days after the final of the World Cup. We are the only country to do it.
"Italy, France, Spain and Portugal and other countries, they are taking time to give rest and to breathe a bit. I find it crazy that December 21, after three days from the final, we are going to play a game in the Carabao Cup. I find this crazy. After three more days you have to play in the Premier League. The show must go on, this is the truth, but honestly I don't like it."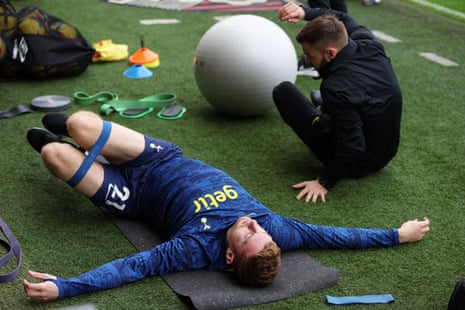 Conte also said that Dejan Kulusevski may play a part against Liverpool on Sunday. He added: "It is better to start with a smile. Yeah, we need to face this situation [the schedule]. I said also before we have to try to finish these three games in the best possible way. We have these injuries and I can confirm Richarlison is not available for the game. It is the same for Romero but Bentancur is much better. Today he was part of the training session.
"It was the same for Kulusevski, today he had half a training session with us. The problem is Lucas Moura is having some different faces for his pain in his tendon. Today he was really bad and he said to me he was really worried for this but I ask of him to try to be available because we need (him). Also, Sonny, you know, is now having surgery. At the end, we have to be happy for qualification for the Champions League."
England Lionesses news from PA, or "the PA", if you prefer:
Jess Park has been called up to the England squad for this month's friendlies with Japan and Norway. The 21-year-old forward, who is on loan at Everton from Manchester City, replaces Chelsea's Fran Kirby in Sarina Wiegman's 25-player squad.
Kirby has a viral infection and will remain with her club to complete her recovery. Kirby had been named in the initial squad on Tuesday despite missing four of Chelsea's last five games.
Head coach Wiegman said at the time: "She's being assessed right now and then hopefully she'll progress this week and she's ready to come in for camp."
Wiegman's squad will travel to Spain next week to take on Japan and Norway in Murcia. The European champions face Japan on November 11 and Norway four days later.
News from Germany, courtesy of AP:
With the World Cup only weeks away, Germany goalkeeper Manuel Neuer is set to return to action with Bayern Munich for the first time in nearly a month following a shoulder injury.
Neuer has not played since a 2-2 draw with Borussia Dortmund on 8 October but Bayern coach Julian Nagelsmann said Friday the keeper will play against Hertha Berlin in the Bundesliga on Saturday as long as there are no setbacks in the final training session.
"We waited for as long as needed for him to be pain-free again. There's always a certain risk but he and the doctors have given the green light," Nagelsmann said. "Something can always happen. Soccer is a contact sport."
Nagelsmann added that Germany forward Leroy Sané and France defender Lucas Hernandez will also return to the squad after recent injury absences but will only be involved off the bench. Sane had a thigh strain in the 5-0 win over Freiburg on 16 October and Hernandez has not played since tearing the adductor muscle in his left thigh against Barcelona in September.
Two other Bayern players with World Cup ambitions remain out of the squad. Nagelsmann said Germany forward Thomas Müller is in line to return next week after various minor injuries and illnesses which have restricted him to only brief appearances over the last month, while Netherlands defender Matthijs de Ligt missed training with a knee issue. Germany coach Hansi Flick is scheduled to announce his squad Thursday. Germany's opening World Cup game is against Japan on 23 November.
Fifa has written to World Cup teams urging them to focus on football in Qatar and not let the sport be dragged into ideological or political "battles". The letter from Fifa president Gianni Infantino and the governing body's secretary general Fatma Samoura follows a number of protests made by World Cup teams, on issues ranging from LGBTIQ rights to concerns over the treatment of migrant workers.
"Please, let's now focus on the football!" Infantino and Samoura wrote in the letter to the 32 nations contesting the World Cup. "We know football does not live in a vacuum and we are equally aware that there are many challenges and difficulties of a political nature all around the world. But please do not allow football to be dragged into every ideological or political battle that exists."
"If Gianni Infantino wants the world to 'focus on the football' there is a simple solution: FIFA could finally start tackling the serious human rights issues rather than brushing them under the carpet," Steve Cockburn, Amnesty International's Head of Economic and Social Justice, said in a statement. "A first step would be publicly committing to the establishment of a fund to compensate migrant workers before the tournament kicks off and ensuring that LGBT people do not face discrimination or harassment," Cockburn added.
"It is astonishing they still have not done so. Gianni Infantino is right to say that 'football does not exist in a vacuum'. Hundreds of thousands of workers have faced abuses to make this tournament possible and their rights cannot be forgotten or dismissed. They deserve justice and compensation, not empty words, and time is running out."
World Cup organisers have said that everyone, no matter their sexual orientation or background, is welcome, while also warning against public displays of affection. Qatar has acknowledged there are "gaps" in its labour system but the World Cup has allowed the country to make progress on worker rights. (Reuters)
We've heard from the following 13 Premier League managers so far today. We're doing great!
Moyes
Klopp
Lampard
Hassenhuttl
Guardiola
Emery
Conte
Potter
Vieira
Arteta
Davis (Wolves)
Ten Hag
Howe
Do scroll down to see what they actually said. Who will be next?
Conte says condensed playing schedule is 'impossible'
Those Conte quotes in full regarding the schedule: "Many teams are having big injuries, this is because we are playing every three days. I think that we are seeing that this situation is impossible, it's impossible for the future. It will be important for the future to understand, because many times I hear about the welfare of the players, but it's only a polite way to show that you are really interested in their welfare. Because then, they [governing bodies] are not really worried about the welfare of the players if the schedule is this. In every moment you show that the most important thing is: 'The show must go on' then please, I don't want to listen, to speak about the welfare of the players, because this is not true."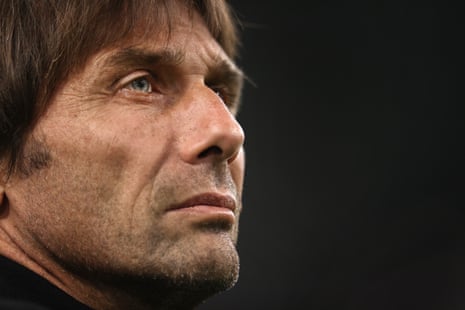 Antonio Conte also spoke about the punishing schedule, saying that 'player welfare' is a 'polite' way for authorities to claim they care about the players' wellbeing, but that in reality the schedule comes first. A good point well made.
Graham Potter said Ben Chilwell is having a scan on his hamstring injury this afternoon, adding that they had to wait for swelling to go down a bit before doing checking the injury.
The Tottenham manager Antonio Conte, meanwhile, told Sky Sports News in his press conference that Heung-Min Son is "probably" having surgery on his eye fracture now.
David "Moyesy" Moyes of West Ham is having a chat.
Will Lucas Paquetá feature against Palace? "He's been training … he's probably ready to be included in the squad … we certainly think he could be involved."
"We're beginning to get some injured players back … Nayef Aguerd played 90 minutes last night."
"We earned it, we won the games in the other rounds of the tournament [Europa Conference League] … in the end we found ourselves top of a group in Europe which is excellent from our point of view … we left some players behind who didn't need to go to Romania [the 3-0 win against FCSB last night].
"We've not had the same preparation time as others as we've just got back from Hungary.
Are the players minds' on the World Cup? "I've not really had any conversations with them [about the WC] … we have got a job to do here. I've got supporters and owners who want to see the team winning. That's my position."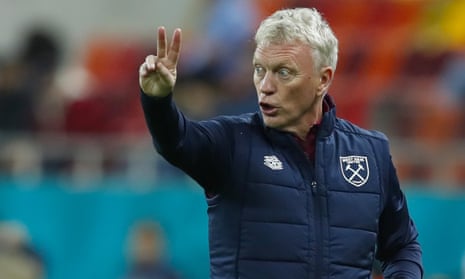 "If Auba's got something it's the ability to put the ball in the back of the net."
The Gunners gaffer Mikel Arteta says his former charge, Pierre-Emerick Aubameyeng, will be 'very dangerous' for his Arsenal team on Sunday.
Watch the video:
Thanks Gregg and hello again everyone. Now, what Premier League press conference delights do we have coming up this afternoon? (Other divisions are available.)
Conte unhappy over player welfare after Spurs injuries
Antonio Conte has been speaking to preview Tottenham's match against Liverpool. Wednesday was his first anniversary as Spurs manager but he doesn't look in celebratory mood given he has a mounting injury list to contend with before taking on the Reds.
Sonny is having his surgery now. We have to try and finish these three games in the best possible way. I can confirm Richarlison is not available. It is the same for Romero but Bentancur is much better. Today he was part of training. It was the same for Kulusevski, today he had half training session with us. The problem is Lucas Moura is having some pain. Today it was really bad and they said he was really worried for this. I asked him to try to be available. About Romero I can tell you for him, if I ask the possibility to play with one leg, he wants to play with one leg. For this reason I tell the fans we have players really committed to the club.
Conte also railed against the lack of welfare shown towards Premier League players when it comes to the scheduling of matches, something his counterpart on Sunday, Liverpool's Jürgen Klopp, will agree with him on.
I don't want to listen or hear about the welfare of the player, because this is not true.
Admir Pajiæ writes in with this take on Unai Emery: "He was wrong for Arsenal in a similar way David Moyes was wrong for Manchester United or Roy Hodgson was wrong for Liverpool. He is excellent if you have a mid-table club that wants to punch above its weight and make a strong cup run but if you want a league title … Pass."
My question is: in what season will Aston Villa win the Europa League?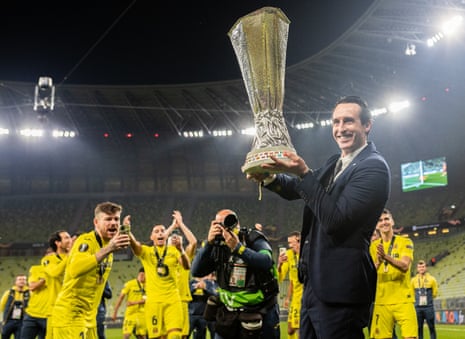 Wolves face Brighton tomorrow hovering just a point above bottom-placed Nottingham Forest. They really need to sort a permanent manager out don't they? According to interim manager Steve Davis they're close to finally doing that but possibly not before the winter break. "That obviously could change if there is some sort of announcement in the next couple of days," he said. "But at the moment my focus is just getting up to Arsenal, up to the World Cup, and then beyond that we'll see." Wolves have found goals as hard to come by as hens' teeth and their cause has not been helped by Diego Costa's red card last weekend. The striker is out till Boxing Day.
Jürgen Klopp was awarded the freedom of the city of Liverpool yesterday. Naturally, after the ceremony he spoke about how he will be getting the ferry for free from now on the Qatar World Cup and how he thinks it shouldn't be the responsibility of players to make political statements when the decision to host the tournament there was taken by different people many years ago. Here's the video of what he had to say:
Will Donny van de Beek finally come good at Manchester United? Erik ten Hag doesn't sound too confident but isn't giving up on him just yet.
He had a good pre-season and then got injured, now he is back. I think it was a decent performance [against Sociedad] but he can do better. I know him very well [from Ajax]. He delivered what I expected in terms of positioning, pressing and in the transition. I can only talk about him [at United] from my time here and I think he can do more."
Ten Hag also added he was not sure whether forwards Antony and Anthony Martial would be fit to make the trip to Aston Villa.
Hello, Gregg here. I'll keep the blog ticking over while Luke is away. First up is a a bit of bad news for Leeds United's bank balance. Cas has ruled that the club will have to pay £18.4m to RB Leipzig for Jean-Kevin Augustin, who made only three substitute appearances for the club in their Championship-winning season. He's now at Nantes. Ouch.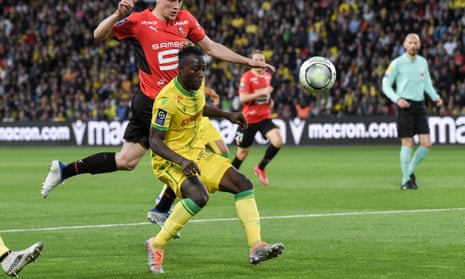 Handing you over to Gregg Bakowski for the next hour.
Unai Emery: 'My dream is to win a trophy with Aston Villa'
Christian Purslow, the Aston Villa chief executive, kicks off their press conference with some words about Emery's appointment, the club's ambition, and he makes a point of thanking Emery's former club Villarreal for their professional attitude in the deal.
"I am happy to be here," Emery begins. "I decided to come here because it's a great project.
"Our ambition is going to be together. Step-by-step I want to improve [things] here, and help with my experience … we are going to take each match, and focus on Sunday and Manchester United."
What did he learn during his time at Arsenal? "I learned a lot … overall, each [opposition] team, they gave us some experience playing against them when I was in Arsenal … I learned as well, playing in Europe 15 years in a row against a lot of English teams … as a coach I am now 51 years old, I have managed in Spain, France in the Premier League … English teams are for me a big challenge – because I think now the Premier League is maybe the first league in the world.
"My dream is to win a trophy with Aston Villa … it's my personal challenge. My second dream, my objective, could be to play with Aston Villa in Europe. But now we have to start thinking only about the next match because we are not in a good position in the table now. I want to test, I want to check, individually and collectively, the players."
Frank Lampard speaks before the meeting with Leicester City tomorrow evening: "Getting consistency is what separates the top boys from the rest in the Premier League … sometimes they are operating in different ways
"We have to strive to control ourselves, how we prepare, and hopefully the result of that is winning back-to-back games."
On the challenge of Leicester: "They are a great team, we have seen that in recent weeks … it was never in doubt for me [after a poor start], they're a team that have worked together for a few years with a really good manager, they've shown resilience.
On Everton's defence: "We've got good individuals doing their jobs and there's a desire to defend our goal. I think you have to give credit [to the players'] on that point.
"Jordan [Pickford] is in the top bracket of goalkeeper's in the world. He is England's No 1 … if you look at the teams who have won titles in the last few years they have all got world-class goalkeepers."
A reporter then says Leicester have conceded 26 goals from set pieces this season and that Everton have conceded the second-most goals from set pieces in that time. Lampard good-naturedly pulls him up on that and says it's wrong. The reporter eventually agrees it's from the start of last season.
"I came here in February so let's leave that one," jokes Lampard.
Could Brighton's Lewis Dunk and/or Danny Welbeck go to the World Cup with England? The Seagulls manager Roberto De Zerbi thinks they are good enough but is largely staying out of it:
"Dunk is one of the best centre-backs in the Premier League," says the Brighton manager. "That is my opinion … I don't want to give advice. If Dunk will go to the World Cup, I will be happy for sure. The same for Welbeck. It's not my work to decide 22 players to go to the World Cup."
"Good to see Unai Emery back in the league with the Villa," says AbberNibble. "I doubt he was backed the way he would have liked at Arsenal, we were in a bit of a rut in that period, uninterested owner, squad needed sandblasting, supporters were unhappy.
"Hopefully he gets a good shot at it this time, not an easy job though Aston Villa, Unai does not shy away from the tough gigs, you have to give the man a bit of credit for constantly testing himself I think."
Emery will be speaking to the media any second, I believe.
"It's his decision": Vieira keen to keep Zaha at Palace
Patrick Vieira has been talking before the trip to West Ham on Sunday, firstly on Crystal Palace's away form: "We have to accept that we will suffer more away from home. At the moment, every time we are suffering away from home, we are conceding goals, and that's not right if we want to win football matches."
On West Ham's European campaign: "It's challenge to play Thursday, Sunday, Thursday, Sunday … but when you look at the starting 11 they had last Sunday, I don't think any of those players [who played in Europe last night] will start.
"They are in a better place now … they didn't have the start they were looking for … but now they are playing well and they look really solid. You just have to look at the squad that they have. They have players who can score goals, who can make a massive impact in games, of course it's going to be a challenging game, but we I believe we have quality to go there and perform well, like we did last year.
"We have to believe in ourselves and go there and play as good as we can."
Again, Vieira is asked about the future of Wilfried Zaha, the highly rated winger whose contract ends next summer: "It's not a distraction for him and for the football club as well … the decision has to be his decision. We will do everything we can in our side to keep him. At the moment he is performing well and that's all that matters for now.
Barcelona and Juventus have been linked with Zaha, says a reporter. Vieira previously smiled when those names were mentioned: "If you take any player in the Premier League, and you mention those names, that of course will have an impact … for any player in the PL that creates excitement.
"That [his future] will be his decision. We will do everything we can to convince him to stay … the next couple of years can be really exciting for the football club."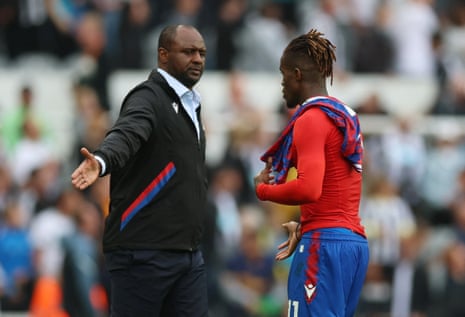 The Southampton manager Ralph Hasenhüttl is having a chat now before fourth-placed Newcastle's visit on Sunday.
How will they deal with the Toon press? "It's impressive to see how they are doing. They are def having the players to do this … he is going for the players that give you this intense game, and we all know this can be a very nasty way of setting an opponent under pressure … As you said, we do it ourselves. I think when we do it well we can cause them some issues. When we have a good evening … we have shown we can break they rhythm and cause them some issues … this is the goal for Sunday."
Hassenhuttl also said that Kyle Walker-Peters has no chance of being fit for the World Cup.
A story from last night, from Paul MacInnes, about an on-pitch protest against the effects of gambling harm due to take place this weekend:
"British footballers will stage their first on-pitch protest against the effects of gambling harm this weekend, with more than 100 players showing support for a ban on advertising by bookmakers.
"Players in FA Cup, Scottish Women's Premier League Cup, Women's Championship and non-league matches will wear yellow laces as they try to heighten the pressure on government to take action."
Guardiola's fitness update on City's players: "[Manuel] Akanji is OK. Kalvin [Phillips] and Kyle [Walker] are still not fit.
Does anyone else have a problem? "No."
On this weekend's opponents: "I am not surprised that Fulham are seventh. The manager is exceptional … last season in the FA Cup I know how we suffered [They won 4-1] … top, top … yeah, good team."
Why has Phil Foden been on the bench for recent Premier League matches? "Riyad [Mahrez] has been in the bench as well … [Ilkay] Gundogan as well … Kevin de Bruyne as well. I have many players, I have to use them, I demand the best of them …"
Decision due on Erling Haaland's fitness later today
Pep Guardiola is asked: How is Erling Haaland's fitness and will he play this weekend? "He is much better. We will decide today. It's a good step, to start to train, now we have training this afternoon, and we will see."
How will the decision be made? "Himself, his opinion, the doctor's opinion … if he's good for 90 minutes, or less minutes … we will see after training."
Can Alvarez play three times in a week if Haaland doesn't play? "He's so young, he's so young. At that age, you can play every day."
Guardiola reacts to Gerard Piqué's retirement that was announced last night: "I wish him all the best, for him and his family. Incredible human being. Huge personality. A player for big games. Never missed once a performance at the high level. All the big clubs need these type of players. Won everything with Barça and national team. Of course, the future will be bright because he's a smart guy. It was an honour for me to be his manager and we spent four years together."
Is it racist to attack the World Cup in Qatar? Barney Ronay takes a look:
The full-back Matty Cash, who is under new management at Aston Villa with Unai Emery, is also heading off to the World Cup with his adopted Poland in a few days.
Sky Sports had a chat with him and asked if he knows much about Emery:
"Yeah course, I watch all football … Calum Chambers played under him [at Arsenal] … his CV speaks highly of himself, and how good he is as a coach, I'm really looking forward to working with him.
"Life changed completely from working at River Island to playing for Forest … and here I am now.
"I've got to get through the next two weeks without any injuries and then hopefully I'll be there [at the World Cup with Poland]."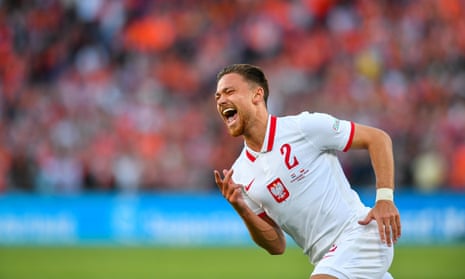 Our first four Fifa World Cup team guides have already dropped: Ecuador, Netherlands, Senegal and most recently the hosts, Qatar:
Twitter is awash with claims that Ten Hag was sending a message to the Old Trafford hierarchy about the lack of striking options in his squad by putting Harry Maguire up front last night v Real Sociedad.
Ten Hag said: "We have some problems in the front line … we have to score more goals. Finally, it is what it is."
To be fair.
Mikel Arteta, of "The Arsenal", will be speaking shortly.
Nice hit by Kieran Tierney last night in the win against FC Zurich:
Tierney's assessment: "It's been coming, to be fair."
Footballers are an almost relentlessly fair bunch, aren't they? To be fair.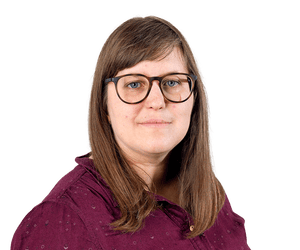 Suzanne Wrack
Manchester United's thrilling start to the Women's Super League season, with five straight wins and five clean sheets, has put them top, with one goal separating them from second-place Arsenal. The run of the only team yet to concede has been somewhat unexpected, but should it be?
My sources tell me Unai Emery's Aston Villa press conference is not a million miles away.
Dani Ceballos, there. Since his Arsenal days I've always called him Dani Onions, because Ceballos is so close to cebollas. Could it catch on?
Joe Hart insisted Celtic's Champions League fire has been lit over the past few months as he vowed to try and help his side be more competitive in next season's competition. The Scottish champions were knocked out at the group stage after taking just two points from their six matches against Real Madrid, Shakhtar Donetsk and RB Leipzig.
Despite failing to notch a win, goalkeeper Hart is adamant it was an experience that added to Celtic's motivation to make sure they are regular contestants in the tournament. "I don't think you could light our fire any more," he said. "We've experienced something that we feel the club we play for and represent should be feeling every year.
"We want to get that little bit more and get victories and progression in the tournament, so I don't think anything could make us any more hungry for something that we feel is essential to this club."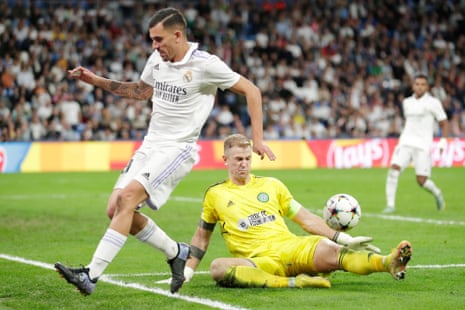 The former England and Manchester City goalkeeper Hart believes being exposed to Champions League forays this season will have enhanced Celtic's development as a group.
"We're all learning all the time, myself included," he said. "I might have been there before and played in plenty of those kind of games and been part of those campaigns but I think we're learning as a group. It's going to make us more united if we've got a common goal, a common focus. I feel like we've had that from day one really and it's only getting stronger. Good, bad or indifferent, we analyse and we learn and we move forward." (PA Media)
The Barcelona defender Gerard Piqué has announced he will retire and that this Saturday's game against Almería at the Camp Nou will be his last.
The 35-year-old Spaniard, who won the World Cup in 2010 and the Champions League on three occasions with Barcelona, posted the message on his social media channels adding: "It is the moment to end this stage of my life. I always said that after Barcelona there will be no other club, and that is the way it is going to be."
Eddie Howe continued, on Newcastle backing up their encouraging form: "The next area is to produce those types of performances week in, week out. I have to compliment the players so far this season. I think we've been very level in terms of what we've produced. We're always in the lap of the football gods but for us, controlling our application, desire and all the basics that you need to produce a good performance to win a game, I think, have been there.
"We need to maintain that and there's a lot of areas of the team need to continue to improve which we're working towards everyday."
Quotes from nufc.com.
Courtesy of nufc.com, some quotes from Eddie Howe before his side's trip to Southampton on Sunday. First an injury update – Jonjo Shelvey may feature having not played a competitive match since April:
"We've had a few bumps and bruises but nothing too bad. Allan (Saint-Maximin) has come through after his little cameo, as well as Jonjo. The strength of the group is slowly returning and we still have Emil (Krafth), Alex (Isak) and Matt Ritchie still out. Karl Darlow is back training and trained well this week. Apart from that, we're in a good place.
"I think Jonjo would probably say yes. He's certainly getting closer. This has been his second proper week of training so he's in a much better place but without that match exposure. We wanted to protect him from that and see him through to the World Cup."
No, we definitely don't want any Adebayoresque gloating from the lad Aubameyang should he score for Chelsea against Arsenal. Definitely not.
Here, from 2009, is the great Martin Kelner on Adebayor's length-of-the-pitch run to celebrate that header in front of the Arsenal fans and the OTT reaction to it.
"In case you are not a regular listener to sports radio, I should explain that "lost the plot" is shorthand applied to anyone who does anything you disapprove of. In phone-in land, Arsène Wenger and Rafa Benítez are the Premier League's chief plot-losers, Wenger for failing to replace Patrick Vieira – there is a rule somewhere that any Arsenal fan given access to the airwaves must mention this within the first 20 seconds – and Rafa for not being Bill Shankly."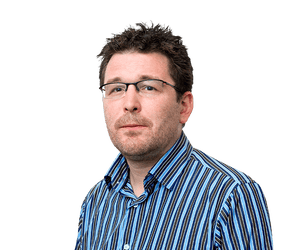 Barry Glendenning
An already-spicy encounter between Chelsea and Arsenal has been lent added piquancy by a promo clip recorded for BT Sport by Pierre-Emerick Aubameyang. "It's nothing personal, Arsenal," says the Chelsea striker, who is presumably eager to put one over on a club whose manager relieved him of the captaincy before shipping him off to Barcelona. "I'm back, I'm ready and I'm blue." The striker's harmless goading might carry more weight if he was currently firing on all cylinders but his return for Chelsea of three goals in 11 appearances – two of them off the bench – is hardly prolific. Aubameyang will be desperate to add to this tally on Sunday and should he do so, any celebration (or the lack thereof) will be scrutinised to within an inch of its life. On the day after Bonfire Night, here's hoping for more fireworks at Stamford Bridge.
"If LAFC have been the unstoppable force in 2022, Philly have been the immovable object."
Graham Ruthven looks ahead to tomorrow's MLS Cup final:
Before Manchester United's meeting with Aston Villa and their new manager Unai Emery on Sunday, a bit of reaction from that 1-0 win against Real Sociedad last night:
Manchester United's Bruno Fernandes praised Alejandro Garnacho's performance after he scored in a 1-0 Europa League win over Real Sociedad on Thursday, saying the 18-year-old was reaping the rewards of his hard work and an improvement in attitude.
United academy graduate Garnacho scored his first goal for the club after 17 minutes when he was played through on goal by Cristiano Ronaldo, with his strike securing victory for the Premier League club. It was the winger's second start for United, following his full debut in last month's 3-0 win over Sheriff Tiraspol.
"He (Garnacho) was good, but he knows we expect a lot from him," Fernandes told BT Sport. "In the (pre-season) tour, he didn't have the best attitude. That's why he didn't get chances. Now he's getting his chances because he's training better, [he has a] different attitude, and he deserves it."
United, who needed to win by a two-goal margin to overtake Real Sociedad in the standings on goal difference, go into the knockout round playoffs. (Reuters)
"Am I the only one not excited about the Qatar World Cup ?" asks CheshamJim in the comments. "Not sure I'm even going to watch it and I love football."
And selected replies:
"You're not alone, I'm not bothering either."
"Me neither. I won't either I think, not worth it. Whole thing is a farce."
"Not enthused at all I have to admit."
"I'll watch bits but with not nearly as much enthusiasm as usual. I hope it's a commercial disaster."
A notable moment on Sky Sports News there. At the Chelsea training ground, the camera panned across to Graham Potter taking a training session.
"That's interesting, an open training session on a Friday," I thought.
But they were promptly told to pack it in (presumably by a media person, off camera), and that they were not permitted to film Chelsea's preparations for Sunday's Arsenal tie. A closed training session, after all.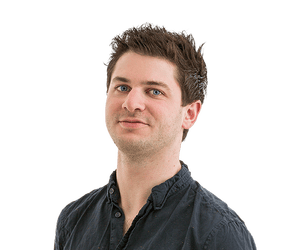 Jacob Steinberg
There was a time when Mikel Arteta counted on Pierre-Emerick Aubameyang. Arsenal could not countenance life without his goals. Aubameyang was their main man, their hero when they beat Chelsea in the FA Cup final in 2020, and Arsenal saw it as a coup when the striker signed a lucrative long-term deal two years ago.
"Closed. Selfish. Elitist."
The aforementioned video, released by La Liga this morning, attacking the concept of the Super League and questioning public pronouncements of those involved.
Official hashtag: #EarnItOnThePitch
Injury-news-wise, Klopp said James Milner will not be available for Sunday's match at Spurs due to concussion protocols.
News from the PA football wire on that pesky Super League idea:
LaLiga has attacked the backers of the Super League – who include the presidents of its two most prominent member clubs Real Madrid and Barcelona – in a social media video published on Friday. Real and Barca bosses Florentino Perez and Joan Laporta were instrumental in the launch of the Super League last April.
The league quickly collapsed amid outrage among fans of the Premier League teams who had signed up, with the British Government, UEFA and FIFA also coming out in opposition to the plans. One of the key objections to the league from fans was its closed nature, with the premise being that 15 of the continent's top clubs would be permanent members.
A video published on LaLiga's Twitter account on Friday morning stated: "The promoters of the Super League are trying to conceal its format, claiming that they still don't have a fixed model, although it will be inclusive and open. "We know that this is false and that they want to present a semi-closed format similar to that of 2019, which has already been rejected by the clubs and (the) European Leagues (group)."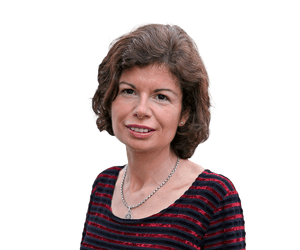 Louise Taylor
The television in the club house at Coalville Town was tuned into BBC2 and all eyes were on Alan Smith and Dion Dublin as they prepared to make the draw for the first round of the FA Cup.
"We were No 61 and Charlton were No 11," says Jake Eggleton, recalling that Monday night last month. "When No 11 came out and we waited to see who'd they play, all I could think was: 'Let it be 61, it's got to be 61.' When it was us, the whole place went mental. It was a wow moment. It felt fantastic, unbelievable, amazing."
Klopp is interesting on the challenge of facing Luciano Spalletti's Napoli: "The [pre-match] analysis of Napoli was a pure joy from a football point of view … because everything they do works out in the moment. It's crazy, the way they score goals, where they score the goals, the highest tempo, all these kinds of things. The challenge was to deny that and we did that, so that's good. It's not news to me we can do that … we just have to do it again, and again, and again [for the rest of the season]. That's how it is."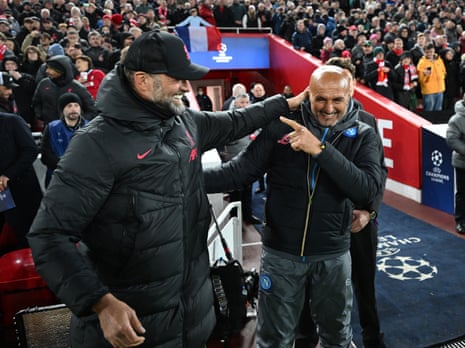 Jürgen Klopp is speaking now on Liverpool's general form before going to Tottenham on Sunday (they have lost their last two PL matches against Forest and Leeds): "If you want to get out of something, you first have to get through it … we go there [to Tottenham], and want to be 100 per cent at our best.
"It's a difficult place to go, a really good team … a really fighting unit. Antonio's [Conte] on his toes on the touchline, players going into challenges … it's a tough one, but that's what we all want. It's like a Champions League game in the Premier League.
"We have to fight through this. That's the case. You cannot play through it. You cannot forget about the defending stuff … in between [Champions League wins over Ajax and Napoli] we lose against Leeds, that couldn't have felt worse, but then you play a good game against a team in form [Napoli], and it gives you a lift."
News this morning from the completely normal Fifa World Cup, courtesy of Paul MacInnes:
"England and Wales fans will be paid to travel to Qatar for the World Cup and given free tickets to the opening ceremony, but there is a catch: they will be expected to be ambassadors for the tournament.
"Members of the Fan Leader Network, a group which Qatari authorities say "contributes to tournament planning through fan insight, research, content creation and message amplification", have been offered the once-in-a-lifetime opportunity of travelling to the tournament, providing they agree to certain terms and conditions."
Last night's match reports, if you missed anything:
A mere 16 days to go now before Qatar and Ecuador kick off the World Cup – but there are still two rounds of the Premier League to be snuck in before England, Wales and assorted other qualified nations assemble in the Persian Gulf for the most controversial show on earth.
It's another big weekend of domestic action – aren't they all? Sunday is looking particularly momentous, featuring as it does Chelsea v Arsenal and Tottenham v Liverpool.
We'll bring you team news, previews, World Cup news, other news, and possibly some reaction to Erik ten Hag deploying Harry Maguire as a striker in the Europa League last night. "It is what it is," said Ten Hag, and it's hard to argue with that.
Anyway, enough of my yakking. Here's 10 things to look out for in the Premier League this weekend: