Key events
89 min: Sam Kerr's chance arrives. Reiten plays it through, and Kerr is in, hits the ball with venom and Misa makes a fine, fine save. Pure instinct from her. She was unlucky with the penalty.
88 min: Are they settling for the draw? A lull in play suggests they might well be doing so. Feels like a lapse in concentration could be what decides this.
86 min: This is the witching hour, and a goal could put Chelsea through. And it would mean Madrid have more to work with against PSG.
84 min: Sam Kerr again misses the mark, as Sophie Ingle dinks the ball through, and it loops over the Aussie great's head. Fran Kirby is buzzing around dangerously, too.
82 min: Weir zips in a shot from long range, her range, but this time it's over the bar.
80 min: Berger to the rescue! Carmona again finds space, and runs on to pass but can't beat Berger one on one. Fine play from the goalie, making amends for his mistake for the goal.
79 min: Sam Kerr is flagged offside, and it was close. It's been a frustrating night for her, this one. Olga Carmona, up from left back, runs on and shoots from the flank. That won't trouble Berger.
77 min: Chelsea sub: off goes Lauren James, on comes Johanna Kaneryd.
76 min: Fran Kirby is clattered as she looks for space on the edge of the box. It's been an evening of good defending.
74 min: Madrid change: Zornoza off, and Oroz will come on to add a bit of flair.
73 min: Chance begging for Chelsea as Reiten spins the ball in. Where was Sam Kerr? She seems to have misread the flight of the ball.
72 min: Chelsea have chance to launch a throw but pass the ball around. They need a win here to make their way to the knockouts. Jess Carter has to run back and clear some danger.
71 min: Real Madrid attack in number but a poor cross gives Berger the chance to clear the ball. They are lacking a focal point up front, and it's been a game where the defenders are dominant.
70 min: The ball being launched front and back by both teams, Madrid looking solid, though Misa their goalie has to run forward to smash the ball out of play.
68 min: This could be a decent last 20 minutes or so, and we are still yet to see Sam Kerr have a proper look at goal in this half. Madrid do seem to have recovered some of their composure, and their pressing.
66 min: A Chelsea winner seems the more likely outcome at the moment. Jess Carter enters the book for Chelsea, as has Lauren James, when the latter couldn't get out of the way of a Del Castillo piece of skill.
62 min: Madrid sub: off goes Gonzales, on comes Sofie Svava.
61 min: Another Chelsea chance, Charles runs on to the byline, and James whacks wide.
60 min: Quite the lifeline for Chelsea, and it came just as they stepped it up, having ridden out a real firestorm from Real Madrid.
Goal! Real Madrid 1-1 Chelsea (Misa own-goal, 59)
It's in, just. The ball coming back off the post and back into Misa and back. The penalty that turned to an own-goal is a rarity.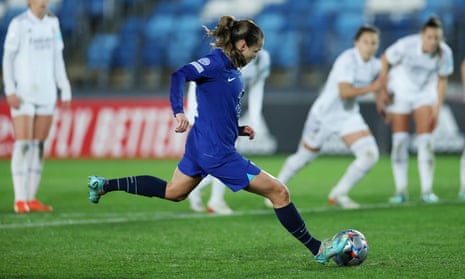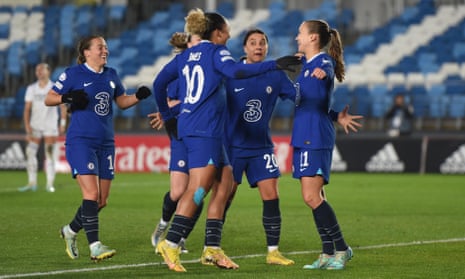 The ball from Ingle finds Reiten and Andres comes across and is too slow. Boos all round but that's a stick-on. Reiten herself will take it.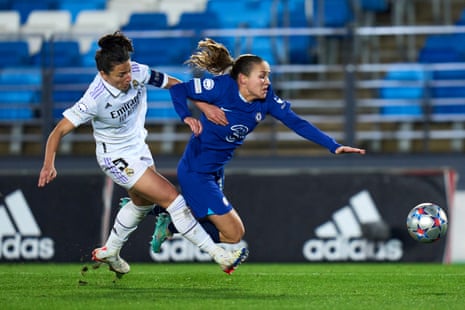 56 min: Chelsea at last have the ball in the Real Madrid half.
54 min: Gonzales is blocked by Millie Bright, and it's all Madrid at the moment with Weir almost getting on the end of the ball.
52 min: Lauren James has to scuttle back, and that's been the story of the half so far for Chelsea. Real Madrid have been excellent since the break. Niamh Charles has to run back to stop Niamh Charles.
50 min: Madrid are being roared on by some of their fans making a hell of a racket with their drums, and one lad on the loudhaler. Their teams are not sitting back to protect their lead and have forced a couple of corners.
48 min: Chelsea get an early free-kick. Reiten booms it in, and though the ball falls to Sam Kerr, it's hoofed away with some comfort.
46 min: Back away we go at the Alfredo di Stefano, and Chelsea's changes look attacking. Emma Hayes wants to get this one won and the group stage taken off the priority list.
Two Chelsea changes, Niamh Charles in for Eriksson, Fran Kirby in for Fleming.
Half-time: Real Madrid 1-0 Chelsea
It was very tight and then Ann-Katrin Berger dropped a clanger, one that was seized on in typical style by Caroline Weir, so calm in finishing. And it feels like Chelsea have a lot to find in the second half. Even if they did twice hit the woodwork, they have been well under par.
45 min: Lauren James cuts in, on a ball from Carter, and it's well saved. Two minutes are added on to the half, in which Madrid are pinned back.
44 min: Lauren James is penalised for a high foot, frowned upon in continental football. The free-kick is cleared by Sophie Ingle and Caroline Weir is crowded out by Buchanan in the corner.
42 min: Eriksson must be on sudden death for yellow cards as she wallops into another heavy challenge. Not booked just yet. And then another, on Del Castillo, with whom there is a running battle taking place.
41 min: Berger holds on grimly on to a corner that was arrowing at her, and into the goal. Chelsea look rattled, the goal came just as they began to look more comfortable.
40 min: Real Madrid want more, and Weir looks to be the player that can do it. For now, she's stopped by Millie Bright.
37 min: Emma Hayes was not amused by that. Might Berger have been affected by her earlier knock? Weir was the wrong player for the ball to fall to.