Key events
Chesham Stakes (2.30pm) result
1 Snellen 12-1
2 Pearls And Rubies 7-4 fav
More details to follow …
And they're off … Dallas Star is well away … Snellen is handy … as is Nemonte … Pearls And Rubies is challenging … Snellen just managed to hold Pearls And Rubies … that was close and it's a PHOTO FINISH! As expected Snellen gets the nod.
Chesham Stakes (2.30pm) betting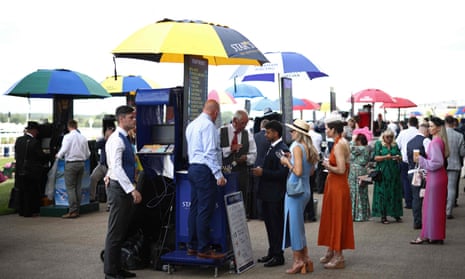 Queen's Hat Stakes (2.30pm) result
1 White 8-1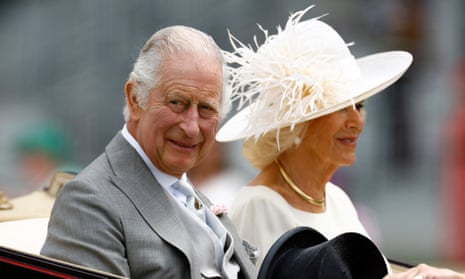 Chesham Stakes (2.30pm) preview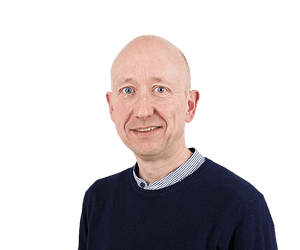 Greg Wood
Aidan O'Brien has won this race four times in the last seven years and he has two of the first three in the betting in Pearls And Rubies and Content. The former made a winning debut at Navan 13 days ago, while Content was beaten on debut, but not by far, and would probably have won had he not found trouble in running in the closing stages. The simple fact that both have "APO'B" on their saddlecloths means that they need to be taken seriously, but their achievements to date are no different to those of several of their opponents, including Golden Mind, a half-brother to Perfect Power, who won here in both 2021 and 2022, and La Guarida, who was a comfortable winner at Goodwod last time, a race from which the second, third and fourth home all won next time up. Snellen, whose trainer, Gavin Cromwell, has enjoyed plenty of success over jumps at the Cheltenham Festival in recent seasons, is another interesting runner in a fascinating renewal.
SELECTION: LA GUARIDA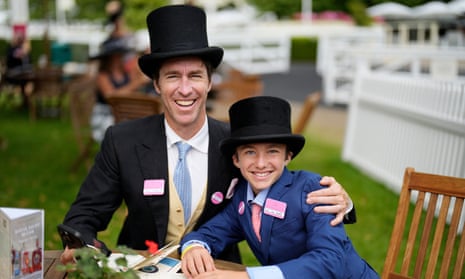 Animal Rising have forsaken Royal Ascot this week but some protestors have arrived.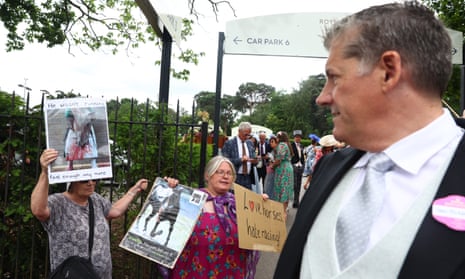 No cost-of-living crisis in No 1 Car Park at Royal Ascot …
Queen's Hat Stakes (2pm) betting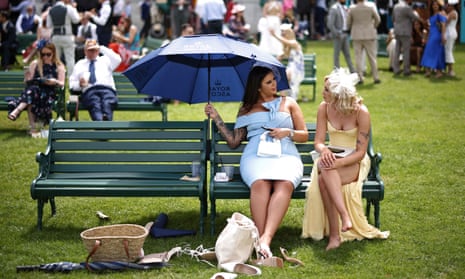 Queen's Hat Stakes (2pm) preview
Our good friends at BestofBets.com have kept a close eye on this, the traditional first betting heat of the day, and state: "This year is the first time Queen Camilla has headed up the hat betting – a market that has been cherished by racegoers for as long as we can remember.
"However, the uptake in the hat betting this year has been disappointing and it remains to be seen if this will even be a market next year. Some people have suggested to swap Camilla for Kate in order to reinvent this market; and you can see why. Kate tends to wear more colourful and vibrant colours, as we saw yesterday, whereas Camilla is better known for her toned-down colour palate. As for today, Ladbrokes have yellow as the current favourite, followed by pink/peach."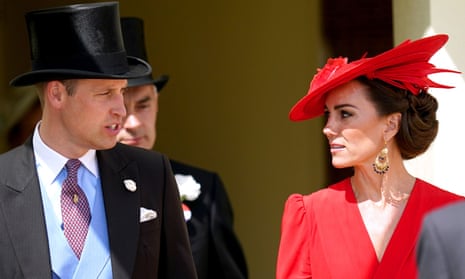 Thanks to John for helming the live blog this morning. Hello and welcome to the final day of Royal Ascot which has been a success with racegoers (it's always the biggest crowd of the meeting) and punters since its inception in 2002.
The most interesting news this day so far is that Frankie Dettori will arrive for his final day at Royal Ascot in the grandest possible fashion as part of the royal procession. Dame Judi Dench got a great reception yesterday from her draw in carriage four and it's guaranteed that the jockey will get the biggest cheer.
The Italian has recovered from a disappointing first day when he went winless and picked up a nine-day suspension – which he is appealing – to enjoy some spectacular successes, including the Gold Cup aboard Courage Mon Ami. Dettori and his wife, Catherine, are in carriage four with Jamie Snowdenand his wife, Lucy.
His mounts on Saturday include Covey, who is favourite for the Jersey Stakes, Free Wind a short price in the Hardwicke, Kinross, a fancied runner in the Queen Elizabeth II Jubilee Stakes and Knockbrex the market leader in the Golden Gates Handicap. He is also on board Mums Tipple in the Wokingham.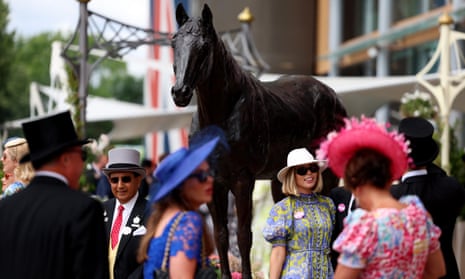 Ok, and with that, I shall pass over to TP for the day five action. Good luck out there.
Today's non runners:
Shame about Goshen, the horse who broke so many hearts at the 2020 Cheltenham Festival in the Triumph Hurdle. He was trading at 16/1 but ground seems a little too firm for one who may have a season over the sticks next year.
Great to see Chris Hayes, the veteran and one of the most underrated jockeys in Ireland, land his first Royal Ascot win on Mr Weld's horse. CD Hayes was always a master at getting unfancied horses on the podium.
An old favourite rides in the 4.20 Hardwicke Stakes, good old Pyledriver, who has Ascot form.
Frankie's first ride is aboard a royal carriage
Royal Ascot Carriage List – Saturday, 24th June
1st Carriage
The King

The Queen

The Earl of Caledon

The Countess of Caledon
2nd Carriage
3rd Carriage
4th Carriage
Mr. Lanfranco Dettori

Mrs. Lanfranco Dettori

Mr. Jamie Snowden

Mrs. Jamie Snowden
Here's Frankie's final Royal Ascot rides.
Ok, it wasn't Royal Ascot. But Frankie Dettori has a statue to represent his seven-timer in 1996. He'll back in September for the same meeting.
I've read Gary's book; it's a bleak old read when it gets to September 1996.
As Frankie steps aside, another fine rider is making his comeback from dark times.
The Timeform 'p' suggests Orazio is one to watch for the day.
Here's Greg Wood's in-depth betting analysis of the final day.
Ascot 3.40 Sprinters from Australia, Hong Kong and the United States add a fascinating twist to the final Group One of the meeting, but Highfield Princess is the top-rated runner in the field. Her appearance here is a little unexpected after her fine run into second in Tuesday's King's Stand Stakes, but John Quinn left her at Ascot to avoid another long journey to and from his yard in Yorkshire and is confident that a mare who has always thrived on racing will be ready to do herself justice.
Frankie Dettori makes his final bow at the Royal meeting today, and his horses have been backed off the boards. Can he follow up his happy Friday?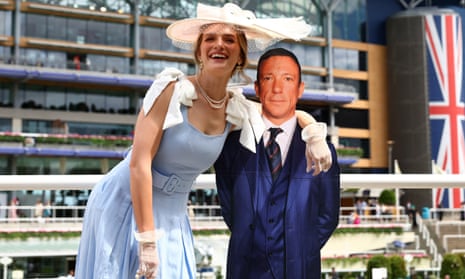 Full race schedule for Saturday:
Chesham Stakes – 2:30pm
(Guardian tip: La Guarida)
Jersey Stakes – 3:05pm
(Guardian tip: Enfjaar)
Queen Elizabeth II Jubilee Stakes – 3:40pm
(Guardian tip: Highfield Princess)
Hardwicke Stakes – 4:20pm
(Guardian tip: Hukum)
Wokingham Stakes – 5pm
(Guardian tip: Apollo One (nap)
Golden Gate Stakes – 5:35pm
(Guardian tip: Lion Of War (nb)
Queen Alexandra Stakes – 6:10pm
(Guardian tip: Run For Oscar)
Going news from Royal Ascot on a very sunny day.
The going for day five of Royal Ascot, Saturday 24th June, is: Good to Firm
GoingStick readings at 8am:
Stands side: 7.9

Centre: 7.9

Far side: 7.8

Round: 7.0
Stalls:
Straight Course: centre

Round Course: inside
Watering:
Watered 5mm on the Straight Course and 4mm on the Round Course after racing on Friday.
Weather:
Dry overnight to 6.30am Saturday. Today is forecast to be dry and warm with temperatures getting up to 27c.
Preamble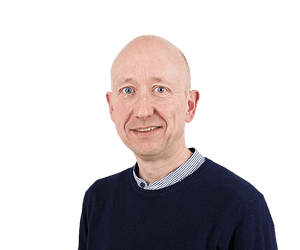 Greg Wood
Good morning from Royal Ascot, where Frankie Dettori will go into his final day at the meeting where he has now ridden a total of 81 winners with at least a chance of finishing the week as the top rider for the 8th time in his career.
Dettori has five rides on the Saturday card, four of which are likely to start at a single-figure price, and while number-crunching data analysis tends to suggest that even a top jockey is only a pound or two better than the average, that could easily be worth a couple of lengths at least in a sport where the difference between victory and defeat can be millimetres.
Let's not get ahead of ourselves. Ryan Moore remains a very hot favourite to take the riders' prize, has a full book of seven rides on Saturday and will once again extend his lead to two winners if Pearls And Rubies, the market leader, takes the opening Chesham Stakes, one of the three contests in which Dettori does not have a ride.
But when Dettori gets on a roll, his mounts have an uncanny knack of suddenly producing career-best runs, with the confidence boost from one winner feeding into the next. He is, of course, going to give it everything he's got, and it could make for an enthralling narrative on the final afternoon.
There was very little for Chris Stickels, the clerk of the course, to add to his daily update from yesterday after walking the course this morning. "The going today is good-to-firm and watered," Stickels said. "The forecast is for a warm, sunny day, with temperatures up to about 28 degrees."
Hopefully the near-capacity crowd that is expected for the final day will have brought their Factor 50, or enough of them will to share it around. Lobster pink is never the colour at Royal Ascot.
Seven picks that will attempt to at least repair some of the damage after the first four days are here. No matter how desperate the Ascot results have been up until Saturday, we'll always have the Wokingham.
And you can, of course, follow all the action live here on the blog as the greatest Ascot jockey of modern times rides off into the sunset at the royal meeting.