Key events
Williams 2-3 Kovinić* (* denotes next server)
The serve looks better early on in this game, but yet another double fault puts Kovinić up 15-30.
Serena gets the better of the next rally but again misses her first serve, and Kovinić tees off on the second serve to win a short rally and earn yet another break point.
Then it gets better for Serena. She unleashes a cannon that Kovinić can barely touch, forcing deuce. Then it's an ace right down the center line.
Once again, though, Kovinić looks solid on Serena's second serve, and she's seeing a lot of them. This time, a perfectly placed drop shot gets us back to deuce. On the next point, Serena comes to the net but volleys poorly. Another break point.
And then an unforced error. Break.
This is not going according to script.
Meanwhile, Tsitsipas is down 0-6, 0-5.
*Williams 2-2 Kovinić (* denotes next server)
The crowd is eerily quiet as Kovinić goes up 40-15. A nifty cross-court shot from Serena wakes everyone up, but Serena dumps one into the net in the next rally, and Kovinić holds.
The celebrity-spotting is getting strange. Bill Clinton – yes, the former president – is sitting with Dr. Ruth – yes, the sex therapist. Martina Navratilova is sitting with Mike Tyson and her dog.
Williams 2-1 Kovinić* (* denotes next server)
Serena's serve isn't quite there, and Kovinić is more than capable of punishing a second serve. A blazing winner makes it 30-30. Kovinić forces Serena into a bad spot in the next rally and goes up 30-40. But an unforced error takes it to deuce.
And again, Serena has trouble with that serve. A double fault sets up another break point, and Kovinić hangs in to convert this time.
Serena has as many double faults (4) as first serves. She's 4-for-15 on first serves. She has won all four of those points. Other than that, she's 4-for-11.
*Williams 2-0 Kovinić (* denotes next server)
The Montenegrin challenger rips a nice forehand winner, then continues the parade of double faults. An unforced error makes it 15-30, she finds her serve to go up 40-30. Serena fights back with a drop shot nearly as elegant as her outfit.
After winning another point, a wild rally wraps up the set. Serena scrambles forward to get to a ball that dropped off the net cord, then adeptly returns both a hard drive and a lob to get the break.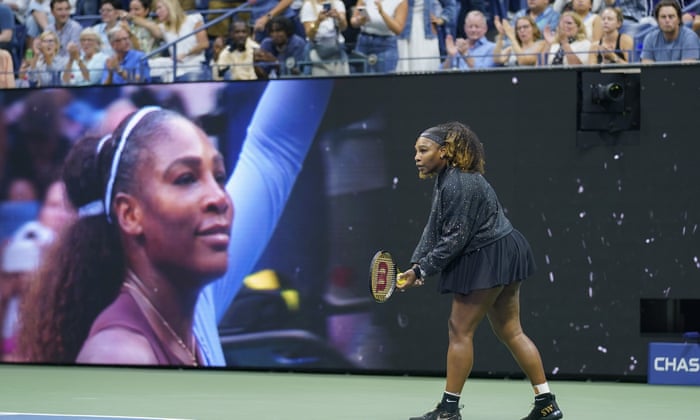 Williams 1-0 Kovinić* (* denotes next server)
Serena sheds her jacket, which surely costs more than the entire wardrobe of a typical journalist, and gets to work. Her first serve looks solid, but Kovinić returns well and forces a brief baseline rally before losing the point.
But then the nerves or the rust catch up. Serena double faults once, sending one wide and one into the net. After a third straight fault, she exhales deeply but doubles again. A fifth straight fault follows. The next one gets in, but Serena fires wide after a short rally to give Kovinić two break points.
And then the actual Serena Williams shows up. A strong rally makes it 30-40. Then an ace. Then another.
She gets a little lucky on the last point, with a shot nicking the top of the net cord and Kovinić missing a golden opportunity to get the game back to deuce, dropping her return into the net.
Meanwhile, Colombia's Daniel Elahi Galan has taken the first set 6-0 against fourth seed Stefanos Tsitsipas, who tied a nice bow on the occasion with a double fault.
… the coin toss. She'll serve first.
Serena is finally on the court. We think Danka Kovinić is there as well.
Ah, there we go.
The Biggest Coin Toss in the History of Tennis is taking place now. Or at least the only one with Spike Lee present.
"Is this the biggest first round match we've ever seen on this court?" asks Chris Hockman on Twitter?
It's surely the only one that has been preceded by a Ukrainian choir singing in two languages to honor Arthur Ashe.
I'd gripe more about the fact that we've yet to see Serena on the court, but this is an enthralling performance. The crowd, rather than murmuring and waiting for the star of the evening, provides a nice roar before they wrap up.
In typical American sports fashion, the match is actually not starting at 7 p.m. ET because we have to hype things a bit more. Fans are still filing in as well – Arthur Ashe Stadium is only half-full. Serena's matches often don't last very long, so please tell people to get their ice cream later.
Speaking of ice cream, it's 81 degrees Fahrenheit with 68% humidity. But Serena, ever the fashion icon, will be wearing a long-sleeved black outfit. For the shoes, we make a first-ever citation of Footwear News. She won't be wearing diamonds on the soles of her shoes, which would fit the song by New Yorker Paul Simon, but she will be wearing them elsewhere on her feet.
We're now getting player introductions. Will this start before dark?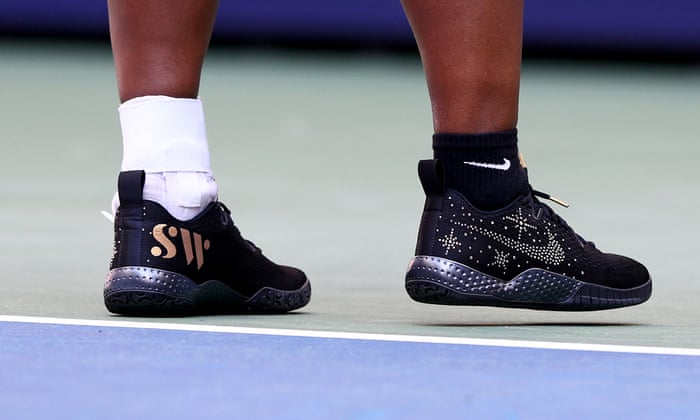 Danka Kovinić hails from Montenegro. She's 27 years old. She's ranked 80th in the world, down from a career-high of 46th … six years ago. She has no career singles titles. But this is her best year in the majors, reaching the third round in Australia and at Roland Garros.
The strangest thing – despite her many years as a pro, she has never faced Serena Williams.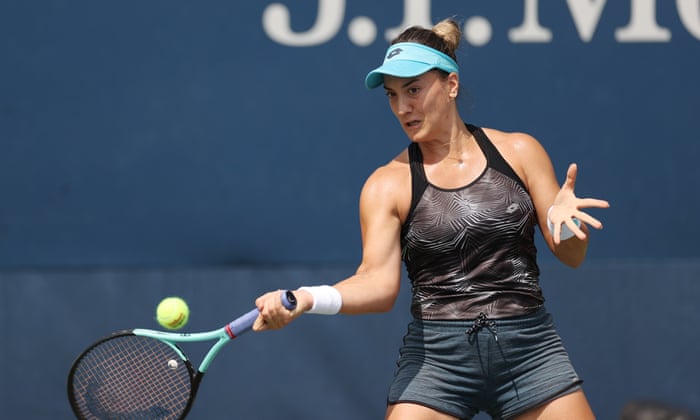 This court could not be more appropriate for a pioneer like Serena. It's Arthur Ashe Court, named after a barrier-breaking Black tennis player, at the USTA Billie Jean King National Tennis Center, named after the woman who launched women's tennis to new heights.
Serena has won this event six times. She has 23 major titles. That's one short of the record held by Margaret Court, but any consideration that Court is ahead of Serena in the GOAT (Greatest of all Tennis, er, Time) conversation can't be taken seriously. Serena (we'll use the first name in part because she, like Madonna or Cher, is recognized best by that name and also because her sister, Venus Williams, is also in the stratosphere of the sport's all-time best) has spent a couple of decades simply running people off the court.
And yet … this championship has eluded her since she won her third straight in 2014. She melted down in 2018 against then-unheralded Naomi Osaka. She lost the next year to Bianca Andreescu.
But great players have a way of putting together one more great run. Will this be it?
Good evening to all in the US, good morning to those on the other side of the globe, and good afternoon to those in between.
Thanks for checking in for the all-US matchup between 10th-seeded Taylor Fritz and Brandon Holt. Fritz should have the edge, of course, but … what? Oh, right.
Pity Fritz, Holt and fourth-seeded Stefanos Tsitsipas, all of whom will be playing on the showcase courts at the US Open in a few minutes but might as well be playing in Guam. This is the Serena Williams show, with good reason. Every match here could be the last time we see a one-of-a-kind player on her biggest stage.
Beau will be here shortly, with the match due to start around 7.30pm local time (9.30am AEST/12.30am BST). Meanwhile, here's a bit of pre-match reading: