Key events
FULL TIME: Shakhtar 1-1 Celtic
It's all over and Celtic have to settle for a point.
90 min +5: Mudryk tries to get on the end of a floated ball into the box but it has too much juice on it. At the other end, Giakoumakis goes up for a header against the goalkeeper. The ball drops into space with Trubin stranded but there's a Shakhtar defender to mop up. It's not going to be Celtic's night.
90 min +4: Shakhtar skipper Stepanenko limps to the side but he's back in action again. Job done. Just a minute to go.
90 min +3: We're now into cramp time. Shakhtar's players starting to feel it and are happy to run down the clock.
90 min +2: Apart from that flurry which produced their goal and sparked them into action for the next 10 minutes, Shakhtar have been very much second best here. Celtic have had the chances, including two in the last few minutes, but just haven't been able to convert them.
90 min: We'll have five minutes of added time. Still hope for Celtic.
88 min: Postecoglou, looking stern in his black jumper, must be thinking that this is one that got away. Even more so when the stretching Maeda can't guide his effort on target when all set to play the hero from McGregor's cross. More agony for Celtic.
87 min: Abada replaces Jota. He's got six goals this season so is the right man to come on if Celtic are to nick this.
85 min: Huge chance for Celtic! Taylor picks out Giakoumakis in the box around 12 yards out. A great first touch from the striker but his left-foot strike flies inches wide. Wow. That was so close to the winner.
84 min: Jens is robbed on the halfway line but he gets back to block Ocheretko's shot. Just as well. Got away with that one.
82 min: Trubin has to dash to the edge of his book and hack clear as Celtic press again. Maybe Shakhtar are feeling this a bit. Celtic finishing the stronger.
80 min: Into the final 10 minutes. Do Celtic push hard for the winner or take an away point? You'd imagine it would be the former and they show their intent with a flowing move that ends with a hooked shot in the area from Maeda that deflects off a head and behind for a corner. Nothing doing from that though.
79 min: Danger for Celtic as Mudryk's free-kick out on the left drifts to the back post but Hart allows it to bounce behind with no orange and black shirt near enough to poke it home.
77 min: Sudakov was receiving treatment during that break and hobbles to the sidelines. On comes Oleg Ocheretko, who scored Shakhtar's 96th-minute winner in their domestic league at the weekend.
76 min: A break in play as both sides get a drink and some coaching advice.
75 min: Djurasek replaces Bondarenko as Shakhtar make another change.
74 min: Hartson, in commentary, tempting fate horribly by saying Shakhtar "look out on their feet".
72 min: Twinkly feet by Jota after Celtic win the ball high. He dances through the Shakhtar defence but is almost out of energy when he hits a tame shot. It's blocked behind and Celtic's corner is headed clear.
71 min: Almost a mix-up in the Celtic defence as two players go for the same lofted ball into the area but Carter-Vickers gets a decisive touch and Shakhtar concede a foul.
69 min: Turnbull almost makes an immediate impact as his right-foot thump from just outside the area isn't too far over the bar.
68 min: It's a triple Celtic switch. Hatate, Kyogo and O'Riley are off. Turnbull, Giakoumakis and Mooy come on.
66 min: In my extensive research for this match, I jotted down the goal times of Shakhtar's eight goals in all competitions this season. Six of them have come in the 74th minute or later. Celtic beware!
Peter Oh produces a pun: "Joe Hart, Heung-min Son and John Hartson should go into business together. A podcast, consultancy firm, or maybe a restaurant or food truck. It would be called Hart, Son & Hartson."
64 min: O'Riley goes for goal with his left foot and the low-struck shot is parried by Trubin. The ball is recycled and the midfielder has a go with his right peg this time but this one is wide. More activity on the Celtic bench now.
63 min: A double dragback from Mudryk is more for show than effect but it shows how confident the No.10 is. Mark him, Celtic. Mark him!
62 min: Still Celtic on the front foot here until the dangerman Mudryk breaks away down the left. He cuts infield and the move rather loses its momentum.
61 min: Shakhtar make a double switch and bring on Petryak and Traore for Zubkov and Shved.
60 min: The second half is pretty much mirroring the pattern of the first: Celtic in control and threatening to score and Shakhtar just not doing much.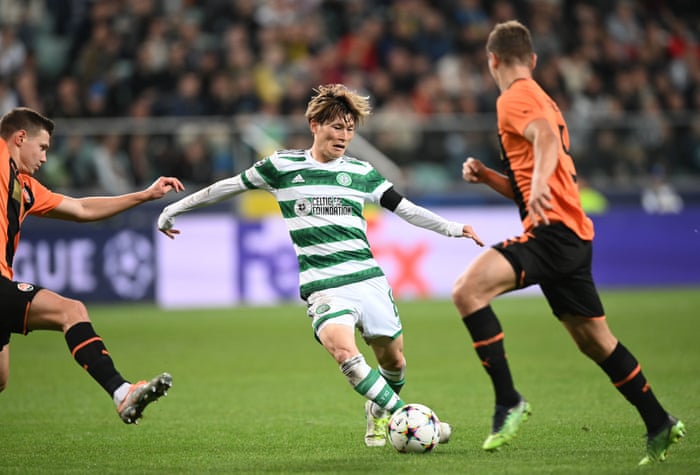 58 min: Taylor drives forward for Shakhtar but he runs into traffic and the ball balloons into the air and back to Hart.
56 min: Fantastic run from Jota: a stepover, a cut inside, a drift to the right and then a shot which is parried for a corner. Jota looking very lively since the break. Celtic can't make anything of the corner.
55 min: Hartson is giving the goal to Hatate. Does that override Uefa's judgement?
53 min: I should have trusted my instincts. Uefa now saying own goal after 10 minutes from Bondarenko rather than Hetate after 11. I'll change it back again!
52 min: A poor tackle from Mortiz Jenz earns him a yellow card. The first of the match I believe.
51 min: Mudryk, who really does look a player, pings a 1-2 on the edge of the box but Celtic have numbers back. Postecoglou's side will do well to keep the ball away from the dangerous Shakhtar No.10.
49 min: A poor clearance from Hart leaves Taylor with a chase but some nimble footwork allows him to keep the ball in and win a free-kick.
48 min: Jota is in the thick of the early second-half action as his right-foot curler from outside the box thumps into the chest of a Shakhtar defender when en route for goal to test the goalkeeper.
46 min: Fast start by Celtic again and within 30 seconds of the re-start Trubin has to shovel away a Jota shot from the left corner of the area. The rebound doesn't fall Celtic's way although could their strikers have been sharper? Welsh goal sniffer John Hartson believes they could.
46 min: Celtic get the second half underway. They've made a change at the break with Daizen Maeda coming on for Haksabanovic.
HALF-TIME: Shakhtar 1-1 Celtic
A strange 45 minutes of football comes to an end. Celtic were completely dominant, deservedly went in front and then Shakhtar suddenly woke up. The equaliser came out of the blue but from that point the hosts threatened further goals and had a second ruled out. Which way will this one go? I've no idea to be honest!
44 min: Shakhtar threaten another counter but this one doesn't flourish into anything.
42 min: Better from Celtic as Jota's left-foot shot from outside the area is saved after taking a slight deflection.
40 min: Leipzig supporters will be watching this and agreeing that Shakhtar are a bit of a weird team. They can look blunt and ineffective but then suddenly burst to life as Leipzig found out when having their pants pulled down in a 4-1 loss. Celtic were looking good for 2-0 or 3-0 before the break but Shakhtar are now a tad unlucky not to be ahead.
37 min: Shved cuts in from the right and tries to curl a left-foot shot into the bottom corner but Hart parries. From the corner, Konoplya almost gets his bonce on it but it's cleared for another which passes without incident. Celtic must want half-time now.
35 min: Mudryk is leading this momentum swing as he again threatens to cause Celtic problems down the left. He's snuffed out this time but the winger looks a huge danger.
33 min: Hart has to dive smartly to his left to intercept a dangerous cross. This has been quite the turnaround from the hosts. From nowhere, they've come to life and Celtic need to focus again.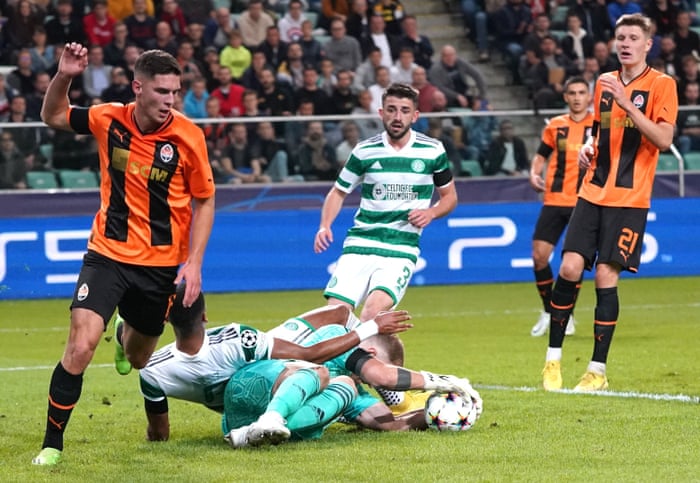 31 min: Huge let-off for Celtic as Shakhtar have the ball in the net again but it's ruled out. Mudryk pulls the ball back from the byline and Shved hammers the ball past Hart and into the net. The celebrations begin… but to Celtic's relief the ball had gone out before Mudryk could hook it back in.
30 min: BT co-commentator John Hartson is using the term "sucker punch" a lot. And he's right.