That's it from me. I'll leave you with Will Unwin's report from Hillsborough – goodnight!
Here's the goal from Patrick Roberts that sent Sunderland to Wembley
Well that escalated slowly. After a scrappy, hard-fought 73 minutes, the game came to life when Lee Gregory finished a lovely move to bring Wednesday level on aggregate.
They looked the likelier winners after that, but Sunderland stung them in added time with a similar goal from Patrick Roberts.
Sunderland will play Wycombe at Wembley on Saturday week; Wednesday will be in League One again next year. Football, eh.
Full time: Sheffield Wednesday 1-1 Sunderland (agg: 1-2)
That's it! Sunderland will play Wycombe Wanderers in the League One playoff final after a dramatic finish at Hillsborough.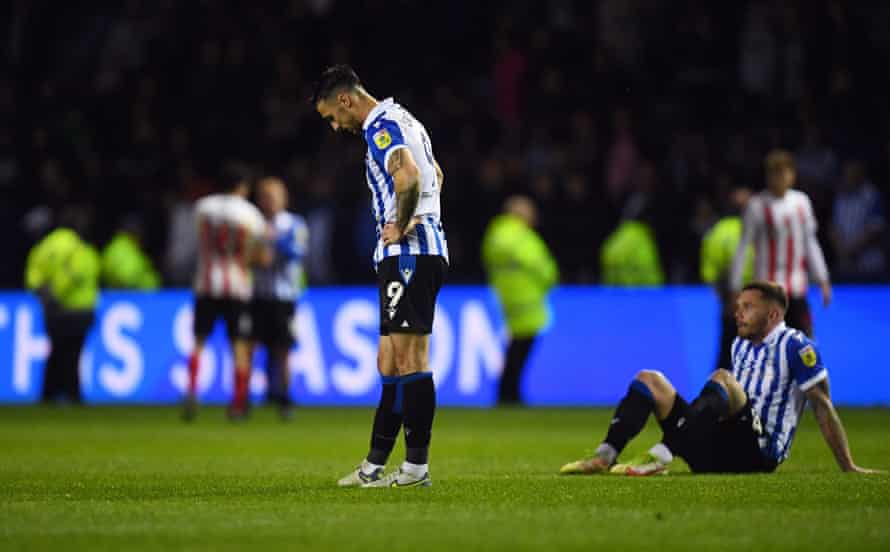 90+11 min One last attack for Wednesday, but Luongo's shot is blocked. I think that's it.
90+9 min Berahino's overhit cross is spilled by Patterson, who grabs the loose ball just in front of Paterson.
90+6 min Wednesday are shellshocked. Sunderland are making a triple substitution: Nathan Broadhead, Callum Doyle and Jay Matete replace the goalscorer Patrick Roberts, Jack Clarke and Alex Pritchard.
90+5 min Saido Berahino replaces George Byers. That's Wednesday's fourth substitution, one of which was because of concussion.
The goal was made superbly by Jack Clarke, who has been a menace all night. He teased Storey, went on the outside and slid a low cross towards the near post. Roberts, just like Gregory earlier tonight, got across the defender, Palmer in this case, and turned the ball in from close range.
GOAL! Sheff Wed 1-1 Sunderland (agg: 1-2; Roberts 90+3)
Patrick Roberts may have put Sunderland into the playoff final!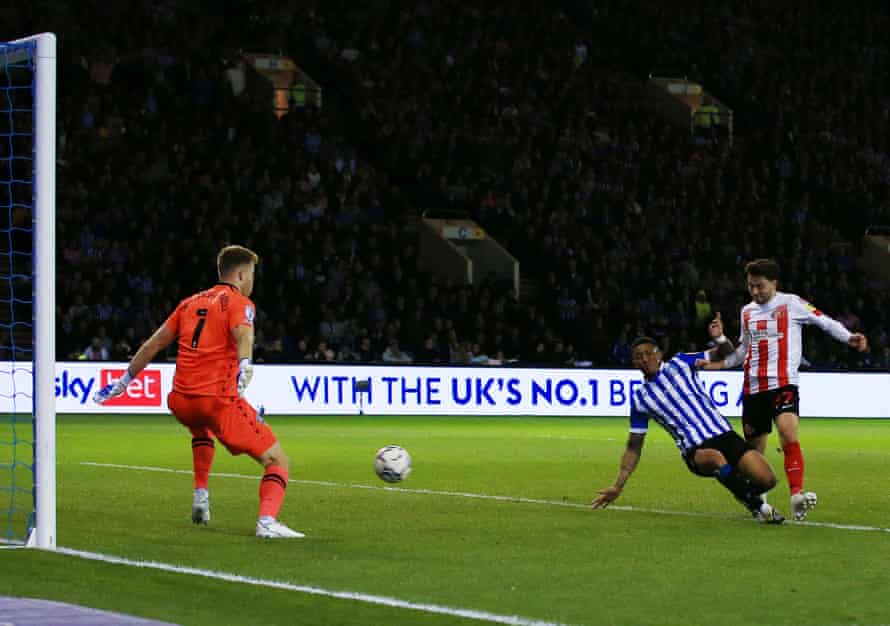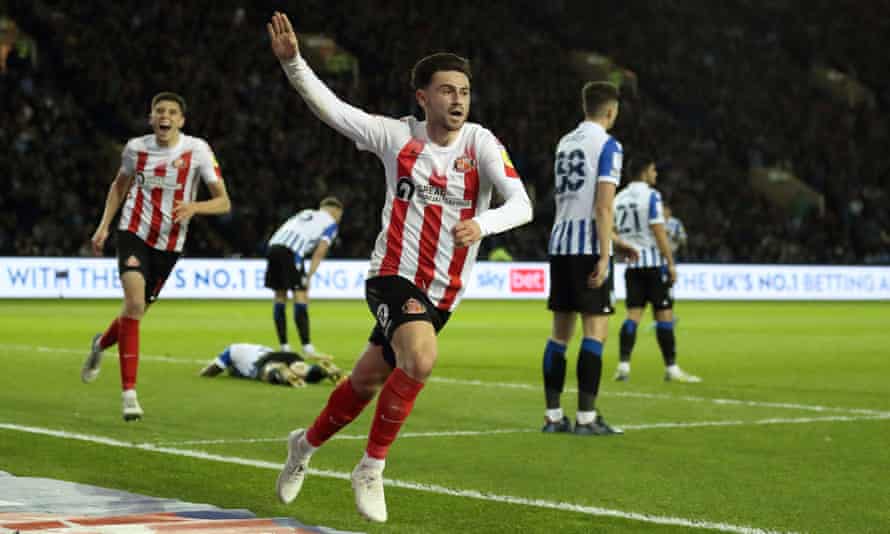 90+3 min "Hi Rob," says Lars Bøgegaard. "Even WITH the away goals rule this tie would have gone to extra time with the score 1-0."
My point exactly.
90+1 min There are a lot of tired players out there.
90 min There will be, and you'll like this, ten minutes of added time.
89 min Bannan again finds Johnson, whose flashes a cross through the six-yard box. Sunderland would take extra-time now; they've been under a fair bit of pressure since Gregory's goal. But there will be a lot of added time because of all the injuries.
87 min A reminder that there's no away goals rule in the playoffs, so if it stays like this the tie will go to extra-time.
85 min Byers' long-range shot is blocked. He had Mendez-Laing in a great position to his right but didn't see him. At the other end, Storey makes a desperate and vital tackle on Clarke. It was a long way from goal, just past the halfway line, but Clarke would have been through.
82 min Wright is fine. Meanwhile, here's that fine goal from Lee Gregory. The movement of Johnson and Gregory was textbook, and Bannan's pass a thing of beauty.
80 min There's a break in play while Wright receives treatment to his right eye. I think he's okay.
78 min Pritchard picks up a loose ball on the edge of the area, shifts it away from Byers but then thrashes wide of the near post. It might have taken a deflection, though a goalkick was given.
77 min Wednesday make their third change: Josh Windass is replaced by Callum Paterson.
77 min Dean is booked for a lunging tackle on Clarke.
That was a superb move from Wednesday. Bannan threaded a fantastic pass between Roberts and Gooch to find Johnson on the left side of the area. He sidefooted an immaculate low cross to Gregory, who got in front of Batth and opened his body to finish from close range.
GOAL! Sheffield Wednesday 1-0 Sunderland (agg: 1-1; Gregory 74)
They've put Sunderland under pressure now! Lee Gregory has brought Wednesday level on aggregate with a fine goal!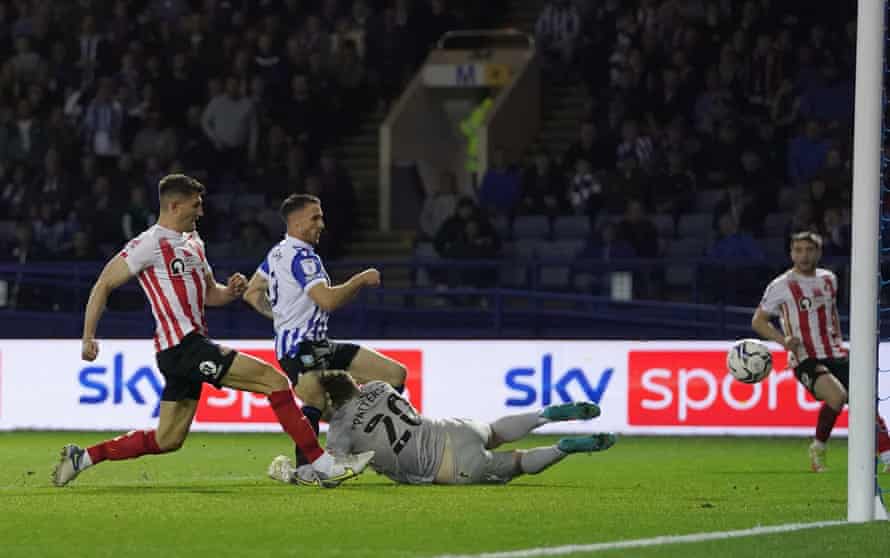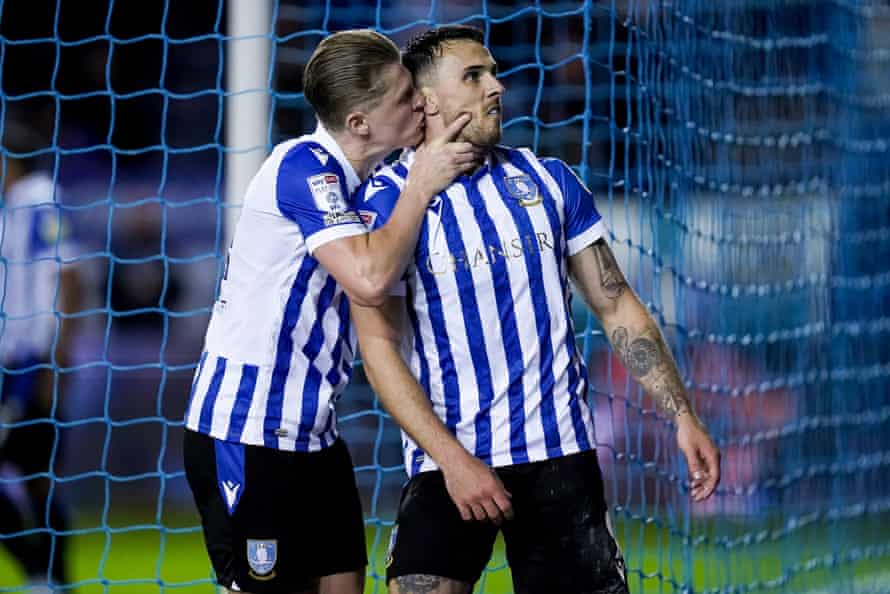 73 min It's been a surprisingly comfortable second half for Sunderland, with Wednesday unable to put them under any sustained pressure.
70 min Darren Moore was about to make a double substitution, with Paterson and Nathaniel Mendez-Laing coming on, but he may have to revise that because of Hutchinson's injury.
Indeed he does: Mendez-Laing and Liam Palmer come on for Hutchinson and Jack Hunt.
69 min "I'm trying to enjoy the game," says Adam Hurst, "but as with the first leg, and as with the old Tyne-Wear derby, I can't work out who is who. Both in white + stripes, both with black shorts and socks, whose bright idea was this? Even the ref and assistants barely stand out from the outfield players."
Even the numbers are quite hard to pick out, certainly on the Sunderland shirts.
68 min There's a break in play while Hutchinson and Gooch receive treatment. There was a clash of heads, with both men bleeding, and Hutchinson looks very groggy. I'll be surprised if he's allowed to continue.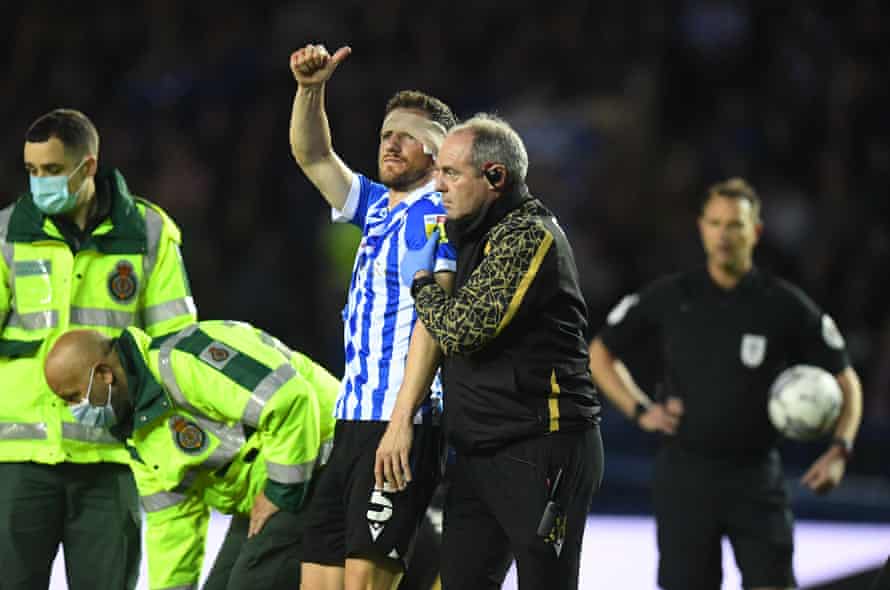 66 min A fantastic driven cross from Windass almost leads to a Wednesday goal. The diving Patterson could only push it onto one of his defenders, Gooch I think, and it rebounded just wide of the far post.
The resulting corner leads to a header from Hutchinson that is comfortably, if dramatically saved by Patterson.
65 min A dodgy backpass from Storey is almost intercepted by Stewart. Peacock-Farrell takes no risks, lumping the ball straight out of play for a throw-in.
63 min Windass's cross from the left is headed over by Storey, who was still up following a corner. A half chance at best. Callum Paterson is about to come on for Wednesday.
62 min Pritchard delays taking the resulting corner, pointing to something that has been thrown onto the pitch. No idea what it was.
61 min Clarke and Stewart combine to find Roberts, whose fierce shot from a tight angle is blocked by Storey. Roberts wanted a penalty for handball; the referee disagreed. That definitely hit Storey's arm, which wasn't in an entirely natural position. It could have gone either way.
59 min Clarke goes on an elegant, mazy run, beating at least five Wednesday players in the process. Eventually he finds tees up Roberts, whose shot from the edge of a crowded area is too close to Peacock-Farrell.
56 min Roberts' dangerous cross is turned behind by Hunt at the far post. Pritchard's corner is punched away by Peacock-Farrell.
53 min As in the first half, Sunderland have started very confidently. There haven't been many chances but the high stakes and subtle momentum shifts make this a compelling game.
50 min Sunderland work a really neat corner from the left, forcing Byers to make a brilliant sliding block on Roberts (I think). The loose ball is driven wide from the edge of the area by Clarke.
49 min It's been a fairly quiet start to the second half. It's slightly scary that an entire season will probably come down to the next 40 minutes.
46 min Peep peep! Wednesday get the second half under way.
"I hope all is well," writes Bill S Preston. "I am very much enjoying the minute by minute at present. It seems to be a pretty zingy game in S6! All animal, maybe? Anyhow, do you think the pace will be sustained over the second half, or will Wednesday be content to grab a goal, sit back slightly, ride the clock down, and hope the goal will come given their home record? And I hope the referee doesn't forget to wind his watch."
I've given up trying to predict human nature given, well, everything, but my instinct is that Wednesday will keep pushing even if they score. They're so good at home that there's no reason for them to try to take it to penalties (if they have the opportunity).
Half-time reading
Half time: Sheffield Wednesday 0-0 Sunderland
Fast, furious and goalless at Hillsborough. There was only one shot on target, a spectacular overhead kick from George Byers, but Wednesday applied a lot of pressure in the last 15-20 minutes of the half. There's also been a suggestion of needle, and a big Wednesday penalty appeal for a potential handball by Dennis Cirkin. It was hard to be sure from the replays we saw.
45+1 min Stewart is booked for a poor tackle on Johnson.
45 min Three minutes of added time.
44 min Bannan's corner from the right flashes right across the six-yard box. Sunderland really need that Gatorade hit.
43 min By the way, there will be a red card tonight. There has been sufficient dudgeon in the first half to suggest that neither team will go quietly.
41 min Bannan has a long-range shot blocked, then Windass goes over in the area while trying to collect the loose ball. Cirkin made a Horlicks of a routine clearance before falling on the ball in a panic. He tried to head it, may have handballed it, and then Windass fell over his horizontal body. I don't think it was a foul on Windass; I'd like to see the handball shout.
41 min "Joshua Reynolds is absolutely right about those names," says Dennis Johns. "Solly March is the current holder of my coveted award for Premiership Player Who Sounds Most Like A Saul Bellow Character. Admittedly without loads of competition."
40 min Wednesday have had 75 per cent of the possession in the last five minutes. I wouldn't say Sunderland are holding on for half-time, but nor would they say no to a Gatorade chaser.
36 min Bannan's free-kick is headed over by Dean, who met the ball on the run near the penalty spot. That wasn't a bad chance, though the angle of the cross meant there was little margin for error in the timing of the header.
This is a good spell for Wednesday, their best of the match so far.