Key events
59 min: Walker-Peters dribbles down the right and, just before entering the box, is eased off the ball by Willock. Saints demand a penalty; they don't even get a free kick. That looked the correct decision.
58 min: Saints make a couple of changes, replacing Orsic and Mara with Adams and Edozie.
57 min: Armstrong bustles across the face of the Newcastle box, right to left, before hoicking a half-decent shot high and wide. A good response to that burst of serious pressure from Newcastle.
56 min: … so having said that, Saints respond. Mara's presence forces Schar into the concession of a corner on the right. From the set piece, Mara then nearly guides the ball into the bottom right, but Pope gathers calmly.
54 min: Newcastle are cranking up the pressure, though. Almiron worms his way down the right again, and sends another dangerous ball across the face of goal. Bazunu gets a hand to palm it away, but only to Botman, coming in from the left flank. Botman can only force the ball into the side netting. Saints hanging on a bit here.
53 min: Newcastle should be leading. Almiron one-twos with Longstaff and enters the Saints box from the right. Almiron whistles a low cross towards Joelinton, six yards out. The keeper nowhere. Joelinton has to send the net bulging, but he leans back and sends an out-of-control screamer over the bar. How did he miss?! A couple of very slight deflections as the cross came towards him, maybe, but even then there's no excuse of missing an open goal from there.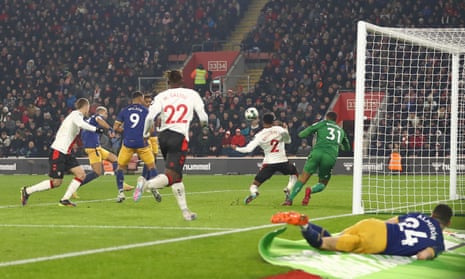 52 min: Willock attempts to outpace Salisu down the left. He doesn't win the race. Then Almiron tries the same thing on the right, but can't beat Walker-Peters.
50 min: Armstrong knocks the ball cutely past Guimaraes and Botman down the right, entering the Newcastle box. Armstrong's cross is blocked by Joelinton, but sits up for Mara, who attempts a Mark Hughes-esque bicycle kick towards the top left. It's high and wide, but not by an unreasonable distance, and he also gets full marks for ambition.
49 min: Otherwise, it's been a bit scrappy since the restart.
47 min: Armstrong robs Burn down the Saints right. His cross is dangerous but Newcastle deal with it well and counter. Almiron powers his way down the left, holding off Salisu all the way. He cuts back for Longstaff, who makes like Willock and converts a wild shot for three rugby points. That's three very similar chances Newcastle have created this evening, but they haven't worked the keeper with any of them.
Saints get the second half underway. No changes.
Sky Sports have shown the disallowed goal from several angles. Seems it was ruled out on the pitch for a Joelinton handball; however, from one of those angles, the ball seemed to hit the Newcastle forward on the side of his body only. Really quite dangerously close to his left arm, mind, which is probably why VAR didn't feel confident enough to overturn the decision. While that might annoy Newcastle, there's some balance in the referee's view of Pope's clatter into Djenepo, which a less kindly official may have deemed out of control. Both teams have got away with one, then … although nobody knows anything any more, and you could easily make a case for the exact opposite. Gotta love sports!
Half-time entertainment. Of course, this game could end 7-7, and it still wouldn't, simply couldn't, win the award for Cup Tie of the Week. Oh Aberdeen!
HALF TIME: Southampton 0-0 Newcastle United
An entertaining, high-octane half comes to an end. Not a whole lot of end product, though, with both keepers making just one save each. Newcastle did have the ball in the net, mind. "Our announcers say the goal was disallowed for a Joelinton handball," reports Joe Pearson from over the pond.
45 min +6: There didn't look to be any malicious intent in Pope's challenge on Djenepo. His eyes were fixed on the ball, which he got to first and headed powerfully clear. But you could make the case that his actions were inevitably going to put Djenepo in danger. He may feel relieved to have escaped censure.
45 min +4: As for the resulting free kick … well, there wasn't one. Turns out the referee only awarded a throw. Armstrong is a concussion substitution, by the way.
45 min +3: Djenepo, eyes glazed, is helped off the park by two members of the Saints backroom team. He disappears gingerly down the tunnel. Adam Armstrong comes on in his stead.
45 min +2: The first two of the four added minutes are taken up with the physio looking after a very dazed Djenepo.
45 min: A long ball down the Southampton right. Djenepo chases after it. Pope races out of his box and wins a header, but properly clatters poor Djenepo in doing so. Just a free kick, nothing more, a yard or so outside the box on the right. There will be four added minutes.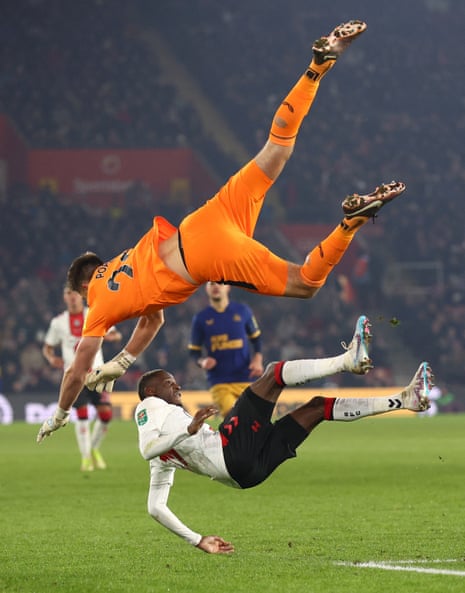 44 min: Or did the ball ping off Joelinton's arm just before he slotted the disallowed goal? They've shown a few replays of the incident, and nothing egregious sticks out. Opinions will be available for free on the internet.
42 min: Alcaraz sends a vicious low swerving shot straight at Pope from distance. Pope very nearly dives past it, but corrects himself just in time to turn the ball round the right-hand post. Nothing comes of the resulting corner. Both keepers have been put to work now all right!
40 min: The referee clearly thinks Wilson fouled Salisu. VAR checks, and doesn't change his mind for him. But that looked pretty harsh on Wilson, who came together in a 50-50 with Salisu. It wasn't a clear and obvious error, though, so the onfield decision stands.
39 min: Neither keeper has had anything significant to do … until now! Willock cuts in from the left and shoots low and hard. Bazunu parries brilliantly, but can only palm into the road of Wilson, who prepares to slam home only to be denied by Salisu's brave block. The ball now breaks to Joelinton, who whips home from close range. But the whistle goes immediately. No goal!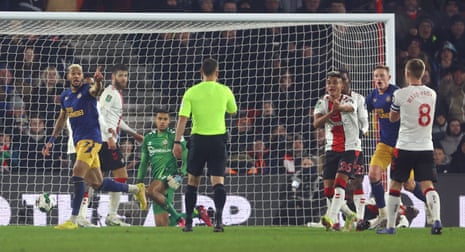 37 min: More frustration on display, this time by Guimaraes, who is livid that a Newcastle counter is stopped when Alcaraz lightly rugby tackles him around the waist. The Saints debutant goes into the book.
36 min: Ward-Prowse curls it in. Botman clears. A sigh of frustration from the home support.
35 min: Mara cuts in from the left and has a dig from distance. His shot is deflected off Longstaff and wide right of goal. Corner for the hosts.
34 min: Lyanco throws long from the right flank, hoping to cause bedlam in the Newcastle box. But Newcastle clear with ease and break at speed. Almiron and Trippier combine down the right, the latter crossing deep for Willock, who … thrashes a wild volley miles over the bar for the second time in this match. Almost a carbon copy of his second-minute effort.
32 min: Almiron is good to continue. Meanwhile as a tussle develops in midfield, Guimaraes swings an arm into Mara's startled face. The crowd want coloured-card-based retribution, but the referee only awards a free kick. There wasn't any intent, to be fair.
30 min: Trippier takes the resulting free kick, swinging it in from the right. Walker-Peters heads out powerfully, then Orsic nearly shuttles it further forward with another header to Alcaraz. Wrong direction. Had he found his team-mate, Saints were off on the counter with Newcastle light at the back.
28 min: Alcarez creams a pass down the right for Almiron, who threatens to tear clear along the flank. As he nudges the ball past Caleta-Car, the Croatian defender scythes him down. Just a yellow, because there was cover infield, but that was cynical and Almiron felt that.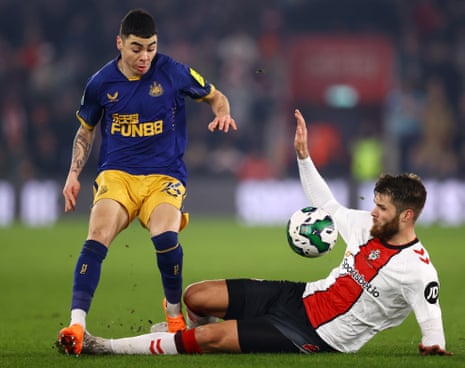 26 min: Now Schar passes back carelessly under pressure from Mara. Pope doesn't panic, and calmly completes the work he's given do with the ball at his feet. Another example of the improved Southampton press.
25 min: Burn is nearly robbed on the halfway line by Djenepo. He gets away with his brain freeze, the ball landing in his favour after Djenepo blocks. Some evidence of the all-new Saints press under Nathan Jones.
23 min: Orsic bustles in from the left and would most likely have had a shot on goal from the edge of the box had he not taken a heavy touch while moving into space. Trippier whacks clear.
21 min: Longstaff, Guimaraes and Almiron paint some pretty triangles down the inside-right channel. Bazunu comes off his line to claim bravely at Almiron's feet, at the cost of a whack on the nose. An accident, though it requires a bit of a patch-up job and a new shirt for the keeper.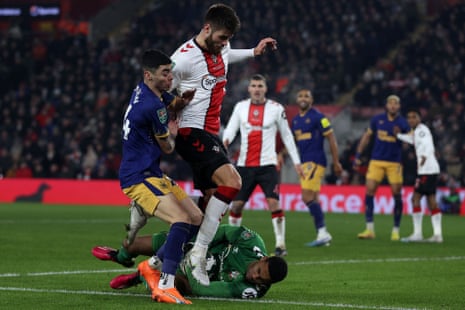 19 min: Corner for Newcastle on the left. Trippier's delivery is punched confidently clear by Bazunu. No idea what the actual stats are, but it doesn't feel like too much of this game is being played in the middle third of the park. Most of it near the Saints box, in fact.
18 min: Alcaraz strides up the middle of the park and nearly releases Mara with a long pass up the left channel. Pope reads the danger and races out of his box to intercept and clear. This is good fast fun.
16 min: Newcastle go straight down the other end, Almiron sending Trippier into space on the right. Trippier crosses at 101 mph, and Willock can't meet it with a header at the far stick. That was Newcastle's 11th touch in Southampton's box; Saints have only had one up the other end.
15 min: Ward-Prowse curls a clever low cross into the mixer from the right. Alcaraz tries to sidefoot home first time from the penalty spot, but his shot is blocked by Schar and sails harmlessly through to Pope.
13 min: Willock crosses from the left. Wilson can't bring the ball down to shoot. Newcastle try again, Almiron rolling cutely down the inside-right channel. He looks to have released Longstaff into the box, but Salisu sticks out a leg to make a perfectly timed block. Longstaff goes down, wanting a penalty, but neither referee nor VAR shows any interest in giving him one.
11 min: … and as though to prove it, he launches a long pass down the middle with that right peg. He very nearly releases Wilson into the Saints box, as well, but there's too much juice on the ball and Bazunu tidies up.
10 min: Schar looks to have run off that sore whack on the knee. He's moving much more freely now.
9 min: Salisu and Almiron trade loose passes in the middle of the park. The exchange allows Saints to push forward for the first time. Ward-Prowse swings deep from the right. Mara battles under the high ball but can't connect to get anything goalwards. Both teams look in the mood. Well, it is a semi-final, and 1955/1976 (delete as appropriate) was a very long time ago, after all.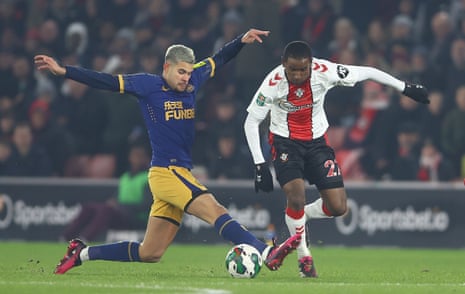 7 min: … and when he does, he does so very gingerly. Schar will continue for now but he looks extremely uncomfortable, having twisted his knee in that collision. He's feeling it and frowning.
6 min: Schar bashes a clearance up the Newcastle right. Mara comes across to block. The pair collide. Mara does nothing wrong, but Schar catches him on the follow through. Schar goes down clutching his right knee. He takes a while to get back up.
4 min: So much for that quiet start; Newcastle have made a fast one. They come again, throwing men forward. Trippier can't get a shot away. The ball's worked right to Longstaff, who rolls an inviting bundle-me-home low cross through the Saints six-yard box. There's nobody there to convert.
2 min: A quiet start. Nathan Jones sitting back his dugout chair, Eddie Howe already prowling the touchline and performing some tactical hand jive. But then suddenly Newcastle break from a throw deep in their own half. Almiron races down the inside-right channel and draws the only two Southampton defenders anywhere near the play. Almiron rolls across to the completely free Willock, who … blazes wildly over the bar from 20 yards. An ambitious first-time effort but he had time and space to take a couple of steps.
Newcastle get the ball rolling. A reminder that VAR is in operation tonight.
The teams are out! Southampton in their red and white stripes, Newcastle wearing second-choice blue and yellow. An atmosphere fitting of a major semi-final: the PA is blasting out the Gordon Strachan approved Skids track The Saints Are Coming, but it's nearly drowned out by the home fans belting out their similarly titled favourite spiritual. Marvellous. We'll be off in a couple of minutes!
Eddie Howe speaks to Sky. "We've been looking forward to this game. The semi-final of a cup competition. It's a big incentive for us. We know this game will be very difficult today, with Southampton in improved form of late. We have seven days to prepare for our next game, so I expect the lads to give everything. We have a really good bench to change things, but I am backing the players to give a good performance. If we keep creating chances, I back us to take them. Nathan has done a very good job and galvanised the club. We are prepared for a tough one. [Saints' quarter-final win over Man City] was a hugely impressive performance … so we need to hit our best levels."
A reminder that Newcastle are, kind of, the reason Jones has the Saints job in the first place. Ralph Hasenhuttl was given the old-heave ho after this rout a couple of months ago. "There are lessons to be learned," his successor tells Sky. "We're a different side, but it will have a bearing, because they are the same team."
Saints boss Nathan Jones speaks to Sky Sports. "Eddie Howe has done a fantastic job. They're on a wonderful run. We're getting there. Coming in during mid-season is always difficult … it is a process but we have to get there quickly. We had to stop conceding goals. From that base, you're able to be more fluent, more aggressive, more potent, and then you can create a good side. We're starting to grow into the side we want to become. We know where we want to go and how to get there. This isn't a distraction, it's a nice, different game to prepare for. But the league is our bread and butter, and the be-all and end-all."
Saints make four changes to the starting XI named for the narrow 1-0 home defeat by Aston Villa. Carlos Alcaraz and Mislav Orsic make their debuts, while Sekou Mara and Moussa Djenepo also step up; Adam Armstrong, Che Adams, Romeo Lavia and Samuel Edozie drop to the bench.
Newcastle have only lost two games all season, so if it ain't broke, don't fix it. Eddie Howe names the same XI starters that were sent out for the goalless draw at Crystal Palace last weekend.
Southampton: Bazunu, Walker-Peters, Lyanco, Caleta-Car, Salisu, Diallo, Alcaraz, Ward-Prowse, Djenepo, Orsic, Mara.
Subs: Caballero, Bednarek, Perraud, Lavia, Maitland-Niles, Edozie, Elyounoussi, A Armstrong, Adams.
Newcastle United: Pope, Trippier, Schar, Botman, Burn, Guimaraes, Longstaff, Willock, Almiron, Joelinton, Wilson.
Subs: Darlow, Lascelles, Saint-Maximin, Ritchie, Lewis, Isak, Manquillo, Murphy, Anderson.
Southampton haven't won a domestic trophy since lifting the FA Cup in 1976; Newcastle United have been waiting even longer, since their FA Cup win of 1955. Both have come close in the interim – Saints reached the finals of the FA Cup in 2003 and the League Cup in 1979 and 2017, Newcastle the finals of the FA Cup in 1998 and 1999 and the League Cup in 1976 – but no cigar. Could this year be the end of the long drought? Everyone's dreaming. The first leg of the penultimate step to glory kicks off at 8pm GMT. It's on!