Sunak plays down help for businesses over gas prices despite fears industry could shut down – business live | Business

03:54
Wholesale gas prices are rising again…
UK wholesale gas prices are rising this morning, back to the eye-watering record highs seen last week.
Natural gas for delivery next month is up 7% this morning, to 252p per therm.
That's around five times more than the start of this year, when it traded around 50p per therm, a move which has put heavy users of energy under pressure in recent weeks.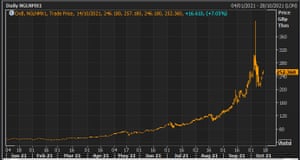 The price rocketed over 400p per therm last week, before dropping back after Russia indicated that it could stabilise the gas crisis, if its controversial Nord Stream 2 undersea gas pipeline were approved.
Russia's president, Vladimir Putin, has firmly denied Russia is limiting gas supplies to Europe to drive up prices, using energy as a "weapon" to get Nord Stream 2 pipeline signed off.
European gas futures are also rising this morning as the energy crunch continues.

03:36
Andy Harris, consultant to energy company Neon Reef, warned this morning the energy market was in the middle of a "perfect storm", following the surge in wholesale prices this year.
"I think it is a market that is set up to fail and my confidence in (regulator) Ofgem is somewhat diminished," he told the BBC's Today programme.



"We have a price cap and it's right that consumers aren't exposed to extremes and are put in a position where they have bills that they simply cannot afford to pay.

"Unfortunately the solutions that have been put in place by Government and Ofgem are such that all of the risk falls onto the shoulders of suppliers

"By definition then, when you hit a perfect storm as we are in now, it is only the suppliers with the broadest shoulders that are able to absorb those losses."
The price cap rose at the start of this month, and is expected to jump next spring when it is next updated.

03:20
Sunak appears to rule out helping businesses with gas prices
Chancellor Rishi Sunak has dampened hopes that the government could help businesses with soaring gas prices, saying "it's not the government's job" to manage the costs of individual products.
Asked if he would accept some companies going out of business, Sunak said he "believes in a market economy", and that he must make sure taxpayers' money was protected.
The comments come at a time when soaring energy prices are putting firms under strain — raising fears that industries could shut down.
Speaking in Washington after attending a G7 finance ministers, Sunak said:



We're prepared to work with business and support them as required. It wouldn't be appropriate for me to comment on the particular situation of any individual company.

But in general I believe in a market economy, as it's served us very well in this country. It's not the government's job to come in and start managing the price of every individual product.
Sunak added that the government does recognise people have concerns about inflation — which is why it recently launched a £500m support fund to help families this winter.



We are alive to some of these challenges, and we've stepped in to provide support to those families who need it.
However, charities have warned that this winter hardship fund won't meet the scale of the challenge faced by millions of families on low incomes.
Asked about the supply chain crisis, Sunak argued that the issues are "global in nature, so we can't fix every single problem", but pledged there will be a "good amount of Christmas presents available".
Sunak has been locked in a battle with Kwasi Kwarteng, the business secretary, for some form of financial support for companies at risk of closure from the energy crisis.
But firms have already warned that simply offering loans to soften the impact of soaring gas prices "won't address the problem".

03:17
Introduction: Industry could shut down if UK runs out of gas in cold winter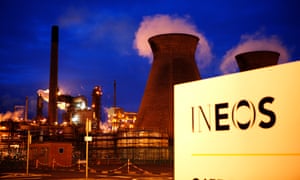 Good morning, and welcome to our rolling coverage of the world economy, the financial markets, the eurozone and business.
One of Britain's leading industrialists warned that industry could be forced to shut down if the UK suffers a bad winter.
Sir Jim Ratcliffe said last night that a lack of gas storage had left the UK vulnerable, and that gas prices were likely to remain high throughout the winter.
That could lead to widespread shutdown, he warned, if a sharp winter led to rising demand from business and consumers, outstripping supplies.
Appearing on ITV's Peston, Ratcliffe – the founder of chemicals giant Ineos – was asked if the country could shut down due to a prolonged cold spell, he replied:



"Yeah, in which case then, what you would do is you'd shut down industry."
That would be a heavy blow to an economy still recovering from the Covid-19 pandemic.
As Ratcliffe put it:



"Economically… we're in a bad place as it is after Covid so you don't really need to be shutting industry down, and that's not great for British industry if we're telling all our customers we can't supply them."
Ratcliffe said that it was hard to predict how long the current situation's going to last, but predicted it would probably continue through the winter due to the increase in gas demand.
And he criticised the UK's lack of gas storage, relative to other European countries, saying it was "a bit pathetic really for a nation as important as the UK" to only have 10 days' storage left.



When we had the, if you remember, the 'Beast From The East', we were within a day or two of running out of gas in the UK.

"If we had run out of gas it would have been a disaster for, you know, the older people who wouldn't have been able to get heating in the house, for industry which would have had to shut down. But we were within days, and we did make that point."
UK industry leaders have been warning for several days that factories could be forced to shut down, unless the government provides support — with steel bodies saying they're on the brink of a full-blown crisis that puts jobs at risk.
The surge continues to push energy suppliers closer to the brink. On Wednesday two more firms collapsed — Pure Planet, a renewable energy firm that was backed by the oil company BP, and Colorado Energy.
The agenda
9am BST: IEA monthly oil market report
9.30am BST: Bank of England's credit conditions survey
9.30am BST: ONS weekly economic activity and social change in the UK, real-time indicators
11am BST: Bank of England policymaker Silvana Tenreyro gives the Yrjö Jahnsson Award lecture
1.30pm BST: US weekly jobless claims
Updated

Source link