Key events
Lovely stuff from Max Bonnell. "Not that you ever need an excuse to refer to the Go-Betweens in any context, but as it happens Robert Forster and Grant McLennan were both cricketers – they played in the Brisbane Public Schools 1st XI competition."
"I'm writing this from a particularly sunny and summery Brisbane, having just removed myself from the pool to get another beer," boasts Samuel Lobascher. "With rain predicted in Melbourne all week, surely there was notice-enough to move today's games to the (indoor) Marvel Stadium?"
Good question, and one raised by Afghanistan coach Jonathan Trott. Marvel Stadium is not one of the host venues for the tournament, so it's not as simple as just shifting it down the road. Not sure why it isn't one of the seven arenas chosen, but it did host a big motorcross event the other night, so maybe it was already booked out?
"Quite excited for this, rain delayed or not," emails Em Jackson. "But more seriously, in reply to 0918 – "to them [the ICC] they are more tortilla chips than white truffle" – which is all well and good so long as they're packed with jalapeno's, covered in delicious vegan friendly grated cheese, guacamole and sour-cream served alongside some cold, frosty bottles of lager . . . . – but how often do we find they're just a bag of plain chips and bland chopped tomatoes with flat fizzy pop?"
Nachos, the most overrated food. Guacamole tastes like a crayon in a nutri bullet. Sour cream? The clue's in the name. And halfway through you're bored of the experience and dreading the soggy slop you're soon to be faced with where the tortillas have turned to cardboard and the base of the bowl is a double-dip petri dish. Nuh-uh. Cold beer, crunchy crisps, job done.
A reminder that a five-over slog needs to begin by around 10pm.
It is not raining at the MCG at the moment. The obstacle to play starting is the volume of water that has landed on the ground today, and how it presents a health risk to players.
There remains the possibility of more showers drifting through, but the large band of rain has passed.
The outcome of the 7.30pm inspection is… another inspection at 8.15pm.
The umpires clearly want to see more water removed from the edges of the square.
"The umpires are concerned with the wet patches around the square" reports Mark Taylor.
Umpires Brown and Wilson and now in discussion with captain's Buttler and Finch.
I forgot to mention reserve umpire Aleem Dar is also out in the middle to make it a quorum. He seems to be leading discussions with Joel Wilson also demonstrative. Chris Brown not so much. The Kiwi looks like's contemplating whether it would be possible to hurl a wellington boot over the Great Southern Stand.
The umpires are paying most attention to the edges of the square, the areas where the runoff from the covers has created the soggiest sods. Aaron Finch is out there too, and he doesn't look too chuffed with the damp patch where the fast bowler's back foot is supposed to land.
Umpires Chris Brown (NZ) and Joel Wilson (WI) are out in the middle inspecting the conditions. Stand by.
As you can see the covers are now off completely and there is plenty of action on the outfield. The umpires will be out shortly to check on conditions and indicate when play might begin.
John Starbuck has emailed in asking if we're doing rain songs. We're not.
But it is spring. And it is raining. And The Go-Betweens are great. And this is my blog.
This tournament has been a belter. James Wallace agrees, but he wonders if it will get its rightful dues smooshed into an absurd schedule with too much less meaningful cricket?
From India and Pakistan's epic (some suggest the greatest T20I ever) to West Indies sorrowful early exit to New Zealand chalking up their first win in Australia in more than a decade, this tournament has been the best yet and it's barely got into its stride. There'll be another one along in a year or so, not for the ICC the view that global tournaments should be fleeting or finite, to them they are more tortilla chips than white truffle, albeit with the money-making potential of the latter.
The groundstaff at the MCG are going gangbusters with the sponges, sopping up as much standing water as possible before the 7.30pm pitch inspection. The prospect of play is as high as it's been all day.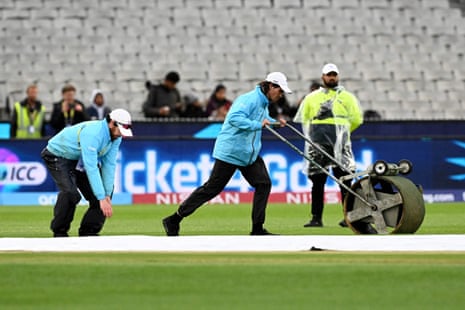 The covers are being slowly peeled away from the centre of the MCG like the removal of a moist poultice protecting the palm of a green giant who accidentally grabbed the handle of a frying pan he'd forgotten he'd put in the oven.
Good news! (Unless you're Kim Thonger). Some of the big outer sheeting is being removed from the square.
However, some straggly showers are still showing up on the radar so we may not have seen the last of the rain for tonight. The inspection around 25 minutes from now will be our first (and possibly last) indication of whether there's any appetite for any action.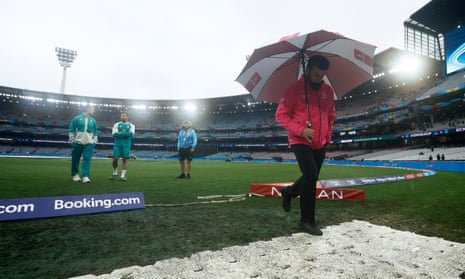 Kim Thonger, with the kind of stuff that will no longer see him banned for saying on Twitter. "I wonder if it might not be such a bad thing if England were to lose a quick five over match against Australia, and find themselves dumped out of the tournament early. Maybe it would encourage the ECB to focus a little more on what's good for red ball cricket, rather than slavishly chasing the T20/Hundred dollar?"
… and in the process nix the idea of a five-over mid-midsummer slogfest, branded SLOGFEST and played on the steep banks of Glastonbury Tor during the festival.
"Geography teacher here," begins an email which stimulates fond memories of one of my favourite teachers from years ago (Hi Mr Radley!). I digress: "As well as climate change, wet weather is also a result of ongoing La Niña which means trades winds blowing across the Pacific from South America are stronger, this pushes warmer surface water towards Australia and South East Asia exacerbating low pressure conditions and meaning more rainfall. Climate change will also make ENSO (El Nino Southern Oscillation) pattern more irregular. Well…that's what I tell my A-Level kids anyway." Thanks Peter.
El Nino and La Nina are household names over here now. We used to fear the former for the droughts, now we're obsessed with the latter and the floods they bring.
"We don't want to lose any games but it is probably going to galvanise the group in terms of our approach," explained England coach Matthew Mott following his side's defeat to Ireland. "We need to show a response. We need to come out with a really attacking mindset and maybe throw caution to the wind and see how we go."
I like England's bullishness in white ball cricket. I just wonder if this particular group has the confidence of recent iterations to back it up, especially without Eoin Morgan calling the shots. They could definitely do with Jos Buttler and Alex Hales both going full Finn Allen off the top, especially if it's a five-over slog.
Matt Hobbs has emailed a terrific question:
"Such a shame about the weather but a genuine question: would England prefer one point or the lottery of a five-over game? Their net run rate is currently better than Australia's although the Aussies have two easier (at least on paper) fixtures to come. I'm not sure England would hate a draw and living to fight another day."
I don't think anybody ever wants a washout, do they? But I reckon England would be the happier of the two teams if the points are shared because Australia are the side that needs to make up ground. England lead Australia on net run rate 0.239 to -1.555, so a point apiece keeps their noses in front.
But like you say, England's remaining fixtures – New Zealand and Sri Lanka – are tougher on paper than Australia's – Ireland and Afghanistan – so this could be a chance of making a decisive move up the table.
Here in Australia, Channel Nine's live coverage has been very clunky, and they've just filled some time celebrating Matthew Wade's courage for preparing to play tonight despite being diagnosed with Covid yesterday. Including making a joke about England's players staying one and a half metres away from him. Instead of, you know, asking why on earth in the middle of a pandemic and on the cusp of a new wave in Australia everybody isn't taking the kind of precautions we took for granted up until a few months ago.
Under tournament rules Wade is allowed to play (if he feels up to it) but he has to make his own way to the ground and change in separate facilities.
Teammate Adam Zampa also tested positive ahead of the Afghanistan match, but swapping him out for Ashton Agar was straightforward. Wade is trickier because Australia do not have another wicketkeeper in their squad. Josh Inglis was originally named but after he got injured he was replaced by Cameron Green, not another gloveman.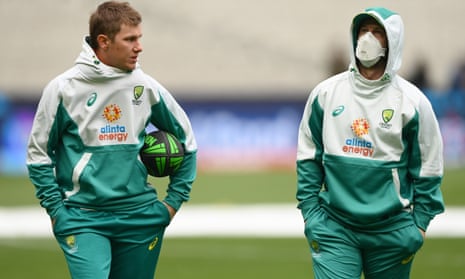 "Kia ora Jonathan, from Rotorua in Aotearoa/New Zealand," good evening Graeme Simpson. "Last time in Melbourne in 2011, same time of year, and it went from a muggy 30C to torrential rain and 15C in 1/2 an hour. That was not that unusual. Current sh*te weather is very much a product of climate change. 'Straya is a barometer – either on fire or under water. ngā mihi."
Meanwhile, at the front of the paper…
And not unrelated:
George clearly didn't read my earlier post.
Englishman Simon Burnton spoke to Australian Mike Hussey about being an Australian in the England camp when England take on Australia in Australia, and the possibility of remaining involved with England when Australia visit England next year for an Ashes tour.
"It seems to be a big issue for everyone on the outside," he says. "For me, there's a much bigger picture than just that rivalry. I think it's a great opportunity to be involved with a new environment, a new team, a new country, to see how they go about it."
Geoff Lemon sets the scene for a match that may never take place, cautioning that "Australia and England in their current state is not exactly a battle of the titans, but a struggle between teams looking to emerge from difficulty."
I know it's unfair to blame the messenger, but boooooooooo George, booooooooooo.
Melbourne, like all of Australia's east coast, has been saturated this spring, and today has been no exception. What has made today exceptional is quite how spitefully the rain has been delivered, blowing in horizontally in unpredictable gusts, at a frigid temperature. The 'feels like' widget of the forecast dashboard hasn't reached double figures all day. It is grim.
Ireland vs Afghanistan has already been washed out without a ball being bowled. The MCG is grey and sodden. We are very unlikely to start on time.
More promisingly, the raincloud the size of Wales that has sat over the state of Victoria for most of the day is moving its way eastwards, and should soon clear Melbourne CBD, aside for some tendril-like showers. These modern grounds drain quickly and umpires have already shown their eagerness to play through tricky conditions this tournament, so we may yet have a match, however short.
For that to occur play needs to be underway by 10.04pm (12.04pm BST).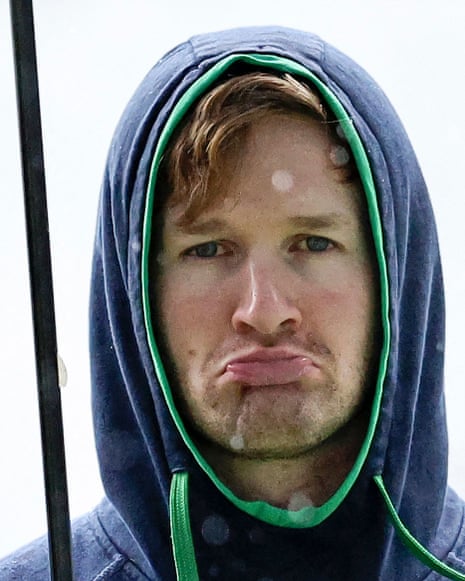 Preamble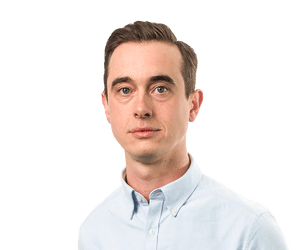 Jonathan Howcroft
Hello everybody and welcome to live coverage of the 2022 ICC Men's T20 World Cup. Weather permitting, Australia vs England in Group 1 of the Super 12s begins at the Melbourne Cricket Ground at 7pm local time (9am BST).
If the rain does hold off, this is a fixture of enormous consequence to the tournament. After Australia were bullied by New Zealand and England outplayed by Ireland, defeat tonight probably spells the end of the loser's campaign.
Australia rebounded with a Marcus Stoinis-inspired settler against Sri Lanka, but the defending champions haven't clicked yet, extending a prolonged run of indifferent performances in the format. Of greatest concern is the output of skipper Aaron Finch at the top of the order. Finch has already announced his retirement from the ODI format and is limping towards the end of his T20i career on home soil.
England are back in action just two days after they failed to adapt to the characterful MCG surface against Ireland. The seam bowlers were too short and the batters never looked assured on a deck that offered plenty of movement and bounce. Against the highest quality pace attack in world cricket England's top order need to find both intent and timing.
I'll be back shortly with the toss and the teams synonyms for rain. In the meantime, you can contribute by sending me an email or directing any tweets to @JPHowcroft.