Forget dressing for the job you want — lately, I'm dressing for the lifestyle I want. If wearing the coastal-grandmother aesthetic will help me manifest a future beach house with a garden where I can grow fresh herbs and vegetables for summer pastas, sign me up. Not to mention, this style is timeless, chic, and comfortable — cozy sweaters, printed sundresses, and flowy pants are all definitely my vibe.
So when I spotted the A New Day Oversized Button-Down Boyfriend Shirt ($25) on Target's website, I knew I had to give it a try. The oversize, slouchy fit is perfect for pairing with jeans or wearing layered over a frilly tank top. Plus, the cut is incredibly flattering: the first time I slipped on this shirt, my husband told me I looked like I should be sitting on an adirondack chair in Maine, painting a scene from the garden. (You have to love the specificity.) Keep reading for my honest review of this $25 find from Target.
What I Like About the A New Day Oversized Button-Down Boyfriend Shirt
From the classic cut to the oversize pocket, this shirt is incredibly versatile. The first time I wore it, I styled it simply with jeans and Chelsea boots. Another day, I layered it over a graphic tee and miniskirt. You could also wear it under a blazer or sweater vest for a workwear look. Since I ordered the shirt in pure white, I know I'll be able to wear it with a variety of outfits for years to come.
What's Worth Noting About the A New Day Oversized Button-Down Boyfriend Shirt
The fit of this shirt is definitely oversize. If you order it in your typical size, expect a loose, blousy fit — ideal for the coastal-grandmother aesthetic. If you prefer a more tailored fit, size down.
This shirt is 98 percent cotton and two percent spandex and does wrinkle easily. I found that a quick steam loosened up any creases or wrinkles out of the wash, but some did creep back into the fabric throughout the day. Is it the highest-quality button-down shirt I've ever worn? No — but it is a great value for the $25 price tag.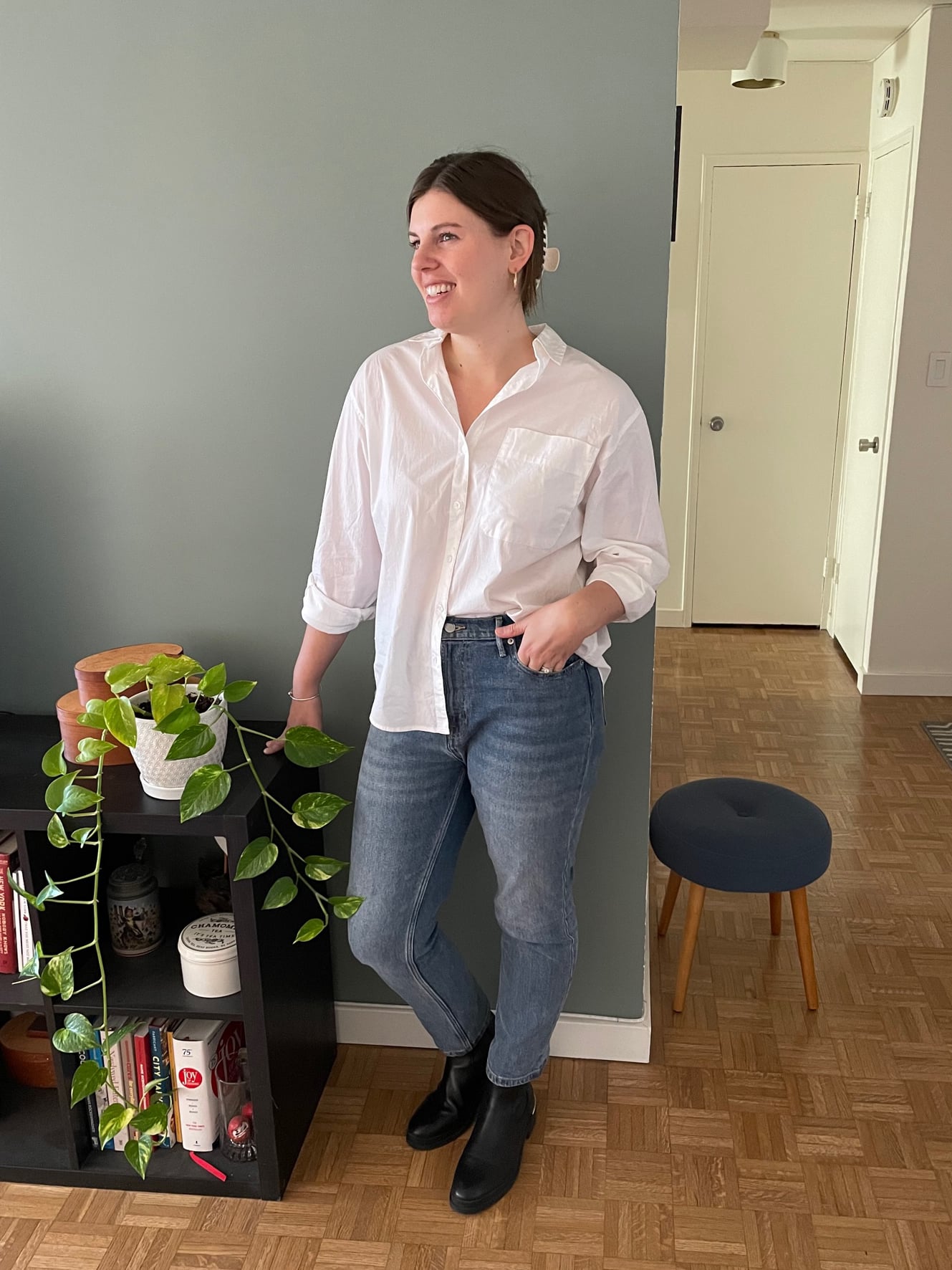 Who the A New Day Oversized Button-Down Boyfriend Shirt Is Best For
The blousy, oversize fit of this button-down would work well for anyone who wants to try the coastal-grandmother style — or just prefers shirts with a looser fit. Both the white and blue striped options look timelessly chic with everything from skirts to trousers to denim.
Additional Details
This shirt comes in sizes XS-XXL.
The shirt is available in a blue and white striped pattern. Target also makes this shirt in solid black or cream stripes, but both colors are currently out of stock.
Rating:
Image Source: POPSUGAR Photography / Annalise Mantz
A New Day Oversized Button-Down Boyfriend Shirt
Buy Now