Alice Lee, a 13-year-old from Minneapolis, has set a new landmark for US women's chess by qualifying as the third youngest female international master in chess history, outpaced only by the all-time No 1, Judit Polgar, who achieved it at 12, and the current world No 6, Kateryna Lagno.
Lee scored her third and final IM norm at the Montreal Classic, where she began with an unbeaten 4/6 against grandmasters, and narrowly missed a GM result. She chose that event in preference to the prestigious $175,000 Cairns Cup at St Louis, which also resulted in a surprise US success as Anna Zatonskih, the lowest rated player, defeated a high class international field.
Lee's impressive performance followed speedily after her giantkilling results in the online Pro Chess League, where she defeated Romania's No 2, Bogdan-Daniel Deac, and Germany's former European champion Matthias Bluebaum, while the icing on the cake was her draw in a superior position against the current world No 2, Hikaru Nakamura.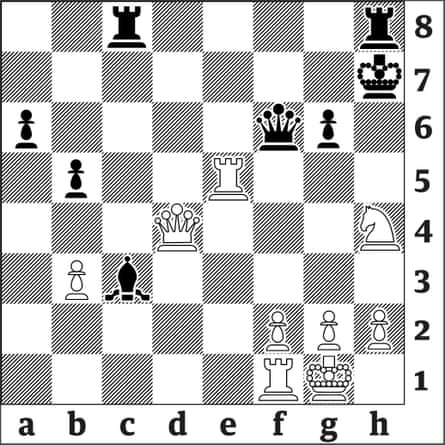 Previously, she achieved her second IM norm at a tournament in St Louis where she finished outright first after defeating the top seed, Tamas Petenyi, in her first game.
In a recent interview on the Chessbase website, Lee spoke of her ambitions, her future targets, her support from the Samford Fellowship, and her training methods. She credits the patience and persistence of her longtime coach, GM Dmitry Gurevich, for transforming her game.
Lee is on the verge of breaking into the top 50 women, where she will be the youngest by three years, and that has major implications for the future. The top nation for older teenage talents is clearly India, with Dommaraju Gukesh and Rameshbabu Praggnanandhaa, both 17, Nihal Sarin, 18, and Arjun Erigaisi, 19, all ranked in the world top 60.
Due to Lee's surge, the US is now the leading nation for younger teens. Abhimanyu Mishra, 14, already the youngest ever GM at 12, has recently reached 2591 in the live ratings and is poised to cross the next barrier to become the third youngest 2600-rated player in history after John M Burke of the US (who was helped by quirks in the rating system) and China's Wei Yi.
Incidentally, Mishra has already met Magnus Carlsen twice, both in online tournaments. The first was a lesson for the US youngster, whose h8 rook was entombed by an h7 pawn and a g8 bishop, but the second occasion, in last month's Aimchess Rapid, was a closer encounter where the teen was level for many moves before succumbing in the endgame.
What of England, which in the 1970s could boast the world's best juniors, a generation who grew up to become the No 2 chess country after the former Soviet Union? The hope for the future is that Shreyas Royal, one of the best global 14-year-olds and already with a GM norm, will soon reach the grandmaster title, and that Kushal Jakhria and Bodhana Sivanandan, the top under-nine boy and girl in the official Fide ratings, and with still higher numbers on the national ECF list, will continue their advance.
Thursday's opening matches of the new Global Chess League (GCL) in Dubai were marked by high-class play, despite the fast time limit of 15 minutes per player per game plus a 10 seconds per-move increment. China's Wei Yi won an imaginative attacking game with an unusual bishop sacrifice, while India's former world champion Vishy Anand scored by a sustained attack. Anand's team is named the Ganges Grandmasters, although he is the only Indian among its six players.
The Tech Mahindra GCL, is the first franchise-based team chess event. On Friday afternoon (2pm start) the world No 1, Magnus Carlsen, makes his debut for SG Alpine Warriors, with a game against his 2021 title challenger, Ian Nepomniachtchi, while at 5.30 pm Carlsen meets Anand. There will, however, be no meeting between Carlsen and China's world champion, Ding Liren, who was scheduled to compete in Dubai but has withdrawn.
GM Gawain Jones, whose wife Sue Maroroa Jones died tragically last month, returned to competitive play this week in Chess.com's Titled Tuesday, and scored his best ever result in that high class event.
Jones finished fifth in a massive field of 541 players, scoring 9/11. The Sheffield GM was half a point behind the winners Maxime Vachier-Lagrave and Gata Kamsky, but ahead on tie-break of Hikaru Nakamura (sixth) and Carlsen (eighth). One of his best games was against Raunak Sadhwani, the Indian talent who recently defeated Nigel Short in a match in Maharashtra.
3873: 1 Qd7+ Kh6 (if Kg8 2 Qxc8+ or Qg7 2 Re7 wins the queen) 2 Nf5+! and if gxf5 3 Re6 wins the queen, or Kg5 3 f4+ Kh5 3 Qd1 mate.