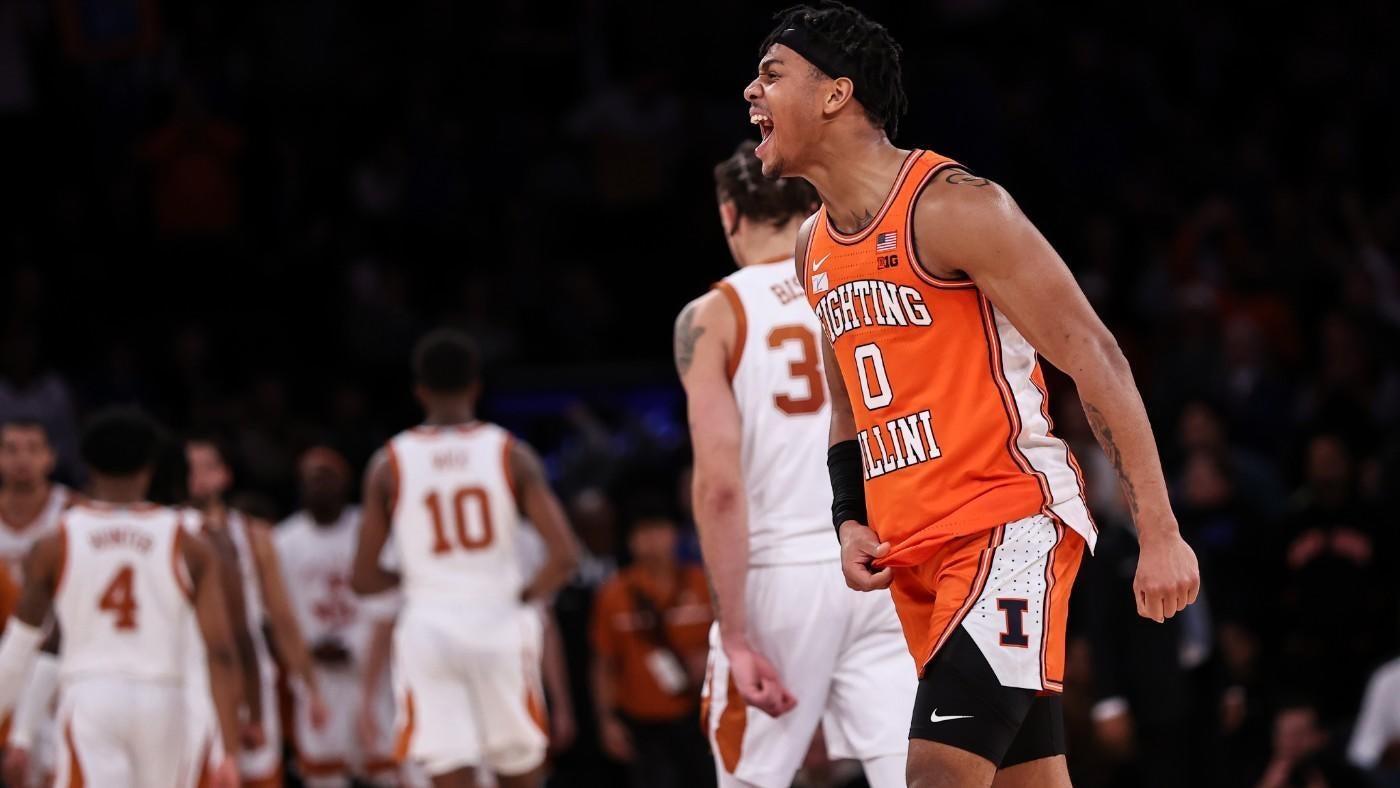 NEW YORK — If Illinois is going to rate among the better teams in college basketball for a third straight season, wins like the one the 17th-ranked Illini pulled off Tuesday night over No. 2 Texas at Madison Square Garden will serve as evidence and credence to the cause. 
Illinois staged an unlikely run late inside a boisterous Garden to rally and ultimately topple the Longhorns 85-78 in overtime in the Jimmy V Classic. It was Texas' first loss of this still-young season after it fumbled away chances on multiple possessions in the final two minutes. 
Illinois coach Brad Underwood told CBS Sports it was his team's most complete effort so far. Underwood has scheduled aggressively; Tuesday was Illinois' fifth game out nine overall against a high-major program. An Illini squad picked by some to win the Big Ten can now claim victories against UCLA (7-2) and Syracuse (5-4), but this one carries the most value, at least for now. 
"I like this [win] because they've got great guards," Underwood told CBS Sports. "That's a really, really old team. Chris (Beard) has lived in the portal and done it as well as anybody in the country. And we did it against them."
The losses are reasonable and came away from home: vs. Virginia in Las Vegas, and at Maryland. Entering Tuesday, those teams were a combined 15-0.
Longhorns vs. Illini was the first college hoops contest at MSG this season. It delivered free basketball and one of the better watches through the first month of the basketball calendar. Here are my takeaways and need-to-knows from the Big Apple. 
Underwood is still 'guessing' with his rotations
Would you believe that a team that now rates 11th in the country at KenPom.com still isn't quite sure of how it's going to play its way through games against top-end competition? That's what Underwood admitted Tuesday night. It's an OK thing for now, but obviously not a long-term strategy. Underwood had a great line in the postgame press conference. 
"Surprises every night," he said. "I don't know who's going to do it, I don't know where it's coming from, I don't know what it will look like."
What Tuesday night looked like was an Illinois team learning to get better in real time, a group that could eventually be right there with the likes of Purdue, Maryland and any other contenders waiting to emerge in the Big Ten. The early sign was this: Terrence Shannon Jr., Illinois' best player, didn't score in the first half — yet Illinois went into the break with a 37-34 lead.
Take that every time. 
"We guess based on practice," Underwood said. "It worked in the UCLA game."  
Shannon still struggled into the second half, so much so that he got benched midway through the second half. Despite this, Illinois overcame a 16-2 second half run by Texas, and even after closing that gap, found itself down 68-63 after Texas senior Marcus Carr sank a fallaway in the paint over Matthew Mayer with a minute to go. In the moment, it seemed like the game was over. In reality, those two points were Texas' last in regulation. 
Illinois freshman Jayden Epps saved the game. He hit a 3-pointer with 33 seconds remaining, then, after Texas sophomore Tyrese Hunter missed the front end of a one-and-one, Epps induced a foul on Texas' Sir'Jabari Rice. Epps sank both foul shots with 7.6 to go and got the game to overtime.
"I'm full with the capacity with this team has," Underwood said. "We're trusting our players to make the right plays. It's different and it's not as comfortable as maybe I'd like it sometimes."
In the bonus session, Shannon Jr., finally appeared after a mostly anonymous first 40 minutes. Shannon scored eight of Illinois' first nine points in OT and helped his team gain an edge it wouldn't surrender. Shannon finished with 12 of his 16 points in overtime and Mayer led the Illini with 21 points.
Illinois dropped 85 points on the third-best per-possession defense in the country. Entering Tuesday, Texas was allowing 23.2% 3-point shooting. Illinois shot 43.5% (10-of-23) and closed out at 1.06 points per possession — the best showing against UT this season. 
After trailing by double digits with eight minutes remaining, Illinois showed its resolve by not having a turnover down the stretch or in overtime. Underwood is dogged about recruiting players with winning backgrounds. State titles at the high school level, and in the portal, players who've been involved in deep runs in the NCAA Tournament. He said it helps with locker room chemistry and eases the transition to playing in Division I at this level. It certainly seemed to matter on Tuesday night against a Texas team that is still probably a little better than Illinois. 
For Underwood to have the confidence to bench Shannon for a huge portion of the second half speaks to how multi-faceted Illinois is. And remember, this is a coach who's had the likes of Ayo Dosunmu, Trent Frazier and Kofi Cockburn to lean on in recent seasons. It's an impressive roster makeover. 
Underwood told me he desperately wants to have a team that can be nine-deep. Eight-deep, at worst. With how fast he wants to play offensively, it might be necessary. 
"They all have certain strengths about them," he said. "So I'm going to try and play that way."
Underwood said the team played dumb in its loss at Maryland, highlight a point wherein the Terrapins had four made baskets over a 16-minute span. He had to play vital big Coleman Hawkins 38 minutes, which he doesn't want to do again this season. 
The key for Illinois was having the ability to sit Shannon and have it not ultimately doom them. 
"We were really playing well and I'm not gonna mess with success," Underwood told me. "But then it got down to the last couple of minutes and I know what he can do in those and I came back to him."
When it was time, Shannon was ready. This team has plenty of room for growth as a tempting squad moving forward. 
Texas blew the game, but that's not alarming
I won't overcomplicate this. Texas should've won the game but failed to close the door. A made shot here or a sunken free throw there, and it's not going to OT. Check UT's schedule. The next five games aren't against projected NCAA Tournament teams. UT would've been poised to make it to New Year's Eve undefeated and 12-0 heading into its game at Oklahoma.
But it's only one loss. Texas will probably be 11-1 after Christmas passes. 
"November was great to us. This is December. We didn't come to Texas to win the second game in December," Longhorns coach Chris Beard told me outside the Texas locker room. "We came to be a team that wins six games in the tournament. This team has done a great job winning through victories, whether it be by game or design or create and we've gotten better after each game through victories and that's really hard to do. So now's our first chance this season and probably not our last chance to get better after defeat." 
Beard said Illinois' key was Mayer in the first half and Shannon in overtime. Can't argue with that. Beard added about Illinois' end-of-game push: "We absolutely knew it was coming." 
Strangely enough, Texas didn't get enough from anyone other than senior Timmy Allen, who was the constant: 21 points, eight rebounds, seven assists. That's a guy you'll hear a lot more from as the season goes on. I think he's Texas' best player and will prove that over the next 25-plus games. But he'll need the guards to play up against top-30 competition. On Tuesday, Hunter missed a foul shot late, and Marcus Carr had a few shots he'd like back. 
"When it gets to winning time, the best players in college basketball take the game over," Beard said. "We needed that second guy, we needed that third guy. It wasn't Marcus' best statistical game, but we all know Marcus can be that guy."
He'll have his nights as well. This was a tough loss that should've been a win. No more, no less. My expectation is that Texas will be one of the teams to watch in January, when a rugged Big 12 schedule will put them in the spotlight on a weekly basis. 
Bittersweet reunion for Beard, Shannon family
A few years ago, Shannon was the player helping Beard build up Texas Tech's brand, a big-time recruit who continued TTU's momentum under Beard after the Red Raiders made the 2019 national title game. Fast-forward to 2021: Beard gets the Texas job, Shannon stays with the Red Raiders and works his way through injuries and obstacles to maintain his reputation as a legitimate college player. 
He didn't follow Beard to Texas, and then when he went in the portal, he opted to ultimately head to Illinois. Then the Jimmy V offered up this scheduling wrinkle. Beard going up against his old player. And into overtime, he knew exactly what to anticipate. Shannon taking swings at Texas — Beard had seen this before. It was all too familiar. 
After the game ended, Beard shared a moment with Shannon, and then made his way to the family section behind Illinois' bench. In the first row were Shannon's parents. He exchanged hugs and greetings with them. It was a sweet scene, one not picked up by TV cameras. But it was clear it meant a lot to Beard, and to the Shannon's family. 
"I love him," Beard told me. "We stay in touch with his family, pull for him every game. I don't like to coach against former players. I thought he was an NBA player after two years in our program, but his body was banged up on him a little bit that offseason. If he stays healthy a second year playing for us, he's in the NBA right now." 
The transfer portal is going to lead to situations like this happening with more frequency moving forward. Ideally, coaches can handle it with as much appreciation as Beard did on Tuesday.