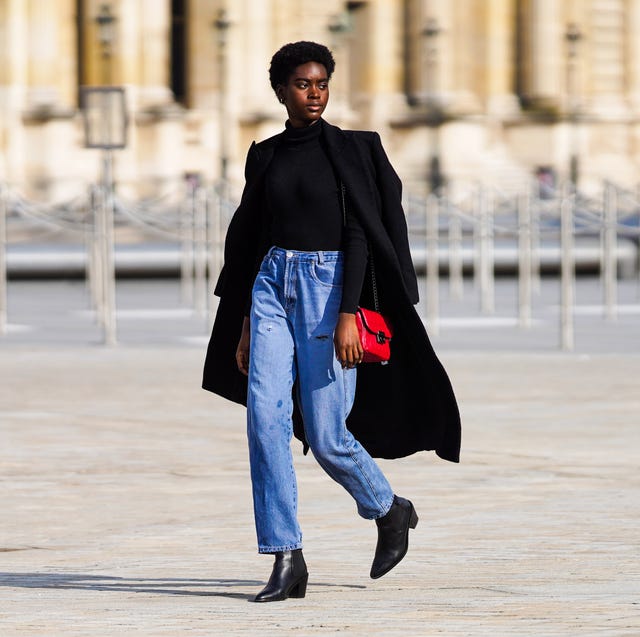 Edward BerthelotGetty Images
Mom jeans are not just a silhouette, they are a lifestyle. They're the kind of pants worn by a person obsessed with oat milk, mid-century dressers, fig trees, and are currently thinking about joining a pottery studio. Any denim aficionado knows there are three things that make the best mom jean: 1) a high-waist that elongates your legs; 2) a straight-leg fit through the thigh with a delicate taper at the ankle, and 3) a heavy-weight fabrication that holds you in, but allows for a full range of movement. Mom jeans have come a long way from actively representing '90s moms—that SNL sketch is 15 years old—and since their induction into high fashion, now they're pretty much just…the most basic pair of jeans, in the best way possible, and an absolute closet staple.
To help you identify the very best brands, we rounded up 17 of our favorites, including the return of a certain 2000s-loved designer, a pair of editor-loved Amazon jeans, and some pairs that defy the FUPA, below.
Advertisement – Continue Reading Below
Best Budget Mom Jeans
H&M
Mom High Ankle Jeans
| | |
| --- | --- |
| Sizes | 0–18 |
| Colors | Black, Denim Blue, Light Denim Blue, |
| Rise | High |
| Inseam | "Ankle length" |
Best Neutral Mom Jeans
Madewell x Donni
Low-Rise Loose Jeans
| | |
| --- | --- |
| Sizes | 23–33 |
| Colors | Cream |
| Rise | Low/Mid |
| Inseam | 30" |
Best Plus Size Mom Jeans
Levi's
Ribcage Straight Ankle
| | |
| --- | --- |
| Sizes | 14M–24L |
| Colors | Ojai (Light Wash), Samba Done (Light Wash), Black Sprout, Worn In Black, Jazz Pop (Medium Wash) |
| Rise | High |
| Inseam | 27" |
Best Classic Brand
Levi's
501® '90s Original
| | |
| --- | --- |
| Sizes | 23–34 |
| Colors | Deconstructed Indigo (Medium Wash), Firestarter (Black), Sketch Artist (Medium Wash), Drew Me In (Medium Wash), Worn In Light Indigo (Light Wash), Mad Love (Medium Wash) |
| Rise | Low |
| Inseam | 30", 32" |
Editor-Loved Brand
AGOLDE
90s Pinch Waist Jean
| | |
| --- | --- |
| Sizes | 23–32 |
| Colors | Stone wash |
| Rise | High |
| Inseam | 28.5" |
Best Sustainable Mom Jeans
Everlane
The Way-High Jean
| | |
| --- | --- |
| Sizes | 23–35 |
| Colors | Coal, Washed Black, Vintage Indigo, Folsom Blue, Light Indigo, Distressed, Spring Blue, Cali Blue |
| Rise | High |
| Inseam | 25.5", 27.5", or 29.5" |
Best Petite Mom Jeans
Reformation
Petites Cynthia High Rise Straight Jeans
| | |
| --- | --- |
| Sizes | 23–31 |
| Colors | Black, Blue |
| Rise | High |
| Inseam | 26" |
Best Light Wash Mom Jeans
RE/DONE
90s High-Rise Straight-Leg Jeans
| | |
| --- | --- |
| Sizes | 23–32 |
| Colors | Light wash |
| Rise | High |
| Inseam | 31.5" |
Best Distressed Mom Jean
SweatyRocks
Distressed Wide Leg Jeans
| | |
| --- | --- |
| Sizes | XXS–XXL |
| Colors | 31 options (!) |
| Rise | High |
| Inseam | N/A |
Best Black Mom Jeans
Zara
Mom Fit Authentic Z1975 Jeans
| | |
| --- | --- |
| Sizes | 25–32 |
| Colors | Deep Blue, Blue, Indigo, Light Blue, Mid-Blue, Black, Gray |
| Rise | High |
| Inseam | N/A |
Best Ankle Length Mom Jean
Mother Denim
The Rambler Ankle
| | |
| --- | --- |
| Sizes | 23–34 |
| Colors | Medium Blue, Dark Blue, Light Grey |
| Rise | High |
| Inseam | 27.5" |
Best 100% Cotton Mom Jeans
Citizens of Humanity
Emery Crop Relaxed Straight
| | |
| --- | --- |
| Sizes | 23–34 |
| Colors | Licorice (Black), Passage (Medium Wash), Old Blue (Medium Wash), Crescent (Medium Wash) |
| Rise | Mid/High |
| Inseam | 26" |
Best Designer Mom Jeans
Tu es Mon Tresor
Carnelian Rigid High-Rise Straight-Leg Cuffed Jeans
| | |
| --- | --- |
| Sizes | 24–30 |
| Colors | Dark wash |
| Rise | High |
| Inseam | 28" |
Best Trendy Mom Jeans
Revice Denim
90's Baby
| | |
| --- | --- |
| Sizes | 23–32 |
| Colors | Light wash |
| Rise | Mid/High |
| Inseam | 28.5" |
Best Non-Stretch Mom Jeans
Diesel
1994 09C16 Straight Jeans
| | |
| --- | --- |
| Sizes | 23–34 |
| Colors | Medium wash |
| Rise | Mid |
| Inseam | 30", 32", or 34" |
Most Comfortable Mom Jeans
Warp + Weft
ASE – High Rise Straight
| | |
| --- | --- |
| Sizes | 25–32 |
| Colors | 10 options |
| Rise | High |
| Inseam | 28" |
Best Wide Leg Mom Jeans
Frame
Le Jane Crop Distressed High-Rise Wide-Leg Jeans
| | |
| --- | --- |
| Sizes | 23–32 |
| Colors | Medium wash |
| Rise | High |
| Inseam | 27" |
Advertisement – Continue Reading Below