Key events
On Ashe, Gauff and Andreeva are warming up – if Bencic takes this first set, I'll switch from this to that – but Miyazaki is making a fight of it, narrowly missing with a forehand cross-court that would've given her two break-back points. From there, though, Bencic cleans up a netted forehand return securing her a 6-3 advantage.
Tsitsipas lashes a glorious forehand winner down the line but Stricker makes 40-30, slams a serve down the T, and clears up with a colossal forehand! He leads Tsitsipas 7-5!
A love hold for Miyazaki, but Bencic will now serve for the set at 5-3; Haddad Maia holds for 5-5, and Stricker is two points from set one at 30-15.
And how often do we see this?! I nip off for a comfort break, return, and Stricker, never beyond round three in NYC, has broken for 6-5! He'll serve for the set presently.
How often have we seen this? With Stricker serving to stay in the set, Tsitsipas raises the first break point of it … which is quickly confiscated from him. Sticker then powers through deuce – well played him – while, on 17, haddad Maia is serving at 4-5.
Miyazaki, we learn, is a "data nerd" – she has a master's in management of information technology, though she would've preferred to do maths, problem being it took longer. She holds again for 2-4.
Collins has, as the bookies expected, taken the first set off Collins 6-3 … and she's just broken in game one of the second. Stricker, meanwhile, is pushing Tsitsipas, holding pretty easily – but at 4-5 he'll now do so to stay in set one, which means a different kind of pressure.
When earlier, I said that Miiyazaki v Bencic was an interesting matchup, you may have assumed I was being parochial. But Bencic has proved remarkably adept at losing to opponents she should rinse, so I'm never confident backing her; she leads 3-1, Miyazaki having secured her first game in round two of a major.
I noticed that Mario Berrettini said this after beating Humbert yesterday:
I'm rediscovering my mechanisms, I'm recognising the situations I've experienced in the past even if it must be said that the years go by and now I'm a different person with more experience behind me, for good and in the bad.
It's worth considering how much pain sportsfolk go through to entertain us, and how minging it must be to be in your prime and injured.
Haddad Maia and Townsend have both started well, and it's 2-2 on serve, both knocking the cover off it; Tsitsipas leads Stricker 3-2 on serve.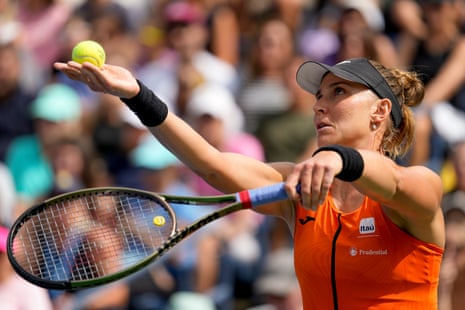 Bencic, the Olympic champ, is one of those players I've almost never seen play well ad she makes 0-30 after holding, then guides a nice backhand down the line when Miyazaki rallies to 40-30 for deuce. And from there, she proceeds to break, a big forehand opening the court for the putaway.
I've been looking forward to seeking how Haddad Maia does here because I think she's got the game for the court and seems to have hit a peak. She also beat Sloane Stephens, the 2017 champ, in round one, but Townsend is another tricky adversary.
OK, I'm watching Miyazaki v Bencic, Townsend v Haddad Maia and Tsitsipas v Stricker.
On Grandstad, we have play, Tsitsipas holding for 1-0 against Stricker.
Regular readers will be almost as grateful as I am for Calv Betton's insights. Well, the lad he coaches, Henry Patten, is about to play round one with doubles with his partner, Julian Cash, so good luck to them.
Collins leads Mertens 2-1 on serve, while Miyazaki and Bencic are about to get going.
New York's legalisation of marijuana hasn't gone unnnoticed by the players. "The smell, oh my gosh," said Maria Sakkari; "The grass smells good," offered Alexander Zverev. "Like Snoop Dogg's living room. It's everywhere, the whole place smells like weed!"
Miyazaki and Bencic are out too, so I'd expect to see the courts fill up pretty quickly … with players at least, because Armstrong is pretty sparsely populated for now.
Unusually, Mertens is seeded – 32, admittedly – but Collins is favourite, and she opens with a love hold.
We're almost ready on Armstrong, Mertens winning the toss and electing to receive. Outside, the weather looks decent.
So the crowd got on Siegmund's back, and she was hurt by that.
Talking of Coco Gauff, there was some aggravation during her first-round match – she thought Laura Siegmund was taking too long between points.
Rain stops play (starting)
Hopefully we'll be away shortly but – they're out on Armstrong, I think.
Yo dudes, and welcome to the US Open 2023 – day three!
Hellsyeah! What a start we've got to today's action! Opening proceedings on Ashe it's Mirra Andreeva, the 16-year-old freak of nature, v Coco Gauff, the 19-year-old freak of nature! They actually met at Roland-Garros, Gauff coming from behind to win in three, and though hards might help the younger player, the old campaigner is not only in the form of her life but looks to have set a new base level for herself.
Following them, Bernabé Zapata Miralles has the unpleasant task of facing Novak Djokovic, while on Armstrong, Elise Mertens v Danielle Collins could be a decent contest and Iga Swiatek, the defending champion, is always a pleasure to watch.
Otherwise, Elena Rybakina meets Ajla Tomljanovic, back after nine months out injured, with Stefanos Tsitsipas, Casper Ruud, Karolína Muchová, Jelena Ostapenko and Christopher Eubanks also in actio, likewise a host of others. And if we're picking out matchups, Taylor Townsend v Bea Haddad Maia and Lily Miyazaki v Belinda Bencic look tasty. Let's go, dudes!
Play: 11am local, 4pm BST