Key events
Wang forces Boulter to deuce and misses a break point, but eventually shanks one long and that's one set apiece at 7-5 1-6; they'll now play a decider. Hurkacz manages to avoid being broken in the first game of a set for the first time, though he has to save an opportunity, and on Ashe, both commentators yell "Noooo!" at the same time as Murray rushes into the net and, right by the chair, somehow flicks a winner across the face of the net! That is simply incredible, it earns him another break point, and when Dimitrov nets he converts it! A 15-minute game, seven deuces; just a typical acrylic afternoon with Andrew Barron Murray.
Altmaier ploughs through a 6-6 set, only to lose the breaker 7-1 to Zverev –this game! – then calls out the trainer to an issue with his right hand. Sinner now leads Sonego 6-4 6-2, while Murray and Dimitrov are playing the fifth deuce of the game.
Boulter breaks Wang again so leads 5-1 in the second, while Murray forces Dimitrov through deuce thanks to a typical Murray point, long and packed with gets and aggression. He's in the match now.
This time, Boulter consolidates while Hurkacz might just've arrived. He's showing more patience now, waiting to inject power, and makes Draper serve for set two; at 0-15, he steps in to despatch a fine volley. But at 30-15, he can't put away his volley given two chances – credit to Hurkacz for the de-fence though – and it's getting nervy out there, all the more so when Draper misses his first serve. But his second, curling away, is very good, enough to help him make advantage, and a wide serve is backed up by a definitive volley, meaning he leads 6-2 6-4!
Does Draper lose focus? He finds himself down 15-40, serves a double, and on Ashe, Murray is broken to love so trials Dimitrov 0-2, the commentator on each court calling their behaviour "scrappy". But Boulter breaks Wang again, so now leads 3-1 in the second.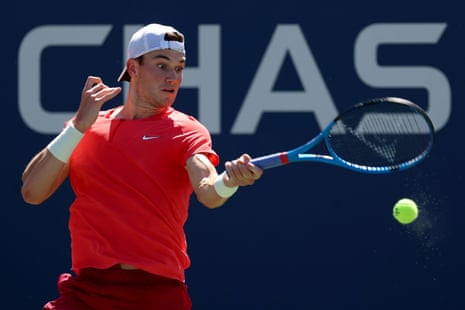 Murray is away, Dimitrov holding for 1-0, while Hurkacz sends change of ends sat under a towel and must now find a way to break Draper, who's serving for the second set at 6-2 5-2.
And now Boulter breaks Wang! She trails 5-7 2-0, and as I type, bangs a forehand down the line for 15-30 as she attempts to consolidate. Wang, though, maeks 15-40, whereupon another fine forehand, sent cross-court, eliminates the first break point – Boulter loves that – but after opening the court with a decent serve out wide, she goes long with her overhead and that's 2-1.
Now then! Draper breaks Hurkacz again, leads 6-2 4-1, and this is a proper going-over. Hurkacz is struggling, in particular, with balls to his forehand that have the pace taken off, and he's running out of time to find a solution.
Murray must be buzzing to be back on Ashe – I'm certain he'll have feared it'd never happen when he was having a metal hip inserted. He's looking for his 201st singles win at a major – this is the men's all-time list.
1) Roger Federer – 369
2) Novak Djokovic – 355
3) Rafael Nadal – 314
4) Jimmy Connors – 233
5) Andre Agassi – 224
6) Ivan Lendl – 222
7) Roy Emerson – 210
8) Pete Sampras – 203
9) Andy Murray – 200
10) Stefan Edberg – 178
Sinner breaks Sonego to lead 6-4 2-1 and Sky go to a break so we're not allowed to see Wang break Boulter for take their first set 7-5. On Ashe, Muzz and Griggz emerge.
Draper saves a break point in consolidating, and Hurkacz is struggling out there, serving at 30-all and slapping a forehand putaway long after decent scurrying by his opponent. He saves himself, probably the set, and likely the match, with an ace, then nails a forehand … but a gloriously deft backhand pass from Draper breaks the sideline, and we're back to deuce. Not for long: Hurkacz serves out to trail 2-6 1-2.
Also going on:
Sinner takes the first set off Sonego 6-4, Isner – playing in his final US Open – leads Mmoh 6-3, and Altmaier and Zverev must be enduring some sapping rallies because their match is 3-3 having started at the same time as the others.
Boulter opens the court to run around her forehand, clouting a winner cross-court to raise her third set point … but after working another forehand angle, she nets and Wang seals the game from there. This is a really fun contest, and it's 5-5 in set one.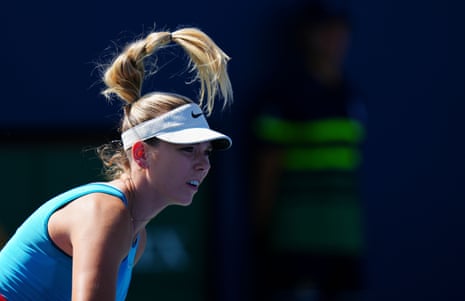 …then at 15-40, she dumps a backhand while, on 12, Draper hangs in the rally constantly hitting deep to Hurkacz's forehand, and he breaks him in the first game of set two! Now, sitting at deuce, what can Boulter do?
Boulter makes 5-4 0-30…
One-way traffic! Draper closes out to love, completing a 6-2 set, and Hurkacz has some thinking to do; if he can't work this out, he'll soon be back home with his gerbils.
Draper has, as we know, had injury issues, which in comms they speculate could be because he had a late growth spurt. Let's hope that's why, because it means he should soon be free of the aggravation; Hurkacz holds, so yerman will now serve for the set at 5-2.
Boulter has broken Wang back so now leads 4-3; Altmaier does likewise to Zverev and they're at 2-2; Draper consolidates for 5-1, and this is going perfectly for him.
Calv returns on Draper: "If his body holds up then is ceiling is exceptionally high. He's a brilliant player. Could win majors."
And he's up 15-40 with two points for a double break … and he only needs one! Hurkacz goes long on the forehand with the rally barely under way, and this first set is five to done!
A poor volley rescued by a gibongous ace confiscates Hurkacz's first break point, Draper serves out from there, and he's enjoying himself – as you'd expect given his 3-1 lead.
Sinner breaks Sonego then consolidates, and already I think I should've backed him to win in three, not just to win, as part of the acca I need to put on so I can watch all the matches I need to. He leads 3-1, Wang leads Boulter 3-2, and for the first time Draper is under a bit of pressure serving at deuce
On the topic of Draper, here's Calv Betton: "He's serious. Been groomed to be a winner all his life and when you practise with him he's serious as hell, then completely changes personality when it's finished."
And he's a massive lefty too. Those are some very significant raw materials.
A fine backhand cross-court gives Draper a point for a double-break; Hurkacz responds with a service winner then closes out to get on the board at 1-2 down.
Draper consolidates for 2-0 and Zverev breaks Altmaier off the bat. Wang, meanwhile, breaks Boulter for 2-1 and looks to have the greater ability to hit winners.
Bouler and Wang both hold, likewise Sonego and Sinner – but the latter makes the former fight for it. Sinner is one of very few players who gives Carlos Alcaraz aggro and the two are, if I'm reading the bracket correctly, scheduled to meet in the last eight. I'd lap that up.
Draper is, I'm told, a proper killer, and he's bang into stride from the off – he looks to have shaken off the shoulder injury that derailed the early part of his summer – absolutely cracking his forehand to make 0-30 on the Hurkacz serve. Hurkacz, though, makes 40-30 only to net a backhand and shortly afterwards, Draper has advantage. He wafts a return, inviting Hurkacz to supply his own pace … and the riposte sails long! That's the break at the first time of asking!
We learn that Hurkacz is a sound lad, which is always good to hear. His ability on the backhand might compromise Draper's swinging lefty serve out to that flank, but it's rare he faces someone with as much power, so will expect a battle.
I'm watching Draper v Hurkacz, Sonego v Sinner and Boulter v Wang. When my daughter returns my laptop, I'll also dig into Zverev v Almaier
Our players are on their various courts.
I also enjoyed this, from an interview he gave to the ATP website:
What's your favourite fruit?

I really like strawberries, I think they taste great.
I'm properly buzzing to see how Draper goes against Hurkacz. Hubie, as he likes to be known – according to Wikipedia – "has a great love of gerbils, and owns several hundred specimens on his ranch near Krakow. He also has several dachschunds, but he keeps them well away from the gerbils whenever possible." Citation needed.
Yo dudes, and welcome to the US Open 2023 – day four!
We begin with a British triple-header, each match extremely tasty. Kicking us off, Katie Boulter – in the form of her life – meets Wang Yafan and, at the same time, the returning and extremely promising Jack Draper faces Hubert Hurkacz, the number 17 seed. Then, when Ashe gets under way an hour later, the resurgent Andrew Murray faces the resurgent Griggzy Dimitrov; not bad eh, and that's just us getting started.
For today's day sesh also features Cameron Norrie, Dan Evans, Maddison Keys, Ons Jabeur, Mario Berrettini, Tomás Martín Etcheverry v Stan Wawrinka, Lorenzo Sonego v Jannik Sinner, Jodie Burrage v Aryna Sabalenka, Elina Svitolina v Anastasia Pavlyuchenkova, Gael Monfils v Andrey Rublev and plenty more besides. Frankly, it's ridiculous.
So stick with us, because this is going to be a lot of fun. Let's go, dudes!