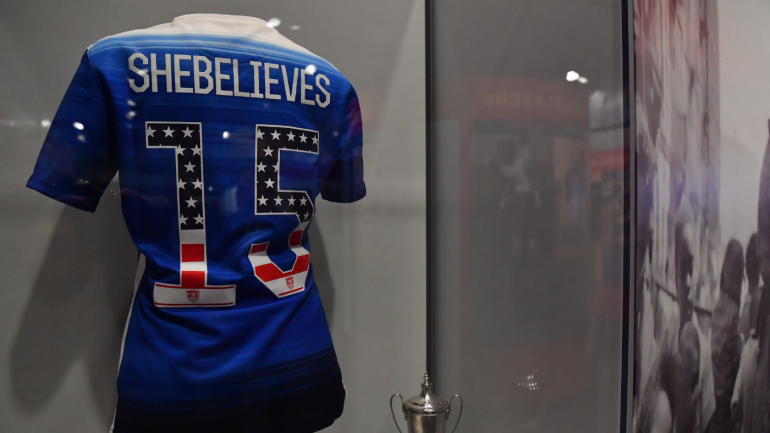 Getty Images
The United States women's national team will square off against Canada in the 2023 SheBelieves Cup Thursday at Exploria Stadium in Orlando, Florida. The two teams are set to meet for the 64th time overall in their long rivalry that dates back to 1986. SheBelieves Cup is hosted by the USWNT and they will also play matches against Brazil and Japan the annual event. The eighth edition of the round-robin style tournament will crown a winner based on point total with tie-breakers of goal difference, goals scored, then head-to-head results. Fair play ranking based on yellow and red cards is the final tiebreaker.
Here's how you can watch the upcoming match:
Viewing info
Date: Thursday, Feb. 16
Time: 7 p.m. ET
Place: Exploria Stadium — Orlando, Florida
Stream: HBO Max
Rose Lavelle unavailable against Canada
On Wednesday head coach Vlatko Andonovski revealed that Lavelle would be unavailable for the game against Canada. She picked up a minor injury during training and they hope to have her during games two and three of the tournament. Lavelle's absence for the first game will mean the coaching staff will further tinker with the midfield. Andonovski has already stated that Taylor Kornieck will feature in the defensive mid-role during the tournament, but precaution for Lavelle may also lead to another starting opportunity for Ashley Sanchez or Kristie Mewis. 
Canada playing in protest
The Canadian national team returned to training this week after a brief attempt to strike over pay inequity with Canada Soccer. The players were threatened with litigation by the federation if they did not return to play. The team have returned to training, and held a media availability, ahead of their first SheBelieves Cup match against the United States but will continue to play SheBelieves Cup matches in protest. 
"It's pretty disgusting that we're having to ask just to be treated equally. It's a fight that women all over the world have to partake in every single day," said Janine Beckie during the media call.
"We're really sick of it and it's something that now I don't even get disappointed by anymore, I just get angry because it's 2023. We won the damn Olympic Games and we're about to go to the World Cup with a team who could win it. So, we expect to be prepared in the best way possible to go win a World Cup."
USWNT players have expressed solidarity and captain Becky Sauerbrunn stated that there are plans to express a form of unity with Canada's players during the first match.
USWNT vs. Canada prediction
The two rivals are unified in the fight for equity, but that doesn't mean they will let three points slip away. Expect a classic, narrow, scoreline in this one with substitutions the key factor. Pick: USWNT 1, Canada 0