Key events
Lap 49/53 Verstappen comes in for a free pit and so does Leclerc; it's possible we finish this race behind the safety car, which makes Verstappen's 17-second lead so important. He did so well to build and nurse it, and his lead and the top of the standings looks set to increase.
Lap 48/53 Ricciardo's car is stranded but on the side of the track – yellow flags might be enough to sort this. But no, the safety car comes out and with Verstappen and Leclerc past it, Russell, just by the pit lane, is called in. He changes to softs, and might he now have a chance of winning a late sprint?
Lap 47/53 We can talk about Ferrari's strategy – should they have stopped once not twice, and used mediums? But ultimately, Verstappen is the best driver and has the fastest car, and sometimes there are no tactics able to override those realities. But hold on a second! Ricciardo has an engine problem, he's parked at the side of the track, and we'll surely get a safety car! Is Verstappen now vulnerable?
Lap 46/53 Leclerc is closing on Verastappen, but only by little bits – the lead is 17.427s, and Verstappen, who probably has pace in hand, is picking his way through back markers. I keep saying it, but the ease with which he's sorted this race is ominous for everyone else.
Lap 45/53 After all the excitement of last year, it's strange to see Verstappen winning both race and title so easily. It's like when Jon Jones won his first UFC belt – he took his time beating Shogun Rua, but no one got close to him thereafter.
Lap 44/53 Perez, being caught by Hamilton, comes in for a fresh pair of softs and comes out behind Norris; he's got work to do if he's to pass both and wind up fifth. And have a look at Nyck de Vries, tenth and battling for a point on debut.
Lap 43/53 Verstappen is serene in front, while Schumacher overtakes Latifi to take 14th and holds off the riposte. I don't think there'll be much movement ebtween now and then finish, unless there's an accident of some sort.
Lap 42/53 A double DNF for Aston Martin, Stroll, the only classified finisher in every race this season having to retire and join Vettel in the garage. Hamilton, sixth, is closing on Perez, fifth, but the gap, 15,934s, is too large to close in the 11 laps left.
Lap 41/53 Sainz, in fourth, is getting closer to Russell, in third; Russell isn't getting near Leclerc, in second.
1 Verstappen
2 Leclerc
3 Russell
4 Sainz
5 Perez
6 Hamilton
Lap 40/53 You sometimes see a player or team, in any sport, getting a break, or a win, and using it go on, which is exactly what's happened with Verstappen. He oughtn't to have won last year's title, but he did, and has taken the confidence to on and improve. He's now the best in the world, ahead of Hamilton not just because he's got a better car.
Lap 38/53 Verstappen's lead is reduced slightly, Leclerc's soft tyres cutting the gap, but unless something significant happens, he's not got a chance of getting within striking distance.
Lap 37/53 Those extra couple of seconds in the pit really cost Lando Nozza – it wasn't long, timewise, but he's now got Ricciardo and Hmailton ahead of him and not much prospect of clawing them back. Meantime, Leclerc sets a fastest lap, cutting Verstappen's lead to 19.505s.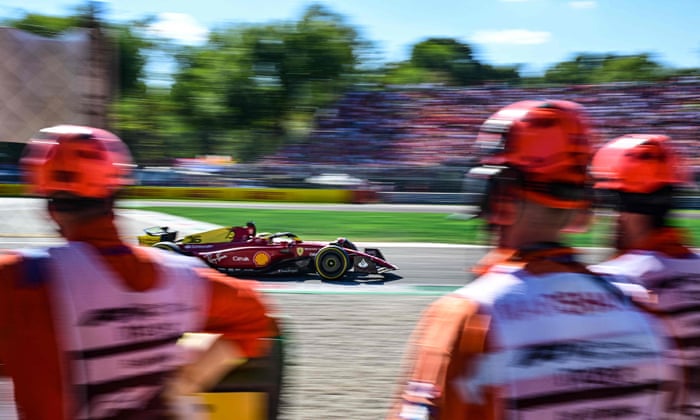 Lap 36/53 Verstappen is 0.4s faster than Leclerc and is soft new tyres, his lead now up to 20.078s; Norris comes in and his pit is slow, so when he comes out again he's dropped from sixth to seventh, slotting in between Ricciardo and Gasly; Gasly passes him, then Hamilton passes both of them.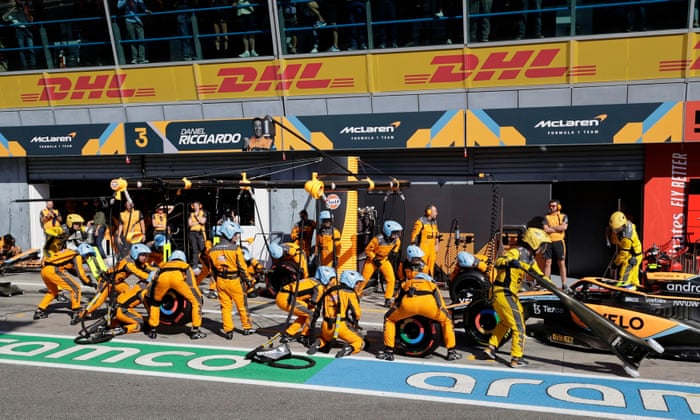 Lap 35/53 Verstappen leads Leclerc by 19.693s; will that be enough to hold off the soft tyres and Ferrari engine?
1 Verstappen
2 Lcelcerc
3 Russell
4 Norris
5 Sainz
6 Perez
7 Bottas
8 Ricciardo
9 Gasly
10 De Vries
Lap 34/53 Verstappen leads again as Leclerc comes out in second, conceding around 18s and on soft tyres; Hamilton puts and does likewise, coming out in 12th after three seconds stationary. He's a load of traffic to get through if he's to finish somewhere decent this afternoon.
Lap 33/53 Norris is now fourth, but he'll have to pit again so is likely to finish lower rather than higher. Russell, meanwhile, has been told by his team that he should finish five seconds in front of Sainz while Leclerc is going to pit a second time in an effort to hold off Verstappen. And, as I type that, Sainz passes Perez.
Lap 32/53 Leclerc now leads by 6.287s, and will be hearing Jaws music in his earworm. Behind, Hamilton passes Perez to take fifth, but Alonso, who's finished in the points for 10 straight races, is out of this one.
Lap 31/53 Sainz is called in and will take softs; Russell moves back up to third, and has a decent chance of hanging on. Sainz comes out in seventh, Perez stamping on the gas to he can't take sixth, but I'm certain it won't stay that way.
Lap 30/53 Behind Verstappen, Sinz has cooled a little and trails him by 15.706s; he'll presumably change to softs at some point.
Lap 29/53 Leclerc now leads Verstappen by 7.947s and an overtake looks a matter of time. Except there's a fair bit that can happen between now and when the champ is close enough, so Ferrari have hope yet.
Lap 28/53 Russell doesn't like the hard tyre he's been given, while it doesn't seem to matter what Verstappen has – he's on mediums, but his car's basic pace is such that he'd probably be fine on anything.
1 Leclerc
2 Versatappen
3 Sainz
4 Russell
5 Norris
6 Hamilton
7 Alonso
8 Perez
Lap 27/53 Yet to come in, Hamilton is seventh … and he whooshes past Alonso on the straight. At the front, Verstappen has cut Leclerc's lead to 9.253s, and he's got plenty of time to eradicate it in its entirely.
Lap 26/53 Ferrari gained 10s by pitting with the virtual safety car out; the question now is whether Leclerc's tyres will be fresh enough to get him to the end.
Lap 25/53 Sainz wants a soft tyre; though who knows if it's possible to do that pursue a one-stop strategy? He sits third as Verstappen comes in and now Leclerc leads; Verstappen comes out in second 10.276s behind.
Lap 24/53 Hamilton gains on Alonso but isn't quite ready to take him out, while Verstappen continues stretching his lead over Leclerc; it's now in excess of 14s, but there's a pot-stop coming up…
Lap 23/53 Perez made the podium from 19th on the grid last term, and there's a decent chance Sainz does likewise from 18th/ He's fourth, while, just behind them, Hamilton attacks Alonso.
1 Verstappen
2 Leclerc
3 Russell
4 Sainz
5 Norris
6 Alonso
7 Hamilton
8 Schumacher
Lap 22/53 Leclerc is motoring but behind him, Sainz is slowing, the gap nearly Verstappen's lead is now over 10s, while Hamilton has moved up to seventh – but he's not stopped yet.
Lap 21/53 Verstappen continues extending a lead he barely had to fight for, 8.870s in front, and if he stays there the driver championship is more or less settled – even more so than now.
Lap 20/53 Gasly comes in and so do Ricciardo, Ocon and De Vries. Ricciardo comes out still in front of Gasly but is now 13th.
Lap 19/53 Leclerc is driving nicely, setting another fastest lap as we see Hugh Grant, wearing a beige syoot. Whoops.
Lap 18/53 Leclerc sets a fastest lap time and Norris passes Alonso, while Magnussen is giving a penalty to leaving the track to get an advantage. Verstappen meanwhile, must be laughing his arse off, leading Russell by 7.474s and increasing the gap all the time.
Lap 17/53 Ferrari's medium tyres aren't massively helping them here, and Versatappen's lead is such that they'll likely need another safety car to catch him. Russell remains second, quietly driving another impressive race, though 6.4s off the lead.
Lap 16/53 Hmilton is making slow but steady progress, passing Ocon to take twelfth, and this season must be absolutely killing him.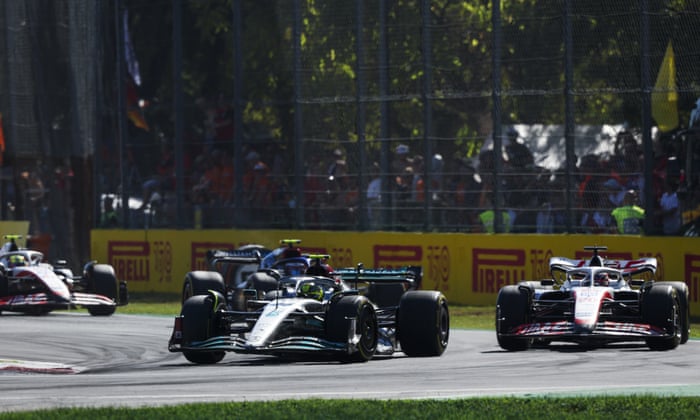 Lap 15/53 Leclerc will have to drive six extra laps on his mediums because that's how early he was brought in, taking the opportunity provided by the virtual safety car. He's looking pretty good, 17s and change off the lead – he'll expect to go in front when Verstappen stops.
Lap 14/53 Verstappen still leads…
1 Verstappen
2 Russell
3 Leclerc
4 Sainz
5 Ricciardo
6 Gasly
7 Alonso
8 Norris
9 De Vreis
10 Ocon
Lap 13/53 Verstappen leads Russell by 4.769s with Leclerc a further 12.725 behind; Sainz races by Ricciardo into fourth, and the crowd enjoy the granny out of that.
Lap 12/53 Ferrari decide to take advantage of the situation, bringing their drivers in for a pit, then the virtual safety car departs and Leclerc comes out in third having got a cheap stop in.
Lap 11/53 Sainz nails Gasly, but Vettel has to retire with a mechanical issue and we get ourselves a virtual safety car. Leclerc won't be delighted, but he leads by 2.039s, which isn't bad at all.