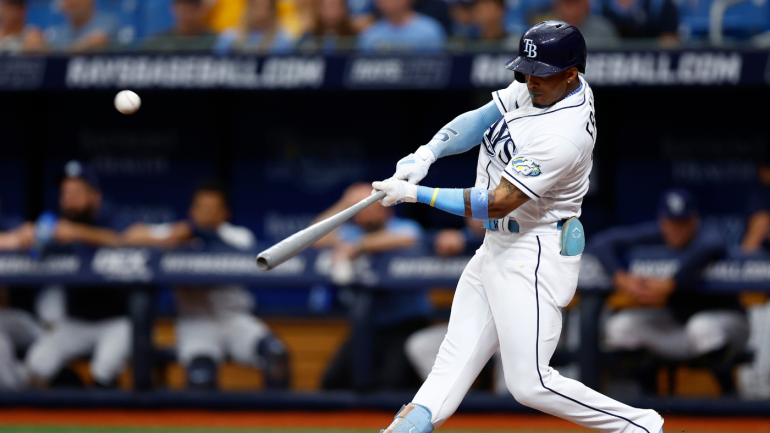 Getty Images
Rays shortstop Wander Franco made a triumphant return to the starting lineup on Saturday as Tampa Bay lost to the Kansas City Royals (box score). Manager Kevin Cash placed Franco back at his typical shortstop position and in the No. 2 slot in the batting order. Franco, who had been benched the previous two games, celebrated the occasion with a pair of hits, including his ninth home run of the season. 
Here's a look at the home run. According to Statcast, Franco's blast had a 101.6 mph exit velocity and traveled 417 feet. It would've been a home run in 26 of the 30 ballparks on the Major League Baseball circuit.
Franco went 2 for 4 with the home run and two runs batted in overall.
Franco, 22, entered Saturday hitting .287/.349/.455 (126 OPS+) with eight home runs and 34 runs batted in. He'd also stolen 24 bases on 31 attempts. His contributions had already been worth an estimated 3.8 Wins Above Replacement, according to Baseball Reference's calculations.
For those wondering, Franco had reportedly accumulated a list of offenses in recent weeks that included not hustling on ground balls, putting teammates at risk with overly emotional responses to mistakes, and engaging in verbal spats with "multiple" teammates, including outfielder Randy Arozarena, according to the Tampa Bay Times.
It's hard to know how Franco's teammates feel in private, but publicly, at least, they've said all the right things. "I told him I'm not gonna give up on him. No one in this clubhouse is," veteran right-hander Zach Eflin told Tricia Whitaker of the Rays broadcast team. Eflin joined the Rays on a multi-year free-agent deal over the winter, having previously pitched for the Philadelphia Phillies. 
The Rays, of course, have a lot riding on Franco's development. Tampa Bay signed him to an 11-year extension worth $182 million in November 2021.