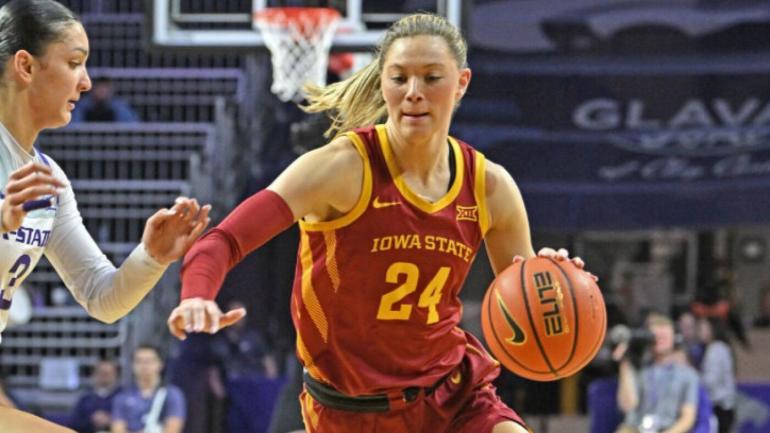 Getty Images
With the field of 68 officially out, it's time to take a closer look at the two Seattle regions in this year's NCAA Women's Basketball Tournament.   
The Stanford Cardinal have the No. 1 seed in the Seattle 4 region with a talented roster led by Cameron Brink and Haley Jones on both sides of the ball. They were upset by UCLA in the Pac-12 tournament semifinals, but head coach Tara VanDerveer is the winningest coach in women's college basketball history and knows how to handle the pressure of March. VanDerveer proved exactly that in Round 1, as her team dominated Sacred Heart 92-49 despite the absence of Cameron Brink, who missed the game with a non-COVID illness. 
Iowa is one of the teams that won't make it easy for Stanford as the Hawkeyes count with Caitlin Clark, one of the top players in the country. She leads Iowa's offense, scoring 27 points per game, and helps facilitate more offensive opportunities as the top player in the country in assists. She's not the only one that could cause some problems for opponents as Monika Czinano and Gabbie Marshall were also Big Ten All-Tournament selections. Iowa showed its sky-high potential against Southeastern Louisiana, as Clark recorded 26 points and 12 assists in a 95-43 blowout win. 
Seattle 3 has Virginia Tech as the No. 1 seed. The Hokies entered the tournament riding an 11-game winning streak, including their first ever ACC Tournament championship. They made that 12 on Friday night by crushing Chattanooga 58-33, a game in which ACC Player of the Year Elizabeth Kitley recorded a double-double with 12 points and 14 rebounds. 
The Hokies' journey to a national title won't be easy as they have a possible second-weekend matchup with an Iowa State team that is peaking at the right time with its first Big 12 championship. The Cyclones' star player is Ashley Joens, who averages 21.5 points per game. Also in this region are the Ohio State Buckeyes, a top-10 offensive team that upset Indiana in the Big Ten Tournament. Meanwhile, the Geno Auriemma's UConn Huskies have struggled with injuries this season but are going dancing for the 34th straight year thanks to a team that has shown a lot of depth and resilience.
All of the 2023 Women's NCAA Tournament games will air on the ESPN family of networks, and you can stream every game on sfuboTV (try for free).  
Seattle Region
First Round

Friday, March 17
| | | | |
| --- | --- | --- | --- |
| 1:30 p.m | (10) Georgia 66, (7) Florida State 54 — Seattle Regional 4 | Iowa City, Ia. | ESPN2 |
| 4 p.m. | (2) Iowa 95, (15) SE Louisiana 43 — Seattle Regional 4 | Iowa City, Ia. | ESPN |
| 5:30 p.m. | (1) Virginia Tech 58, (16) Chattanooga 33  — Seattle Regional 3 | Blacksburg, Va. | ESPNU |
| 7:30 p.m. | (1) Stanford 92, (16) Sacred Heart 49 — Seattle Regional 4 | Stanford, Calif. | ESPN2 |
| 8 p.m. | (9) South Dakota State 62, (8) USC 57 (OT) — Seattle Regional 3 | Blacksburg, Va. | ESPNEWS |
| 10 p.m. | (8) Ole Miss 71, (9) Gonzaga 48 — Seattle Regional 4 | Stanford, Calif. | ESPNU |
Saturday, March 18
| | | | |
| --- | --- | --- | --- |
| 1 p.m. | (4) Tennessee 95, (13) Saint Louis 50 — Seattle Regional 3 | Knoxville, Tenn. | ABC |
| 1:30 p.m. | (3) Ohio State 80, (14) James Madison 66 — Seattle Regional 3 | Columbus, Ohio | ESPN2 |
| 3 p.m. | (15) Vermont vs. (2) UConn — Seattle Regional 3 | Storrs, Conn. | ABC |
| 3:30 p.m. | (12) Toledo vs. (5) Iowa State — Seattle Regional 3 | Knoxville, Tenn. | ESPN2 |
| 4 p.m. | (11) St. John's vs. North Carolina — Seattle Regional 3 | Columbus, Ohio | ESPN |
| 5:30 p.m. | (10) Alabama vs. (7) Baylor — Seattle Regional 3 | Storrs, Conn. | ESPN2 |
| 7 p.m. | (11) Middle Tennessee vs. (6) Colorado — Seattle Regional 4 | Durham, N.C. | ESPNEWS |
| 7:30 p.m. | (12) Drake vs. (5) Louisville — Seattle Regional 4  | Austin, Texas | ESPN2 |
| 9:30 p.m. | (14) Iona vs. (3) Duke — Seattle Regional 4 | Durham, N.C. | ESPN2 |
| 10 p.m. | (13) East Carolina vs. (4) Texas — Seattle Regional 4 | Austin, Texas | ESPN |
Second Round
Sunday, March 19
| | | | |
| --- | --- | --- | --- |
| 3 p.m. | (10) Georgia vs. (1) Iowa — Seattle Regional 4 | Iowa City, Ia. | ABC |
| 5 p.m. | (9) South Dakota State vs. (1) Virginia Tech — Seattle Regional 3 | Blacksburg, Va. | ESPN2 |
| 9:30 p.m. | (8) Ole Miss vs. (1) Stanford — Seattle Regional 4 | Stanford, Calif. | ESPN |