This article is part of the Guardian's Women's World Cup 2023 Experts' Network, a cooperation between some of the best media organisations from the 32 countries who qualified. theguardian.com is running previews from two countries each day in the run-up to the tournament kicking off on 20 July.
Overview
Argentina have a very clear target in their fourth World Cup: a win. Three defeats in 2003 were followed by three more in 2007, and while in France in 2019 they picked up two draws – against Japan and Scotland – a victory remained elusive.
So the Albiceleste have been improving but the arrival of Germán Portanova has taken their game to a higher level and qualification for the World Cup was secured with third place at the Copa América. "The truth is that they called me to take Argentina to the World Cup," he said. "It is exciting to be able to face top teams in the world, they have a different rhythm, a different speed, but we will try not to lose our essence and compete well."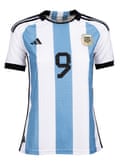 The squad has a blend of youth and experience, with established players such as Estefanía Banini, (Atlético Madrid) Florencia Bonsegundo (Madrid CFF), Vanina Correa (Rosario Central) and Aldana Cometti (Madrid CFF) dovetailing with younger teammates who are based domestically and are, most likely, ones for the future.
The goal is clear – a victory, any victory – but their recent progress means fans can also be enthusiastic about the possibility of qualifying for the knockout stage for the first time.
The coach
Germán Portanova was a globetrotting defender in his playing days, turning out for teams in Argentina, Chile, Paraguay, Spain and Italy. His first step as a coach in women's football was at Deportivo UAI Urquiza, where he became a three-time league champion and whom he guided in three editions of the Copa Libertadores. He took over the national side in 2021. "This is the most exciting thing that has happened to me in my football career," he said on his appointment. "Being able to direct the women's national team is the best. Representing your country is defending the flag, the heart, the homeland."
Star player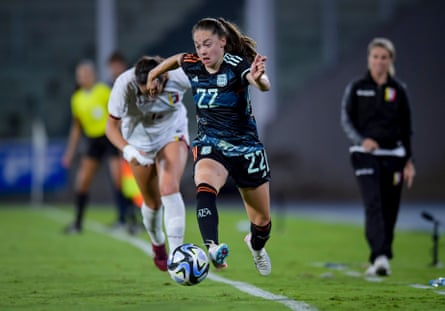 In 2021 Estefanía Banini became the first Argentinian woman to be named in Fifa's Best World XI. Her technique and ability mean the 33-year-old Mendoza-born midfielder remains key to the national side. This will be her second and probably last World Cup. "I understand that this is over and have enjoyed it to the fullest," she said. "I have mixed feelings: I would love to play for life, especially with the national team."
Rising star
Lorena Benítez made her debut in the Argentina top flight before turning 14, the legal age in Argentina to do so – her team forfeited the points from the match as a result. Today she is a midfielder who has great game intelligence on the field and a terrific vision for a pass. Currently at Palmeiras in Brazil, Benítez stands out for her assists and shooting, and she is improving all the time.
Did you know?
Striker Yamila Rodríguez makes headlines not just for her football but also for her tattoos: the Palmeiras striker has a huge portrait of Cristiano Ronaldo, her idol, on her left leg. "Without a doubt he is the best player in the world. He is perfect. I am amazed at everything he does," he said. She also has a Maradona tattoo.
Growing, although it still has a long way to go. In March 2019, the first division turned professional and top-flight teams are required to have a minimum of 15 contracted players. However, there are many things that need to improve, such as improvements in salaries so that players do not have to take second jobs.
Realistic aim for the World Cup?
In 2017 Argentina dropped out of the Fifa rankings due to two years of inactivity and the players went on strike to improve their conditions. So just reaching the tournament remains an achievement. That said, the aim now is to get a first World Cup win, although recent performances have raised hopes of potentially even qualifying for the knockout stages for the first time.
Written by Micaela Cannataro for as.com