Key events
Away from the men's World Cup in Qatar for a moment, Juliet Bawuah writes for the Guardian today that women's football in Africa is in danger of being left on the touchline:
I have been following women's football in Africa for almost 15 years. And I'm sad to say that there has been little progress in supporting or promoting it in that time. The complaints are familiar now: lack of representation, lack of infrastructure, poor wages and underfunding are among the myriad failings that have held back the women's game.
This sorry state of affairs is continent-wide. Yet talent abounds: four-time African Women's Footballer of the Year and Barcelona player Asisat Oshoala from Nigeria and Ghana striker Evelyn Badu, who plays for Norwegian club Avaldsnes IL and was named 2022 Young Player of the Year and Interclub player of the year by the Confederation of African Football (CAF), are among the best. But these stars succeeded against the odds. Where is the grassroots investment to ensure the girls of today have open opportunities instead of having to sneak out of their homes to play the game they love? It shouldn't all be left to the players themselves to nurture future stars, as Oshoala is doing through her Lagos-based academy, or former Super Falcons player Ayisat Yusuf-Aromire with her SheFootball Initiative.
Read more here: Juliet Bawuah – Women's football in Africa is in danger of being left on the touchline
Japan's defeat on penalties to Croatia on Monday was hard for the players to take at the time, but today the Samurai Blue have put out a message thanking fans for their support. They have said to their fans:
The connection and unity of all the people who love Japanese football has reached each and every member of the team playing in Qatar and has become a great strength.
The team went on to thank everyone involved in grassroots football in Japan, and said that "The Samurai Blue was able to compete against the world's top powerhouses on the big stage of the Fifa World Cup because of the players, coaches, and staff who have dedicated their lives to football."
The message concludes:
Although we were not able to achieve our goal of making it to the quarter-finals this time, we will definitely use this tournament as a source of strength for our dream of winning the Fifa World Cup. We will walk together with all those who love soccer.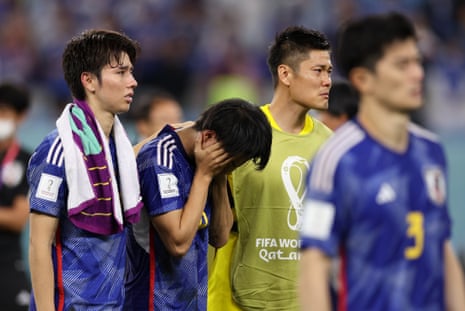 AP had reporters out on the streets in Rabat speaking to Morocco fans yesterday as they celebrated their win.
"We are so proud of our Lions, who fought hard to get us into the quarter-finals," said Niama Meddoun, a Rabat resident. "We are delighted to be Moroccans today, since we are the first Arab country that has reached the quarter-finals."
The King of Morocco, Mohammed VI, praised the national team and sent his "heartfelt congratulations" to the players, the technical team and administrative personnel, "who gave their all and blazed a trail throughout this great sporting event," according to a statement from the royal palace.
The king said the players represented "hopes and dreams of Moroccans in Morocco, Qatar, and all over the world."
There were also celebrations in Barcelona. Youssef Lotfi, a 39-year-old construction worker who was born in Casablanca but moved to Spain as a child and said he feels love for both countries, was brimming with pride.
"Today is a day of joy for Moroccans and all the Arab world," Lotfi said. "It was a heart-attack finish that could have gone either way."
He called the victory "once in a lifetime" experience. "Morocco is representing all the Arab world, all the African continent, that is beyond description, it is the most glorious part," he said.
Here are your remaining World Cup fixtures by the way …
Friday 9 December
QF1: Croatia v Brazil (3pm GMT, Education City Stadium)
QF2: Netherlands v Argentina (7pm GMT, Lusail Iconic Stadium)
Saturday 10 December
QF3: Morocco v Portugal (3pm GMT, Al Thumama Stadium)
QF4: England v France (7pm GMT, Al Bayt Stadium)
Tuesday 13 December
SF1: Netherlands or Argentina v Croatia or Brazil (7pm GMT, Lusail Iconic Stadium)
Wednesday 14 December
SF2: England or France v Morocco or Portugal (7pm GMT, Al Bayt Stadium)
Saturday 17 December
Third place play-off: Losing semi-finalist second XIs (3pm GMT, Khalifa International Stadium)
Sunday 18 December
Final: Winning semi-finalists (3pm GMT, Lusail Iconic Stadium)
Statistics fans – your moment has arrived. This week's the Knowledge has dropped, and it is a World Cup trivia special that leads with the question: which player has scored the most goals in World Cup knockout games?
There were some quite punchy quotes from Portugal coach Fernando Santos about CR7 after the game last night. PA carry them, with Santos saying that the role of Cristiano Ronaldo for the remainder of the World Cup is something that has yet to be "defined". He said:
I have a very close relationship with him – I always have, I have known him since he was 19 years old. This relationship only develops, Ronaldo and I never interpret the human aspect of that of manager and player (in relation to) what we have to do during the match. I will always consider in my role that he is an important player to have in the team.
Asked directly if Ronaldo would play against Morocco on Saturday, Santos said: "Ronaldo will definitely (be involved), all the players on the bench can be used, if they are not in the starting lineup they can play later.
"It is important to look at the example of this player's history, he is one of the best players in the world at playing professionally, being captain – all we have to do is think about this team collectively."
There are some wonderful pictures this morning on the news wires of the contrasting scenes between Spain and Morocco supporters around the world, which I feel I must start the day by sharing.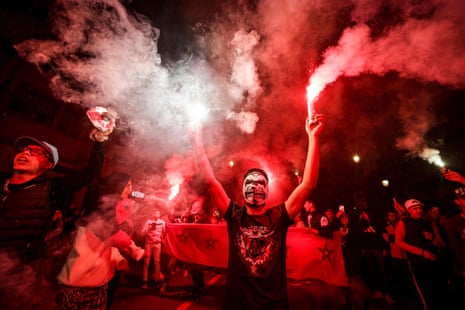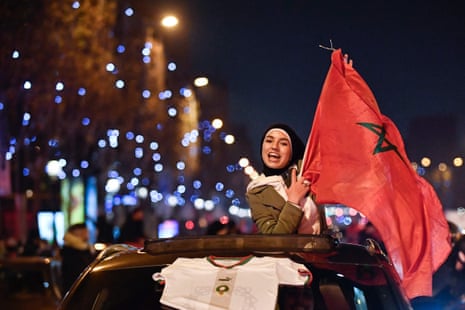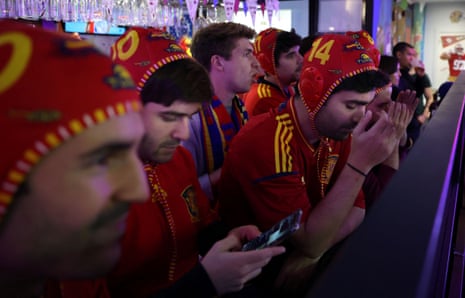 Max Rushden, Barry Glendenning, Jonathan Fadugba, and John Brewin were up working late last night in the pod to discuss the concluding games of the World Cup round of 16 after Portugal thrashed Switzerland and Morocco shocked Spain. You can get that directly into your ears here …
First the bad news. It is the first day where there is no actual football at the World Cup since 20 November, and like me, I am sure you are going to miss settling down for the action come 3pm GMT.
But the good news? Wow, what a day we had yesterday, and what a lot we still have to look forward to.
You can't tell me that even in his wildest dreams, Portugal coach Fernando Santos woke up on Tuesday morning thinking that the consequences of dropping Cristiano Ronaldo as captain and out of the first XI would be that he could casually bring him on as a substitute in the 73rd minute as a gesture of "no hard feelings" when his side were already 5-1 up against Switzerland.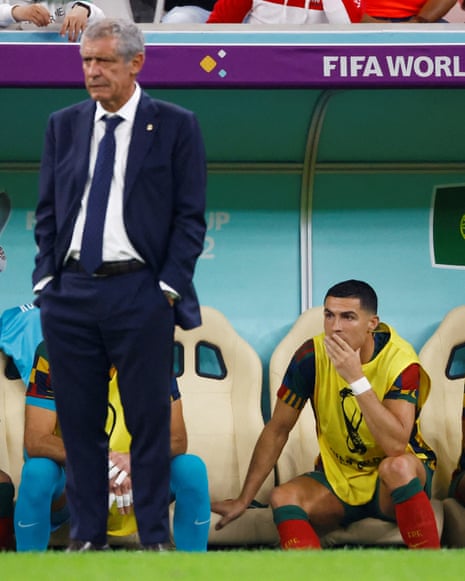 Then there was Morocco reaching the quarter-finals for the first time in their World Cup history. You can argue whether penalties are a lottery or the execution of a precision skill under pressure – don't worry, it is definitely the latter – but the Atlas Lions have now kept clean sheets against Croatia, Belgium and Spain, and go into the quarter-finals unbeaten. That is something that can't be said of Brazil, Argentina, France or Portugal.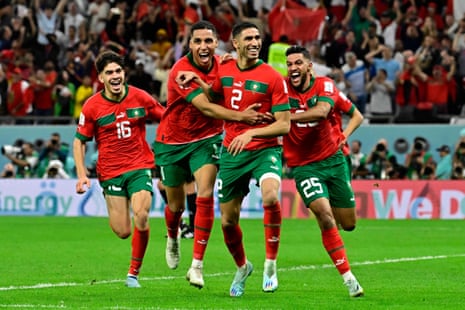 I will be bringing you all the fallout from that, the rest of the World Cup news as it happen, and looking forward to the quarter-finals getting under way on Friday. Do drop me a line at martin.belam@theguardian.com