Key events
In another brief "not football" interlude, AP reports that a Spanish court has acquitted Neymar and his fellow defendants in a fraud and corruption trial related to the Brazilian's 2013 transfer from Santos to Barcelona.
The plaintiff, Brazilian company DIS, had accused Neymar, his father, and the former presidents of Santos and Barcelona of having intentionally hid the cost of his transfer to avoid paying DIS what it was due as the partial holder of his player rights.
However, the court said in a statement Tuesday that "it has not been proven that there was a false contract or that DIS was intended to be harmed."
The verdict is not a surprise after a decision by Spanish state prosecutors to drop all charges during the trial. That left only the lawyers of DIS to continue arguing their case.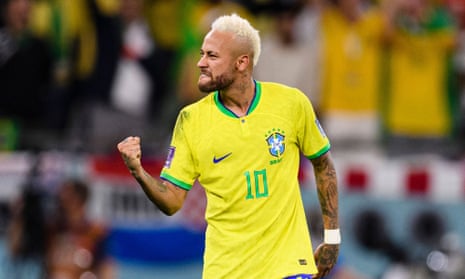 Effortlessly making everything I ever write look instantly less funny and with a lot fewer drawings to it, a new David Squires has dropped …
It would not be a France press conference ahead of France v Morocco without *checks notes* a question about England. French captain Hugo Lloris has apparently backed Harry Kane to bounce back from his penalty disappoint against France.
To be honest, I'm not really sure what else Lloris could be expected to say, he is hardly going to declare that he expects it to haunt Kane to the grave and start laughing maniacally while twirling a comedy villain moustache is he?
Anyway PA sport quotes him saying:
We had a text after the game. But it was not easy to find the words straight after the game. I think he needed some rest. It's a difficult time obviously for the English national team and for Harry but he can be proud for what he's done for the national team during this World Cup.

In football history many top players missed important penalties in their career. Players like Leo Messi, Cristiano Ronaldo, like Kylian Mbappé. But I have no doubt Harry will keep his chin up and he will help Tottenham and the national team to shine.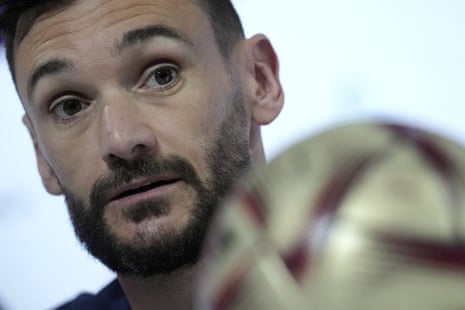 Fortunately, some of the media also asked Lloris about Morocco, to which he said:
I believe that both teams have plenty to lose. It's a semi-final of a World Cup, it's a unique opportunity to go to the final.

Obviously it's already a success for Morocco to be at this stage of the competition but, believe me, they won't stop, they just want to carry on and to become even more heroes for the Moroccan country.

In our side, we prepare for the demands of a semi-final of the World Cup, it doesn't matter who is the opponent. We just try to put the focus, the energy, the concentration and all of our strength into this game to make sure we will not have any regrets at the end.
If you missed today's World Cup briefing, you also missed my look at what is going on in Argentina's media in the buildup to tonight's game:
No media outlet can overlook an omen going into a World Cup semi-final, and Argentina's press is no different. Olé is slightly concerned that to avoid a colour clash with Croatia's shirts, Emiliano Martínez "will be all in green and will not wear the historic red shirt with which he became a hero against Louis van Gaal's team". However, the sport journal notes that "Dibu (Martínez's nickname) wore green in the decisive matches against Mexico and Poland, two duels in which La Scaloneta beat their respective rivals 2-0."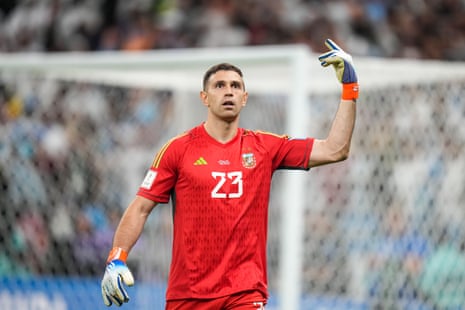 The Buenos Aires Times says Argentina have been helped by "hordes of travelling fans that have transformed each of their matches in Qatar into virtual home games". It says: "That passion is evoked in two songs that have regularly reverberated around Qatar's stadiums – 'Vamos Argentina' and 'Muchachos,'" a de facto national anthem of the national team which name-checks Messi, Diego Maradona and the 1982 Malvinas/Falklands war between Argentina and Britain. "Argentina is a complex, politically fractured country. There are few subjects that unite the country – but the Malvinas and the football team do," it quotes Edgardo Esteban, director of the Malvinas Museum in Buenos Aires as saying.
In Clarín the talk of the town remains firefighters in Esquina, the home town of Diego Maradona's mother, who listened to Argentina progress against the Netherlands while actively fighting a fire. One of them, 27-year-old Roberto Cardozo, told the press: "When we got to the field, the owners were waiting for us and we went in to fight the fire. When I returned to refill the water, my girlfriend sent me a WhatsApp message notifying me of Argentina's first goal. I let my teammates know that we were winning. We even filmed ourselves at the moment Messi scored the penalty to make it 2-0 because we already had the situation under control." Lionel Scaloni's men will hope they similarly have Croatia under control at the Lusail tonight.
Read more here: World Cup briefing – Modric, not Messi, could be the man to stop
In tomorrow's semi-final, French fans will be largely outnumbered by the Morocco supporters at the Al Bayt stadium and France know they are in for a noisy night, as coach Didier Deschamps and captain Hugo Lloris have said at this morning's press conference.
"They're benefiting from a huge support, I've seen this and my observers have told me about. We know it's going to be extremely noisy, it's part of the context and we'll have to be ready for it," Reuters reports Deschamps told the news conference on Tuesday. "Good for them. We have to prepare for the game, but also for the environment of the game."
Lloris said: "We're going to have to be ready for the noise. I admire and respect what they've done here, they owe nothing to chance, they finished top of their group," said Lloris.
"They have a lot of qualities on and off the pitch, in terms of cohesion. The environment will be hostile but we're getting ready, calmly. We'll have to be ready to up our level one more time."
There are a few more quotes from Morocco's coach Walid Regragui on the wires via Reuters, and he has said that his team do not have a specific plan to counter Kylian Mbappé tomorrow. He said:
I am not going to try and set up any particular tactical plan to counter Kylian. France also has other good players. Griezmann is on top of his game and playing well between the lines and Ousmane Dembele is also a perfect complement to Mbappé on the other wing.

If we just focus on Mbappé that will be a mistake. They are world champions, with world class players and they will be going for it with all they got. We need to focus on what we can do to cause problems for France.
Mbappé, on the left of the attack, goes up against Paris St Germain club mate and close friend Achraf Hakimi, who is Morocco's highly-rated right back.
"Achraf knows Mbappe better than me and trains with him on a daily basis, so he's better placed than I am to know how to deal with Kylian. Hakimi is one of the best players in the world, so it's going to be a great duel between the two," Regragui said.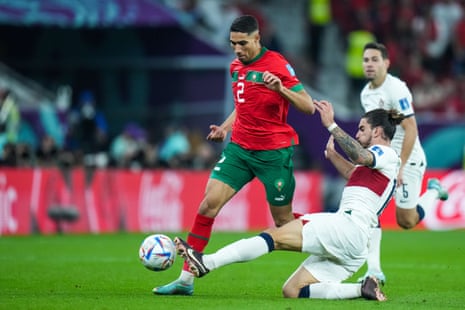 One worry for Morocco and their fans is the number of injuries that the side have picked up en route to the semi-final.
Morocco were still struggling with "a lot of injuries" said the coach, but players were recovering. There are concerns over the first-choice centre back pairing of skipper Romain Saiss and Nayef Aguerd in particular.
"We have an excellent medical team and they have been coming with good news. But we will have to wait until the last minute to select the team. None is out yet, but no one is in either," he said.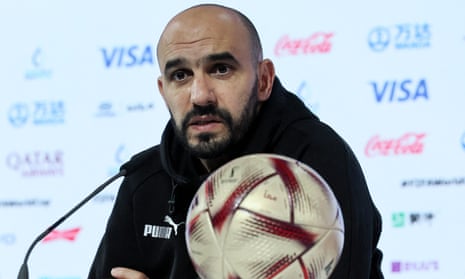 Morocco have so far faced European opposition at this World Cup in Croatia, Belgium, Spain and Portugal without conceding a goal, and Regragui defended his side's tactics.
"What good is 70% possession if you only get a few shots on goal?" he asked.
"Everybody's working, everybody is giving their best in every way and we play a collective game every time with a good spirit, which for me is everything in football.
Coach Didier Deschamps and captain Hugo Lloris are the France media duo again today in Doha it appears.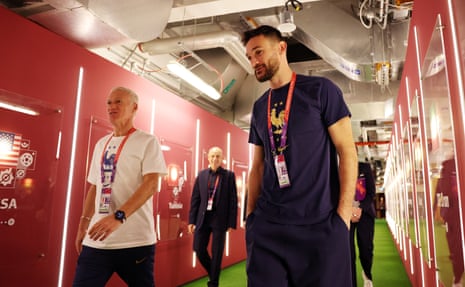 Meanwhile, I do enjoy the random pictures that come over the newswires ahead of a big football match. They will be dancing in the patriotic bakeries of Zagreb tonight for sure if Croatia progress.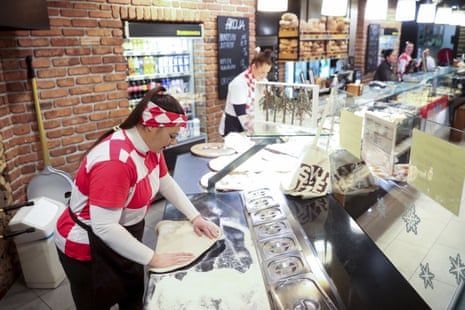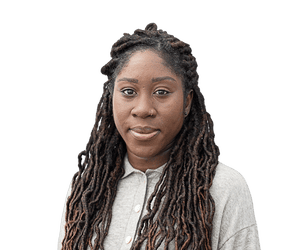 Anita Asante
Anita Asante writes for us this morning on the topic of Olivier Giroud, who she says continues to thrive beneath the radar for France:
Against England, we saw the full benefits of Giroud. France were not at their best. In some ways we've been spoiled by some of the French teams over the years with players such as Zinedine Zidane, Marcel Desailly and Claude Makelele, teams and players against which this side will always be measured. Anytime we think of France, we think of the flair, the fluidity of play, the elegance, the finesse. We saw glimpses of that on Saturday, but we didn't see it in large doses.
However, they did show they can get things done when they are not at their full, flying best. We still saw majesty from Mbappé on the ball and the intelligence of Antoine Griezmann dropped into that midfield role while Adrien Rabiot looked another level, dictating the linkup between defence and midfield and into the forward line. But the strengths and qualities of a forward such as Giroud, when things aren't going your way as a team, were fully on show.
We shouldn't underestimate the work he does to be on the defenders' case with his movement and his positioning so that they do not get a moment's rest. That is extremely tiring and frustrating because they constantly have to be switched on to his whereabouts. The mind is constantly racing: Where is he? Who's got him? Is he in between us? Here he is now. He's stretching the game. We can't squeeze that space because what about this space?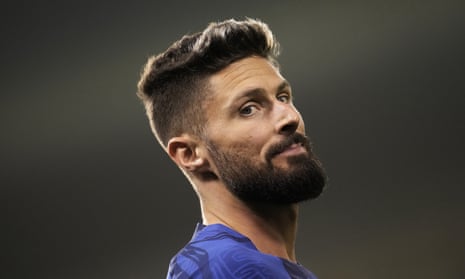 Read more here: Anita Asante – Traditional No 9 Olivier Giroud continues to thrive beneath the radar for France
I missed one of the Asian teams out of that round-up. That is partially because I am old enough to remember when Australia were part of the Oceana confederation, and partly because we already have our own specific standalone story about Graham Arnold, who is set for a Socceroos contract offer after their World Cup success:
Socceroos coach Graham Arnold appears set to be offered a fresh contract as informal negotiations continue with Football Australia hierarchy. Arnold's previous deal expired after overseeing Australia's most successful World Cup at the tournament in Qatar.
The head coach is holidaying in the United Kingdom, with FA chief executive officer James Johnson keeping in contact ahead of Arnold's return to Australia after Christmas. Johnson has pledged to not sound out any other potential coaching candidates before Arnold returns.
"We are in touch with Graham about what his involvement over the next four years will look like," Johnson told AAP. "Sure, having some stability with this team, given the rise, is a good thing and we will talk to Arnie about that.
"We won't talk to others until we have finished talking to Arnie. But … we have got to be realistic, Arnie's value has increased but so has the Australian game, and the Socceroos … let's see where we land, but I must say I am very proud of Graham."
Under Arnold, the Socceroos won two games at a single World Cup for the first time and advanced to the round of 16 for only the second occasion, following the feat of the 2006 squad. Arnold has yet to indicate his future intentions.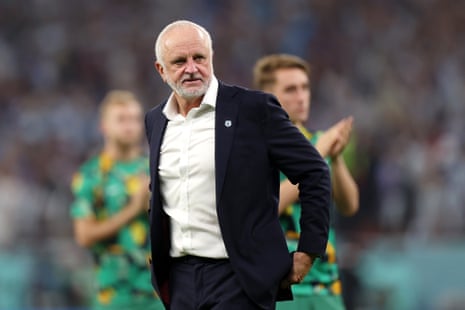 Read more here: Graham Arnold set for Socceroos contract offer after World Cup success
What now for the coaches of the Asian teams at the Qatar World Cup? John Duerden at the AP has a round-up:
South Korea: Paulo Bento leaves Seoul after more than four years in charge. He took the team to the second round after a last-minute win over his native Portugal in the last game of Group H, but his tenure ended with a 4-1 loss to Brazil.
"Although we were eliminated in the Round of 16, we still stuck to our style of play against a powerful team," said Bento, who added that he'd decided in September to move on after Qatar. "I will always be connected with South Korea, both in terms of my career and my personal life."
The domestic football debate has already moved to whether the next head coach will be a Korean or a foreigner.
Japan: Japan beat Germany and Spain to top its group and progress to the knockout stage of the World Cup for the fourth time, but the Samurai Blue was disappointed not to reach the last eight for the first time, however, losing in a penalty shootout to Croatia.
Coach Hajime Moriyasu, appointed in 2018, confounded critics who thought he was too conservative to guide the team to great success. It is expected that the 54-year-old Moriyasu will continue after he told reporters upon returning to Tokyo that he wants to stay in the job longer, and the team received a hero's welcome on their return.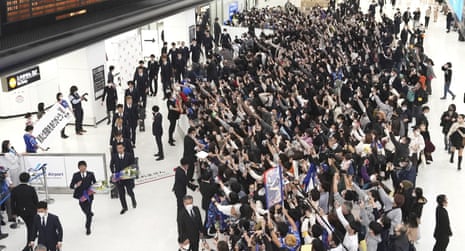 Iran: Carlos Queiroz was only appointed in August, and may also stay. Iran beat Wales but could not get a point against the United States in the last Group B game to advance to the knockout stages.
"Now we have to think about supporting the technical staff and Queiroz and think about the players and their spirit," Hamid Sajjadi, the Minister of Sports and Youth, said after the Iran squad returned home. "Queiroz should be able to plan for the next Nations Cup with peace of mind, and we will do whatever we can to help."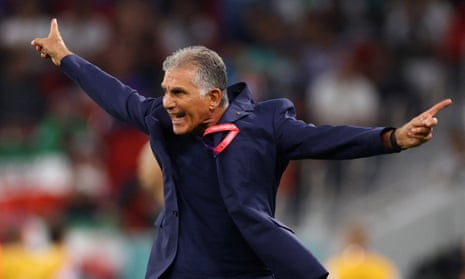 Saudi Arabia: Herve Renard signed a contract extension in May to remain in charge of Saudi Arabia until 2027. After the Green Falcons' shocking 2-1 upset of Argentina, and coming close to a place in the last 16, Renard is safe in the Saudi job.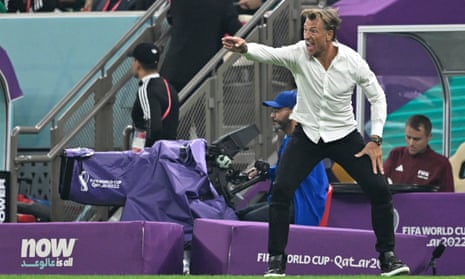 Qatar: The worst performing of the Asian teams in Qatar was the host nation. Felix Sanchez was the longest serving coach of the six, taking the reins at Qatar in 2017, but he recorded three losses on home soil. "Our goal is very clear, we will have a generational shift," Sanchez said. "Some players will leave, others will come."
It already seems to be happening. On Monday evening, the Qatar Football Association named a new-look roster for the regional Gulf Cup in January with Bruno Pinheiro, a former coach of Qatar's youth teams, in charge.
Morocco coach Regragui: 'We aren't satisfied with the semi-final. We want to go further'
Morocco's coach Walid Regragui has been up before the press already today, and he has said they are aiming higher than just reaching the semi-final. PA Sport is carrying the following quotes:
The further you get, the more difficult the games are. We are playing the world champions with world-class players and a very good coach, possibly the best in the world. But we will show great desire and try to pull off an upset. Why not reach the final of the World Cup?

We've come to this competition to change mindsets within our continent. If we say the semi-final is enough, I don't agree. We aren't satisfied with the semi-final and being the first African team to do that. We want to go further.

Its's a knockout game and when you have desire, commitment and the support of the crowd, you can win it.

We have beaten some top sides. Before every match people thought we would get knocked out but we are still here. We are getting closer to our dreams and we will fight to get there.

We are one of the four best teams in the world now and we want to reach the final. The best team, Brazil, is already knocked out.

We are hungry. I don't know if it will be enough but we want Africa to be on top of the world. I know we are not favourites but we are confident. You might think that's crazy, but a bit of craziness is good.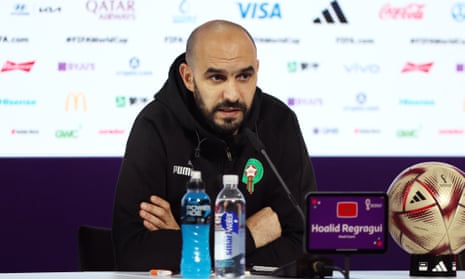 Manchester United manager Erik ten Hag has said centre back Harry Maguire had a really good World Cup and urged him to replicate his England form at the club when the Premier League restarts, Reuters reports.
Maguire lost his first-team spot for United in August but the 29-year-old started every game for England in Qatar, where they were knocked out in the quarter-finals by France.
"It's clear he is good enough to play at the highest level," Ten Hag said at United's training camp in Spain.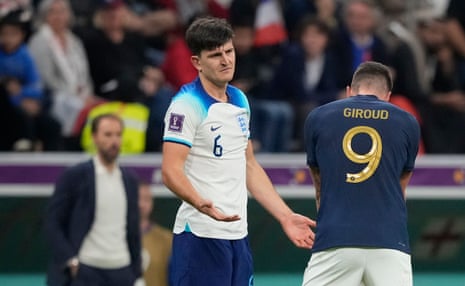 "He had a period in Manchester where he performed badly and then, of course, there are difficulties. For England, he has good games almost all the time. We want him to bring that back to Manchester with him so he can bring it on the pitch for United.
"I think he had a really good World Cup. He was really consistent. When he is playing with his confidence like now, he is a massively important player for us and that is what everyone expects."
Away from the football for a moment, AFP reports that the lawyer for Greek member of European parliament Eva Kaili on Tuesday said his client was "innocent" after she was charged with corruption in a probe into suspected bribes from Qatar.
Belgium has charged four suspects including Kaili as part of an investigation into allegations World Cup host Qatar has been handing out cash and gifts to influence EU policy debate. Two others were released after questioning.
"Her position is she is innocent. She has nothing to do with Qatar's bribes," Kaili's lawyer Michalis Dimitrakopoulos told Greek television channel Open TV.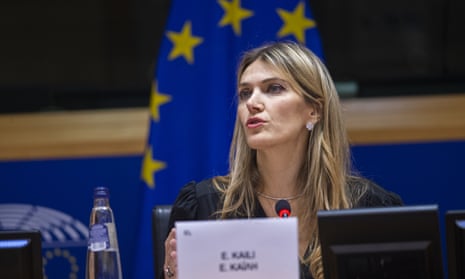 Belgian prosecutors said €600,000 euros (£516,000) were found at the home of one suspect, €150,000 at the flat of an MEP, and several hundred thousand euros in a suitcase in a hotel room.
Asked if any cash was found at Kaili's home, Dimitrakopoulos said: "I am not confirming or denying. There is confidentiality. I have no idea if money was found or how much was found."
Kaili, a 44-year-old Greek socialist and one of the European parliament's vice-presidents, was detained in Brussels on Friday.
She has been stripped of her vice-presidential responsibilities and parliamentary group leaders are to meet Tuesday to prepare a vote to formally remove her from the post.
She is remanded in custody and will face a hearing on Wednesday to see if she and three fellow accused will need to remain in detention pending a corruption trial.
Croatia's social media manager is having fun this morning – and why not? They are in a World Cup semi-final again. They've put up a poll asking who is going to win. And the options are Argentina, Croatia, and Croatia on penalties.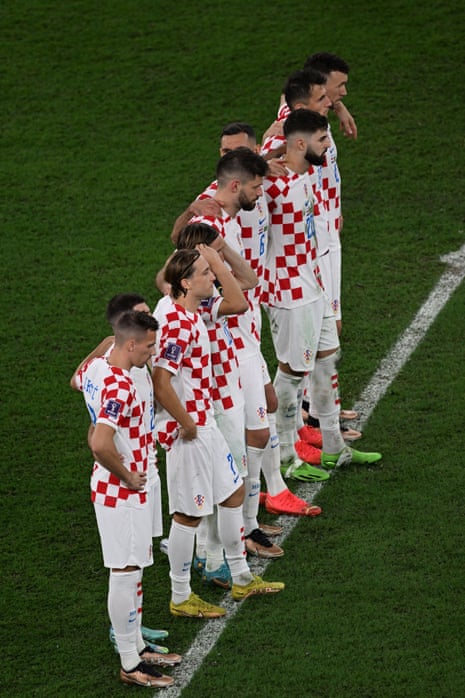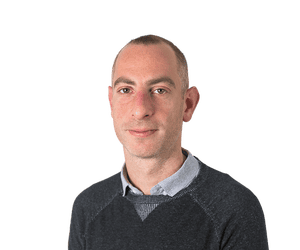 Ed Aarons
Are Croatia even in a tournament knockout match if it doesn't go to extra time and penalties? Their record is stunning in that regard. Ed Aarons reports on how Dominik Livakovic is ready to repeat his heroics against Argentina:
Livakovic – the son of Zdravko Livakovic, a former state secretary of Croatia's ministry of transport – made his debut for Dinamo's first team in October 2017 having previously played for amateur side NK Zagreb. Two years later, he broke a record that had stood for more than 20 years for most minutes from the start of Dinamo's season without conceding a goal.
Livakovic was Subasic's deputy at the 2018 World Cup as Croatia made it all the way to the final in Russia before losing to France. "Everything was particularly emotional," he said in an interview a few months later. "Apart from the result, which is the biggest in the history of Croatian football, the emotions that stuck in my memory the most during the last World Cup in Russia were the moments when our passage depended on penalties. It's something that can hardly be described in words: I was yelling, laughing and crying at the same time."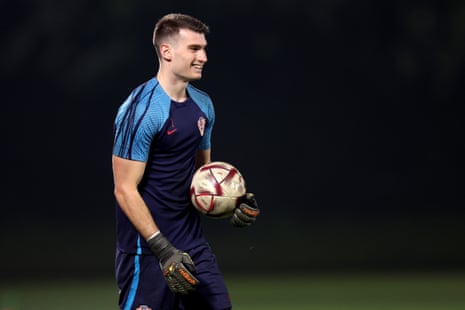 Read more here: Ed Aarons – Dominik Livakovic ready to repeat heroics against Argentina
Not just any match day, say Croatia, it is an epic match day. I honestly cannot wait for either of these semi-finals and I just cannot call who we will be seeing in the final on Sunday.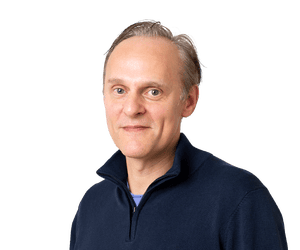 Barney Ronay
Talking about being sarcastic about things, I did feel yesterday that I was maybe being a little bit disparaging about the Fifa technical study group briefing that took place, and appeared to be some kind of "Death by PowerPoint" event. Barney Ronay, on the other hand, is in Doha and decided to go at it overnight with a high two-footed tackle:
These occasions are part of the treadmill of Big Football events. Qatar 2022 has hit its last, choreographed deep breaths, the bridge before the final push. It is now time for the football version of those moments in The Office where we watch the printer trays whirring, blank sheets loading, something to feed the machine between the beats.
This is when we get the Fifa Technical Study Group media briefing, there to fill the empty air with words. The job here, like everywhere else, is to reinforce and justify every aspect of this World Cup. Pascal Zuberbühler was basically talking about how successful he thinks Fifa's new rules about staying on the goalline are. Earlier Zaccheroni had hymned the "technical" effects of five subs and masses of extra time.
Nothing is bad in this room. Everything is good, better, progress. At some stage everyone on stage parroted the (arguable) line that this World Cup is a showcase for emerging powers – because, of course, this is a way of selling the expanded version next time out.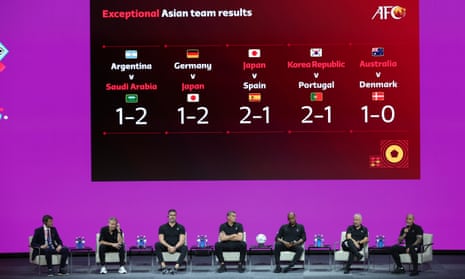 Read more here: Barney Ronay – Welcome to Fifa's Technical Study Group: nothing is bad, everything is good
Hello! Football is back! Briefly. This evening. There are only three competitive fixtures of the Qatar World Cup to go, and one of them is tonight. Strap in for Croatia v Argentina at the Lusail for a place in Sunday's final. 7pm GMT.
A Messi-driven Argentina will be looking for their sixth final appearance and his last chance to lift the trophy. For Croatia, a team who remarkably have never failed to reach at least the semi-finals if they manage to get out of their group, it is a chance for a second successive final, and possible redemption against France for 2018's 4-2 defeat.
As well as the buildup to that, we should also have media appearances from the France and Morocco camps, more speculation about the future of England's Gareth Southgate, probably a little bit of club football gossip creeping back in, and me being sarcastic about things. Drop me a line at martin.belam@theguardian.com.