Key events
There might be a few matches where they can fit that in …
Fill your boots tomorrow …
In some non-beer World Cup news, Spain have needed to call up Alejandro Balde as a replacement for the injured Jose Luis Gaya.
Send Tom Davies your Stockport pub recommendations for the weekend. He is not a Bud Zero man.
Hello! Like all good Friday afternoons in the office, the chat focuses mainly about beer. I have already found out where Tom Davies is drinking tomorrow prior to a football match but comrades in Qatar will find it a touch harder to get hold of some amber nectar.
Right, so Will's back from his red-hot 90s football chat and hurriedly ingested sarnie, so I'll hand you back to his more than capable hands. Bye.
The Football Supporters' Association has put out a statement on the beer ban:
Wales have just started today's training session, in apparently slightly cooler weather than yesterday (a mere 31c), shortly after 4pm local time. All 26 players are out there – including Joe Allen who is on his own programme to turbo-charge his recovery from a hamstring injury – and a phalanx of photographers training their lenses solely, predictably, tediously on Gareth Bale. Aaron Ramsey is sporting a peroxide blond Barnet as per 2016.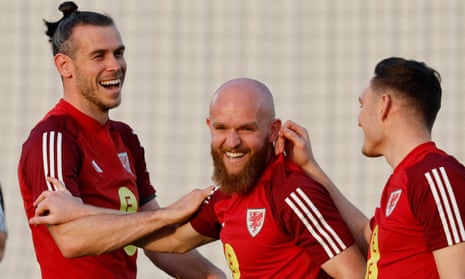 There's plenty of things Twitter seems struggling to cope with at the moment – such as treating employees with a modicum of decency – and its recent turmoil could mean the platform will struggle to cope with World Cup-related abuse, Kick it Out has warned. Sanjay Bhandari, the anti-racism campaign's chair, said: "I am deeply concerned that the reduction in the trust and safety team and the departure of the leader of that team will be taken as a bright green light for hate … I fear that industrial-scale levels of hate during the World Cup will go unchecked by Twitter."
Here's the story:
The one good thing about hosting a tarnished World Cup in November and December, from a UK perspective, is that other football is still going on. And this weekend has plenty to entice: the WSL's big game has Arsenal taking on Manchester United at the Emirates Stadium on Saturday, while Stamford Bridge hosts Chelsea v Tottenham on Sunday.
And there's some tasty EFL action too, starting with Portsmouth v Derby tonight with Exeter v Ipswich and Burton v Plymouth among other big League One games. League Two's game of the day pits fourth-placed in-form Bradford against third-placed Northampton while the leaders, Leyton Orient, visit Stockport.
Are you planning to watch more, or less, live football in the next month or will the World Cup tempt you back to the sofa?
Some Fifa politics now, with Reuters reporting that Germany's decision not to back the president Gianni Infantino's re-election next year was a result of the governing body's handling of human rights issues in Qatar and its failure to take a stand on Iran, German Football Association (DFB) chief Bernd Neuendorf said on Friday.
Neuendorf said the DFB's decision not to back Infantino, set to be re-elected for a third term in March, was because the German federation had been "irritated" by a number of issues related to the World Cup.
"We indeed took this decision [not to back Infantino]. It was not easy but at the end of the day that was the decision because we believe we have to make a statement," Neuendorf told a news conference.
"Infantino already has the support of continental confederations and his re-election is very likely. But after his letter two weeks ago that human rights should not play a role and we should focus on football we were considerably irritated," Neuendorf added.
"There were other things as well that irritated us with FIFA. The ban of the slogan for the Danish shirt because 'human rights for all' was written on it."
Let's talk about France: you can never really be sure whether you're going to get feast or famine with Les Bleus, and the buildup to this year's campaign has its fair share of clouds. Jonathan Liew looks at their talents and their problems here:
Thanks Will, and that interview with said 90s Premier League cult hero promises to be a cracker. But no more spoilers.
In the meantime, here's the last of our exhaustive team guides – Luis Eduardo Inzaurralde explains why hopes are high for Uruguay's blend of youth and experience. I rated them a lot four years ago and there's promises to be another intriguing campaign.
I am off to interview a 90's Premier League cult hero, so Tom Davies will be here in my stead to discuss the beer ramifications. I might even fit in a sandwich, too.
Watch the England press conference LIVE!
Manchester United ban and take legal action Ronaldo
Cristiano Ronaldo has almost certainly played his last game for Manchester United. Jamie Jackson has the latest on the club taking legal action against the forward for breach of contract.
"On paper, the 2018 champions should be strong favourites to become the first team since Brazil in 1962 to retain the trophy. The raw talent in this generation of French male footballers could sustain not simply a successful title defence but an entire dynasty. However Deschamps's squad arrives in Qatar beset by doubts: some real, some confected, some occupying that existentially French space of catastrophes that do not really exist yet."
Jonathan Liew on France.
Training in Qatar is a touch warm.
Watch the Wales press conference LIVE!
"Good Morning Will, good morning everyone!" Good morning Em Jackson. "With a beer ban in stadia in an 11th hour u-turn, how willing would you be to do something like hold hands with your partner (either male or female), wave a rainbow flag embossed with your nation's crest on etc?
"Let's face it, this was supposedly a summer World Cup as well … the words "breach of contract" appear not to translate well in Doha.
"Jules Rimet is steaming, 30 days of beer-hurt, never stop me dreaming, over a pint of coke" – with apologies to Messrs Lightning Seeds, Baddiel and Skinner."
For those of a Socceroos persuasion …
Intriguing that my career is now just writing about the availability of beer. Camra, I am available for freelance beer-based commissions.
Budweiser have now deleted their "Well, this is awkward" tweet.
Sean Ingle writes: "Football's governing body will now be looking nervously over its shoulders at the prospect of legal action from Budweiser, which has a $75m (£63m) sponsorship agreement with Fifa, and is likely to regard this as a major breach of contract."
Nothing like a bit of legal action to get us all in the mood for the World Cup.
Sean Ingle has the full story on the beer ban.
Maybe some David Squires genius will distract from this ludicrous tournament. Actually, it is just another reminder how how silly it is that Qatar have it. But it is very well done.
Fifa's statement on the booze ban offers zero clarity on why the decision has been made at this late point. Zero transparency from them on this matter. What's new?
For beer connoisseurs, the good news is that Bud Zero will still be available to purchase. I cannot underestimate how bad a drink that must be.
To be fair to Qatar and Fifa, they have really set their stall out early to make this look like it will be the worst World Cup in history. By setting the bar so low, anything better than that will be a success.
Alcohol sales at stadiums banned
Fifa have confirmed the news, as expected, that fans will no longer be able to buy alcoholic beverages inside the stadium perimeters, as previously promised.
Here is Fifa's statement.
Get quizzing.
I am sure you have been waiting to find out how the Guardian will be covering the World Cup. Here is everything you need to know:
I am particularly excited by the weekly Karen Carney column.
Manchester United take 'appropriate steps' over Ronaldo interview
Manchester United have 'initiated appropriate steps' after the airing of Cristiano Ronaldo's moany interview with Piers Morgan. The forward made numerous critical comments about club's coaches (past and present), the owners and the general setup.
A club statement read: "Manchester United has this morning initiated appropriate steps in response to Cristiano Ronaldo's recent media interview. We will not be making further comment until this process reaches its conclusion."
James Maddison was again the only player to train away from the main group as England continued to gear up for their World Cup opener.
The Three Lions kick-off Group B against Iran on Monday, before facing the United States and neighbours Wales.
Maddison hopes to be fit for the start of the tournament after a positive scan on the knee complaint which saw him substituted in the first half of Leicester's win at West Ham last weekend.
The midfielder came out for the pre-session huddle on Friday but worked away from the main group for the second straight day due to what the Football Association called load management. PA Media
How will your team do in the World Cup? Here is your chance to send in your views …
Budweiser do not seem particularly pleased by the latest beer-related events …
Obviously, the main problem is not that alcohol sales will be banned near the stadiums, it is that the Qataris have made a last-minute U-turn on something that had been agreed. How can people have confidence in anything they have said of welcoming LGBTQ+ community when they are changing their minds on other matters?
Phil Foden is aiming to prove what he can do on the world stage. Will Gareth Southgate's tactics help or hinder the Manchester City forward?
France midfielder Adrien Rabiot wants Les Bleus to stick together in order to redeem themselves following their Euro 2020 failure when they lost to Switzerland in the round of 16.
"The most important point is we have to stay united. So we don't look outside the group for things that can harm our morale. We have the potential to do better than we did in the Euro," Rabiot said ahead to their opening World Cup match against Australia. "It is true that we have a lot of luxury this time around. We live in this little bubble. In the Euro it was mid-COVID with a lot of restrictions and it made daily life difficult."
Qatar accused of 'deafening silence' over plans for migrant workers' centre
The trade union leading attempts to improve conditions for migrant workers in Qatar has warned that a positive World Cup legacy is unlikely after proposals for a migrant workers' centre and wider reform were met with "deafening silence" by government officials. Paul MacInnes has the exclusive.
Paul MacInnes takes a look at the fan experience in Qatar. I wouldn't fancy it myself but each to their own.
Take your mind off this beer news by reading Sid Lowe's big old natter with Athletic Bilbao and Spain goalie Unai Simon.
Beer will no longer be sold within the perimeters of Qatar 2022 stadiums, according to reports. The announcement is imminent and will come two days before the first match and will add to the controversy over the hosting of this tournament.
The decision will cause problems between Fifa and sponsor Budweiser, who we must all assume will be irked by this last-minute change of plans.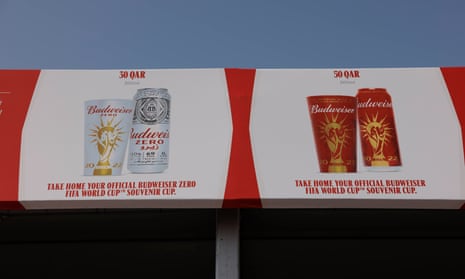 There is an Englishman at the World Cup who is not part of the Three Lions setup. Canada's head coach is John Herdman, who has managed both the country's men's and women's teams.
Some kind person has written about 'Everything you need to know' about Qatar. Fair play to them.
Sadio Mane is out of the tournament after requiring surgery on an injury picked up playing for Bayern Munich. It is very bad news for Senegal and the tournament as a whole, according to former Liverpool teammate Virgil van Dijk.
"I am very sorry that Sadio misses the match against us because this World Cup simply deserves the best players, Sadio is one of them," said Van Dijk. "Sadio is world class, he is my friend and I will miss him."
Van Dijk agrees with his head coach, Louis van Gaal, that the Netherlands should be competing for the trophy in Qatar.
"For me, Argentina, Brazil and France are the favourite countries," he told reporters.
"The Brazilians are always there. The Argentines are strong and the French have a great selection. We have a good group, we have a very experienced trainer, but above all we have team spirit."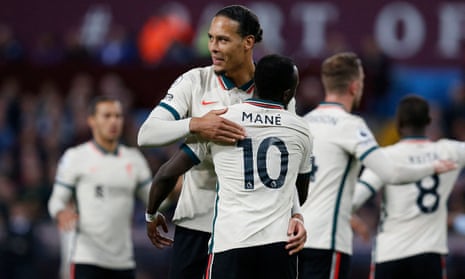 A bit more of the imminent beer ban at stadiums. It looks like there will be announcement today on the matter. What a farce. Fifa and Budweiser will be having some heated conversations, one imagines.
Two handsome young men have written about the eight potential breakthrough stars of this tournament. Naturally, they will all now flop but you can read this and then rub it in the fancies of John and I in a few weeks.
Vinicius Jr is hoping to use football for the greater good. The Real Madrid forward has been impressed by his fellow athletes' approach to philanthropic causes and is hoping he can use his influence in a similar fashion.
"I believe I need to do more. I see how athletes like Lewis Hamilton and LeBron James do good and I want to do the same, help people in many ways," Vinicius said.
"Education is important because not everyone can become a player. Many try, but not all succeed. So I try my best to help the people in Brazil to continue improving and evolving as a person. If they focus with the right guidance, we can get more people going to the university, more doctors, more professors… better professors."
Should we start the day with some Karen Carney backing Brazil to do the business? I think we should.
Here we are only two days away from the start of the least anticipated World Cup in history. But do not fear, we have some football to look forward to … hopefully.
We have already found out that a free press is frowned upon and the hospitality looks expensive and underwhelming in Qatar. Not only is the price of beer eye-watering but the Qataris now want to stop it being sold at stadiums and move the vending points to less prominent areas.
On the upside, many countries have arrived in the Middle East for their final preparations. Wales have already been forced to move their training sessions to later in the day due to the heat, which is not a promising sign.
Qatar v Ecuador kicks the whole thing off on Sunday and I for one can wait. Prior to that there should be some high jinx, injury news and the prospect that we all find out it is too hot to play in Qatar.
We will be bringing you the very latest from our correspondents in Qatar and more besides.
There should be no shortage of things going on today, that's for sure.