Key events
FA confirm Sterling to rejoin squad
And there we have it. The FA have released a statement confirming Sterling will rejoin the England camp, which reads: "Raheem Sterling will return to England's World Cup base in Qatar. The Chelsea forward temporarily left to attend to a family matter but is now expected to rejoin the squad in Al Wakrah on Friday ahead of the quarter-final with France."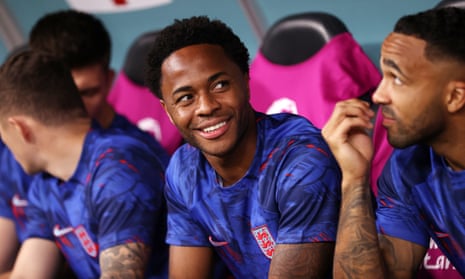 Is there anyone in football under more scrutiny than Kyle Walker at the moment? Tasked with keeping Mbappé under wraps on Saturday, the England right-back seems weirdly chilled out about the whole thing. "He's one of the best, if not the best, in the world," he said cheerfully, when asked about his coming duel with the France forward. "I understand what I need to do and that's to stop him. It's probably easier said than done, but I don't underestimate myself." It's definitely easier said than done, but good luck anyway.
In good news for Gareth Southgate, Raheem Sterling has set the wheels in motion for a return to the England camp. He was forced to fly home after a burglary at his home left him concerned for his family's safety but, having spent time finalising their security arrangements, he hopes to rejoin the squad before the big game at the weekend.
In case you missed it, here's David Squires's latest cartoon. Gianni Infantino, Cristiano Ronaldo and Arsène Wenger, look away now. (Editor's note: none of them read this blog.)
Here's some thoughtful comment from Emma Kemp, reflecting on her time in Qatar covering Australia's campaign. It serves as a much-needed tonic to the "I went to Qatar as a cosseted tourist and can confirm there's nothing to see here" narrative that has emerged in recent days.
According to the family of Abdullah Ibhais, a whistleblower who was jailed after raising concerns about the mistreatment of migrant workers at World Cup stadium sites, he was tortured on the eve of the tournament. In a letter released by FairSquare, a human rights organisation, Ibhais's family have accused Fifa of "callous indifference" towards his case. Here's the full report.
Hello and welcome back to Fear and Loathing in Qatar, a day before the start of the quarter-finals. Croatia, who edged past Japan on penalties in the last 16, take on Brazil, the favourites, before the Netherlands go up against Argentina. On Saturday, Morocco do battle against Portugal and then, finally, there's a little game between England and France. "There's a belief that we've got to win this tournament," said Harry Maguire earlier this week, suggesting he's done a good job of blocking out intrusive thoughts about Kylian Mbappé. "Of course we know how tough it is going to be. There are probably five or six teams with the same belief. But in 2018 we probably weren't one of those teams. Now there's five or six who have that belief and we're one of them."